Weeping Marine Video Shows 'Brotherhood' Doesn't Apply to Women, Female Vets Say
The viral video of a distressed Marine tearfully explaining how a senior officer's intervention would allow her alleged attacker to remain in the military has disturbed not only the public, but also women veterans.
They told Newsweek that such injustice proved that the bonds of the tight-knit brothers-in-arms did not always extend to their sisters-in-arms.
Many said they could personally attest to a toxic culture that permeates the Corps.
"The Marine Corps is notorious for discounting sexual harassment and assault," Joanna Sweatt, a Marine veteran who co-founded of the VetsForward progressive activist group, told Newsweek. "Too many times over my 10-year career I watched aggressors get 'reassigned' to protect their careers and eligibility for retirement."
Rather than imposing punitive measures against perpetrators, leadership often passed blame onto the victims, she argued. She said it was they who were seen as the pariahs.
"There are zero support options for women who go through this trauma and then, on top of that, they have to work and live with their aggressor nearby constantly," Sweatt said. "Because of this culture, other women are conditioned by this to shut the hell up or stand with men and point fingers at 'problem' women."
She said she was "deeply saddened" while watching the near-minute-long TikTok clip posted first Thursday by the Marine, whose identity is being withheld due to the sensitive nature of the incident and accusations involved. Sweatt said she was worried for the Marine's well-being, and hoped that she would immediately receive adequate support, especially given the penchant for ostracization and retaliation demonstrated by this military branch.
"It's extremely sad," Sweatt said.
She was not alone in identifying systemic misogyny in the Marines.
One Marine veteran who served as part of Operation Inherent Resolve, the multinational fight against the Islamic State militant group (ISIS), said she saw a familiar face in the woman who took to social media to air her grievances.
"I see a woman who is sick of never being heard, she's confused and frustrated," the Marine veteran said. "I see a woman who carries the burden every woman in the Corps carried. If I do the right thing like I'm told then why am I still always at fault?"
She blamed a culture more obsessed with maintaining its elite, clannish reputation than educating the young that enlist. She described the level of dedication on sexual assault and sexual harassment as "abysmal."
"You have kids with no life experience who come into the Corps to get power points and be told to stay away from the opposite sex," the Marine veteran said. "Then they stay in and become leaders who know nothing else."
As a result, women signing up to aspire to that same exalted image of the Marines often find a very different reality once they join. Another Marine veteran who served as a non-commissioned officer in the Intelligence Community said this is something she wished she'd known before joining and would be something she would consider telling young women looking to be recruited today.
"I don't know if I could say this to someone else," the second Marine veteran told Newsweek, "but I wish I had known that the mythical brotherhood and bond that Marines have didn't include me too."
This veteran described an institution "steeped in misogyny from the very beginning" and "so deeply hateful of women in its ranks," recalling her own initial interactions with a male recruiter she said offered three roles: "a bitch, a slut, or a lesbian."
She likened these feelings to the wave of anti-Arab and Islamophobic sentiment that swept the military—and other areas of U.S. society—in the wake of 9/11 and the subsequent "War on Terror" launched nearly 20 years ago.
"Remember how people used targets with Arab faces and casually tossed around racial slurs for Arabs and Muslims?" the second Marine veteran asked. "It's done in a way that's meant to 'otherize.' Over time, you can start to forget that these are also real human beings. We use that same kind of language with how we talk about women in the Marine Corps."
Eventually, she said, the end result is a woman who barely resembles a sovereign person with thoughts and feelings, much less a fellow Marine with the same rights and duties as her male counterparts.
"You 'otherize' us enough, and you start to forget that we are human," the second Marine veteran said.
Since the video's release and widespread proliferation across the Internet, the Marines have sought to offer assurances that the matter was being handled properly.
"The Marine Corps is aware of the video and is gathering all the details of the situation," Marines spokesperson Captain Casey Littesy said in a statement sent to Newsweek. "Sexual assault is a crime, is unacceptable, and violates our core values of honor, courage, and commitment. We will respond with an update when we have more information."
Defense Secretary Lloyd Austin briefly weighed in during a press conference Friday.
"I'm going to ask that her chain of command make sure that someone is looking out after her needs, and make sure we are taking care of her," Austin told reporters at the time. "I found the video deeply disturbing. And I've asked my staff for additional information, and I'll leave it at that."
Austin has already launched a crusade to purge the U.S. military of racist and extremist elements that have for years been cultivated among the armed forces. Now, many Marine veterans both male and female hope to see the Pentagon tackle sexism and instances of sexual assault and harassment as well.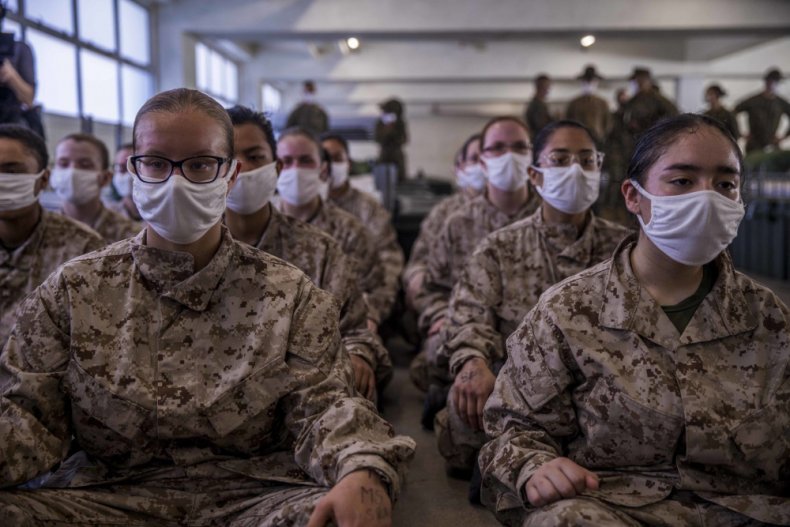 One of those is Matthew Gordon, a Marine veteran who has a popular TikTok account with more than 134,000 followers. He recalled deep-seated problematic strains of patriarchal thinking taking hold around him during his years of service as a Marine sergeant.
"Women Marines, especially when I was in, they were always kind of looked down upon as like, 'Oh, it's cute, that you're here,'" Gordon told Newsweek.
Even now, he said, this ideology persists and feeds into an aggressive testosterone-driven environment that has fueled what he calls a "whole epidemic of sexual assault that's taking place throughout the military."
Gordon has often used his online audience to tackle major issues both within the military and beyond, so when he saw the latest TikTok video showing a distressed Marine going as far as to reference suicide in her frustration over her experience in the service, he felt indignant.
"My gut reaction was I was heartbroken and I was angry," Gordon said. "I was upset because that kind of spit in the face of everything that I've come to know being a Marine to be, just hanging my sister-in-arms out to dry like that, and having her feel invalidated in such a way that she felt the only place that she could go for support was to a social media site and not to her chain of command was heartbreaking."
His advice for prospective female Marine recruits was to prepare for the worst, but while at the same time becoming equipped with the knowledge and tools to change the situation that continues to haunt the experiences of countless young women in uniform.
"I would tell them to just completely prepare to experience this either personally, or with somebody that you know," Gordon said, "and educate yourself on the things that you can do to ensure that you're taken seriously and that it helps put an end to the culture."