Weeping Van Jones Bookends Trump Era He Once Described as 'Whitelash'
CNN commentator Van Jones was brought to tears on Saturday as news broke that former Vice President Joe Biden had defeated President Donald Trump in the presidential election.
Jones, who has been an outspoken critic of the president since day one of his inauguration, previously coined the term "Whitelash" to describe what he felt was a movement from white Americans who supported Trump to push back against racial progress being made in the U.S.
"This was a whitelash," he said in 2016 as Trump was on the brink of winning the presidential election. "This was a whitelash against a changing country. It was a whitelash against a Black president in part. And that's the part where the pain comes."
On Saturday, Jones gave a moving speech in which he stated that Biden's victory represented a powerful shift in character for the country—one that he said promotes truth and acceptance for all Americans.
"It's easier to be a dad this morning. It's easier to tell your kids, 'Character matters, being a good person matters,'"Jones began, while choking back tears.
"And it's easier for a whole lot of people. If you're Muslim in this country, you don't have to worry that the president doesn't want you here. If you're an immigrant, you don't have to worry if the president is happy your baby has been snatched away."
Jones continued to discuss the turmoil that Black Americans have faced under the Trump administration, calling Biden's victory "vindication for a lot of people who have really suffered."
"'I can't breathe, that wasn't just George Floyd, that was a lot of people who felt they couldn't breathe,'" Jones said, alluding to an increase in bigotry that many Americans felt under the current president.
"This is a big deal, for us to get some peace and have a chance for a reset. The character of the country matters. And being a good man matters. I want my sons to look at this...It is a good day for this county. I am sorry for the people who lost, but for most, this is a good day."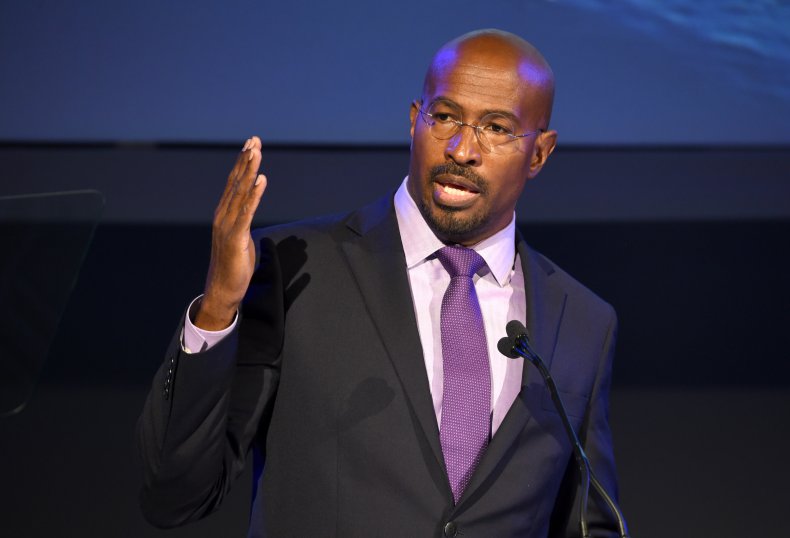 CNN, along with other major news outlets including the Associated Press and MSNBC, announced victory for Biden on Saturday morning as the former vice president maintained his lead over Trump in Pennsylvania.
Biden is expected to give his acceptance speech this evening at 8 p.m., alongside his running mate Kamala Harris.
On Saturday, the Trump campaign issued a statement saying that the president will not concede the race.
"The simple fact is this election is far from over. Joe Biden has not been certified as the winner of any states, let alone any of the highly contested states headed for mandatory recounts, or states where our campaign has valid and legitimate legal challenges that could determine the ultimate victor," his campaign said in a statement.
"Beginning Monday, our campaign will start prosecuting our case in court to ensure election laws are fully upheld and the rightful winner is seated."
Newsweek reached out the Trump campaign for comment, but did not receive a statement in time for publication.