Worshipers in Awe of 'Crying' Virgin Mary Painting in Chicago Church
A caretaker seeing what appeared to be tears streaming from the eyes of a painting of the Virgin Mary has brought renewed attention to a historic Chicago church's struggle to survive.
Athena Metropoulos, who works at Holy Trinity Greek Orthodox Church in Belmont Central, told WLS-TV she was shocked to see that a painting of the Virgin Mary holding the baby Jesus had a trail of liquid leaking from each eye early Sunday morning. She first though it was some kind of oil, but upon closer inspection realized it was watery.
Metropoulos ran into the office of Father Nicholas Jonas and told him of the "weeping" painting. He collected the liquid with cotton balls and posted images of the painting on Facebook. Since Sunday, more than 300 people have come to the church to see the apparent miracle.
"There's something she's trying to tell us," Jonas told the station, "so we're just going to seal our lips and listen to what she has to say."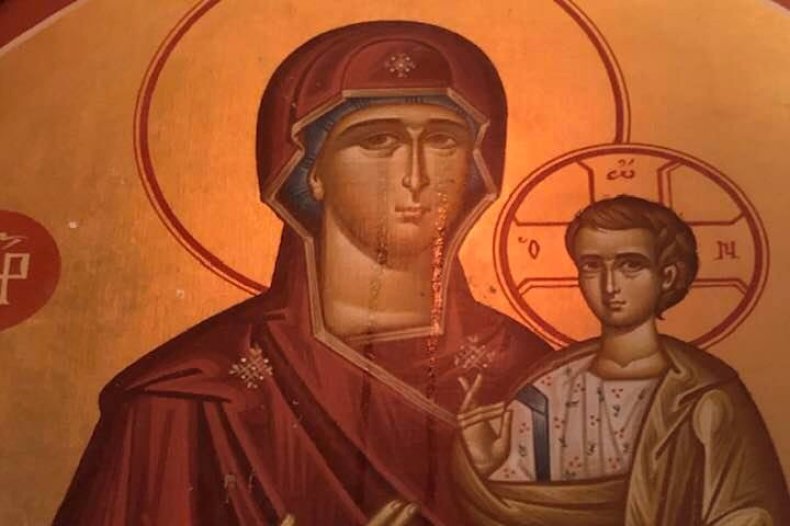 "It's common throughout the Orthodox church to see a phenomena like that," he added. "But to have it personally was very overwhelming. When these things happen, I feel like a little kid when first going into a candy factory—and you're just in awe."
Founded in 1897, Holy Trinity is the second oldest Greek Orthodox congregation in the United States. But it's struggled financially for some time—the church building was up for foreclosure last year before an anonymous donation allowed its doors to stay open. It's still $8 million in debt, though, and the congregation thought this might be the last week of services.
A bankruptcy judge today approved the sale of the church building for $2.5 million, according to WGN, though some parishioners had hoped Mary's tears were a sign that another miracle would save it from being sold off.
"I would just rather say that the Virgin Mary is talking to us," Jonas told the Chicago Tribune. "I would just let her finish her conversation. And, let's see what happens."
He denies the tears were a hoax devised to draw attention to the church's plight. "The cynics will say that," he told the Tribune. "My response is: Look. There are no pipes hooked up to drip water."
Apparitions of the Virgin Mary are not uncommon, but most are swiftly debunked: A crying Mary statue in Pavia, Italy, in 1980 was ultimately determined to be a fraud. The statue's owner had apparently been spraying it with a squirt gun, according to the Center for Inquiry.
In July 2018, a weeping Mary was reported at the Our Lady of Guadalupe Church in Hobbs, New Mexico. Samples were taken and the fluid was determined to be olive oil, according to the Las Cruces Sun-News.