Wegmans COVID Vaccine Registration Details and How To Book an Appointment
Wegmans, the supermarket chain with stores in several East Coast states, is offering COVID-19 vaccinations at select locations. Those eligible can register to receive the vaccine by booking an appointment at the Wegmans website.
The company is currently offering appointments at select pharmacy locations in New York State, Pennsylvania, Massachusetts and Virginia. The company expects to "receive a limited supply of the vaccine on a regular basis" to vaccinate those currently eligible.
Wegmans advises: "The amount of vaccine we receive starts with the federal government, who first allocates a certain number of vaccinations to each state. From there, the state determines how much goes to each region and provider.
"We will open online scheduling for appointments as shipments are confirmed" and slots are expected to be filled quickly.
Customers are advised to check the Wegmans website, where the company says it "will provide updates" on appointments "as they become available."
How to book COVID-19 vaccinations at Wegmans
All appointments are scheduled on a first come, first serve basis and the company does not offer a waiting list service for COVID-19 vaccinations.
The company advises: "All vaccine scheduling should be done online at wegmans.com/pharmacy. You do not need to have a Wegmans online account to sign up for a vaccination. Please have your insurance card available when scheduling your appointment."
Those without access to a computer can call 1-800-207-6099, Monday to Friday, from 8:30 a.m. to 5 p.m. local time to schedule their appointment. Customers should have their insurance card available when scheduling their appointment. This phone service will only be active when appointments are available, the company notes.
Those reserving an appointment for someone else are asked to use the name, date of birth and address of the person receiving the vaccine when booking the appointment.
Customers are asked to bring a photo ID and their insurance card to your appointment. "If you are on Medicare, please bring your Medicare Part B card (Hospital/Medical card) and your prescription card," the company notes.
The pharmacy staff will schedule an appointment for your second dose at the first dose appointment.
The company states: "There are no out-of-pocket costs for the vaccine or its administration, regardless of insurance coverage. If you have insurance, we will process the vaccine through your insurance provider."
Eligibility criteria varies by state and can be viewed at the Wegmans website by clicking on the drop down of the state listed.
Below are the locations where COVID-19 vaccinations are being offered at Wegmans:
New York
COVID-19 vaccinations are available at the following locations in New York State:
Rochester/Southern Tier: Eastway, Pittsford, Chili-Paul, Mt. Read, East Avenue, Corning, Hornell, Geneseo, Newark, Canandaigua, Lyell, Johnson City, Geneva
Buffalo: Alberta Drive, Sheridan Drive, Military Rd., Niagara Falls Blvd., Jamestown
Syracuse: Fairmount, Dewitt, Auburn
Pennsylvania
"All Pennsylvania Wegmans Pharmacy locations are participating in the administration of the vaccine," the company states.
Massachusetts
Four Massachusetts Wegmans stores with a pharmacy are administering a limited supply of vaccine. They include the Burlington, Chestnut Hill, Northborough and Westwood locations.
Virginia
In Virginia, Wegmans is working with the area health districts to administer the COVID-19 vaccine at its Fredericksburg and Midlothian stores.
However, appointments at these stores cannot be scheduled through the Wegmans website, "as the health districts are providing us with a list of registered individuals," the company noted.
Residents in the Rappahannock Area Health District who are looking to receive the vaccine at the Fredericksburg store can register at the Virginia state health department website or by calling 540-899-4797.
Those in the Chesterfield Health District wanting to book a slot at the Midlothian store can also register at the Virginia state health department website.
"We continue to work on expanding our ability to administer the vaccine in additional health districts in Virginia," Wegmans notes.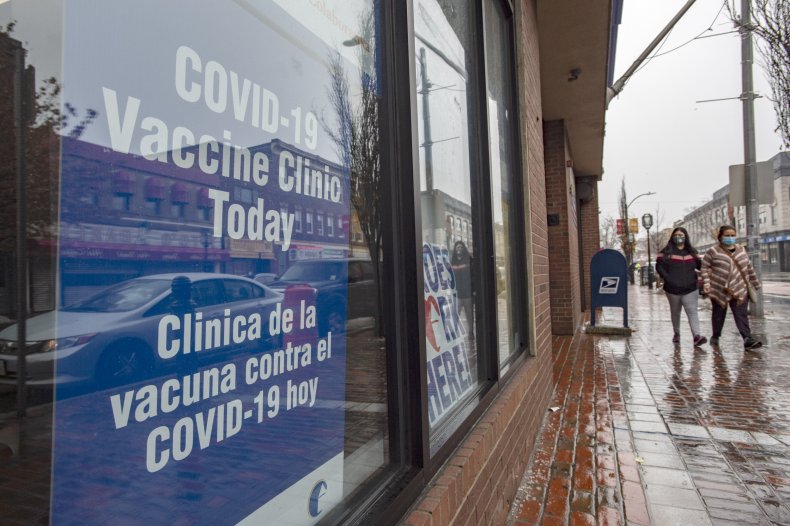 The wider picture
The novel coronavirus has infected more than 110 million people, including over 27.8 million in the U.S., since it was first reported in Wuhan, China.
More than 2.4 million people have died worldwide and more than 61.9 million have recovered as of Thursday, according to Johns Hopkins University.
The graphic below, produced by Statista, illustrates countries with the highest number of COVID-19 vaccine doses administered per 100 people.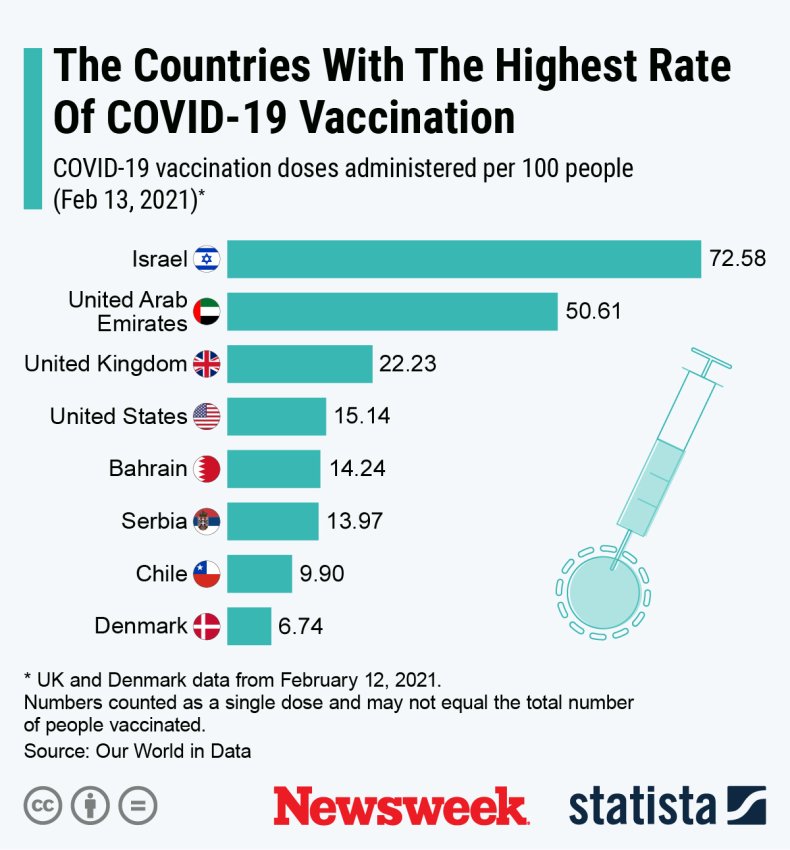 Newsweek, in partnership with NewsGuard, is dedicated to providing accurate and verifiable vaccine and health information. With NewsGuard's HealthGuard browser extension, users can verify if a website is a trustworthy source of health information. Visit the Newsweek VaxFacts website to learn more and to download the HealthGuard browser extension.