The Freewheeling Joy of Weird Al Yankovic's 'Self-Indulgent Vanity Tour': Apollo Theater Concert Review
"We warned you about this show," "Weird Al" Yankovic declared onstage at New York's Apollo Theater on Thursday. "You came anyway. You are our people!"
Indeed, the veteran parodist did everything he could to warn casual admirers away from his stripped down current tour.
He cheekily dubbed it the "Ridiculously Self-Indulgent, Ill-Advised Vanity Tour." He vowed that the setlist would emphasize original songs—deep cuts like "My Baby's in Love with Eddie Vedder" and "Midnight Star" instead of the beloved parodies that made him a household name. He left his usual high-concept stage show—including video screens and song-specific costumes—at home, relying on nothing more than his songs (and his backing band) to entertain. And he openly acknowledged in interviews that "some people will probably walk out in disgust because they didn't hear their favorite hit parody."
If anyone left the Apollo in disgust, they kept it quiet. Yankovic did not perform 1988's "Fat" or 1981's "Another One Rides the Bus," but he enthusiastically delivered the mix of goofy irreverence and indefatigable genre-hopping that has been his lifeblood for more than 30 years. And the comedian seemed to relish the intimate bond with hardcore fans that the current tour provides.
Offbeat selections like "The Biggest Ball of Twine in Minnesota" drew cheers rather than jeers. It helped that the seats of the historic Harlem music hall were well occupied by Weird Al lifers—the sort of people who can rattle off UHF trivia and know all the words to "Albuquerque" by heart.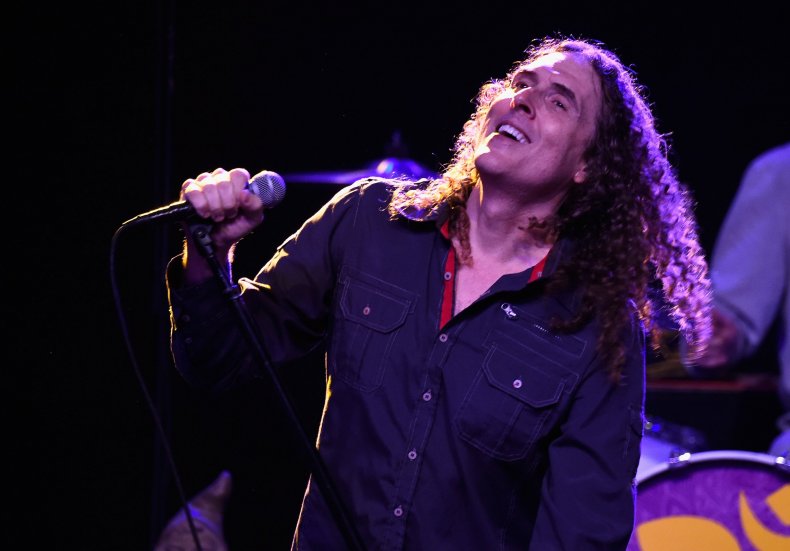 If every nerd who came of age in the late 20th century went through a Weird Al phase at some point—probably between the ages of 11 and 14—then this tour seems divinely ordained for the ones who never grew out of it.
It was a little like Vh1 Storytellers: Weird Al. Yankovic played a loose, unpredictable set that was largely different than the night before. And in between songs, instead of changing costumes, he shared entertaining stories and offered little nuggets of insight into his creative process. Before playing the brilliant Bob Dylan send-up "Bob," Yankovic mentioned that he wrote the track in 2002—a palindromic year—which gave him the idea to write a song whose lyrics consist of nothing but palindromes. While introducing 1984's tabloid-themed "Midnight Star," he mentioned that he wanted the song to be the first single from In 3-D but his label insisted a Michael Jackson parody would be more commercially viable for the era. In retrospect, the singer admitted, they were right; "Eat It" became one of his biggest hits.
And he dug deep into his history, playing 1983's disturbing "Mr. Frump in the Iron Lung," in which he uses the air release valve of his accordion to simulate the wheezy sound of an iron lung. (Yankovic noted that he wrote the song when he was 17, and he isn't exactly proud of it: "I'm including it here for historic purposes.")
Many of these selections are parodies, though not in the "Eat It" sense. Yankovic's originals frequently satirize the stylistic tropes of specific artists, genres or pop culture fads. "Bob" incorporates a Dylan-esque harmonica solo. "I'll Sue Ya"—which made Yankovic probably the first performer in Apollo history to start headbanging while perched on a stool in a Hawaiian shirt—is a dead ringer for scorched-earth Rage Against the Machine bangers. And the break-up-inspired "One More Minute" (which prompted Yankovic to share some rare insight into his romantic past) is a parody of 1950s doo-wop balladry.
The originals are not always as funny or fresh as "Amish Paradise" (Yankovic returns too frequently to overused themes like food or television), but they do demonstrate levels of his songcraft beyond what casual listeners might know of his oeuvre. And, parody or not, they require Yankovic's long-loyal backing band to toggle between genres with ease, transitioning from the doo-wop schmaltz of "One More Minute" to the Police-inspired new wave of "Velvet Elvis."
At the Apollo, it felt joyful just to bask in the scope and richness of Yankovic's back catalog. The parodist has lampooned dozens of pop fads while outliving them all. And because Yankovic was untethered to his usual greatest-hits selections, he was free to revisit weird little corners of his discography—like the time he wrote a bombastic, "We Are the World"-style charity anthem about music piracy ("Don't Download This Song").
Toward the end of the night, Yankovic allowed some exceptions to the originals-only format. He played a surreal medley of parody classics in new form, including a lounge-lizard version of "Amish Paradise" and a slow, melodramatic "Like a Surgeon." It was meta as hell: Yankovic delivering parodies of his parodies. And then, for the encore, he sent us off with "The Saga Begins," his Star Wars-themed "American Pie" singalong.
Related: A conversation with "Weird Al" Yankovic
It has become something of a cliché to remark upon Yankovic's incredible cultural longevity. Still, it's unreal: The guy has been puncturing pop's self-importance since Jimmy Carter was in the White House. His self-titled debut turns 35 next month. None of this was prophesied by the industry suits. "It was difficult for me to get signed to a record deal back in the early '80s," Yankovic recalled in 2006, "because all the executives were saying, 'Oh, you do that... novelty music. You're gonna have maybe one hit if you're lucky and then [...] you know, nobody'll ever hear from you again.'"
That Yankovic hasn't just survived the cratering of the recording industry but seems to be enjoying a late-career renaissance feels like some delightful historic glitch. His 2014 album Mandatory Fun topped the Billboard charts, and, as he noted between songs, his recent "Hamilton Polka" recently became the first-ever polka to appear on the digital sales chart. (A constant trickster, Yankovic pretended he was about to bust out the Hamilton medley, then played something completely different.)
Yankovic's longevity became something of a running joke at the Apollo, too. Comedian Emo Philips, who appeared in Al's 1989 cult classic UHF and opened the evening with a set of oddball stand-up, jokingly imagined asking someone in 1988 which of the following things would be thriving in the year 2018: newspapers, the recording industry, the Soviet Union—or "Weird Al" Yankovic.
"With the right odds," Philips said, "you could own this theater today."