Weird Ghostly-Looking Fish Caught in Pond, Thrown Back Alive
A ghostly fish has been caught in a Vermont pond, surprising many who saw its photograph.
Caden Hurley was fishing in a central Vermont pond when he reeled in the usual catch, Vermont Fish & Wildlife said on a Facebook post.
In photographs, the fish looks as if it has been frozen by staying in the ice for a few hours, due to its unusual white color. But Hurley said that he reeled it in "exactly as you see it."
Chain Pickerel are usually a bright yellow color with dark markings, making this one's lighter color particularly unusual. The species can be found in lakes along the East Coast and west of Texas.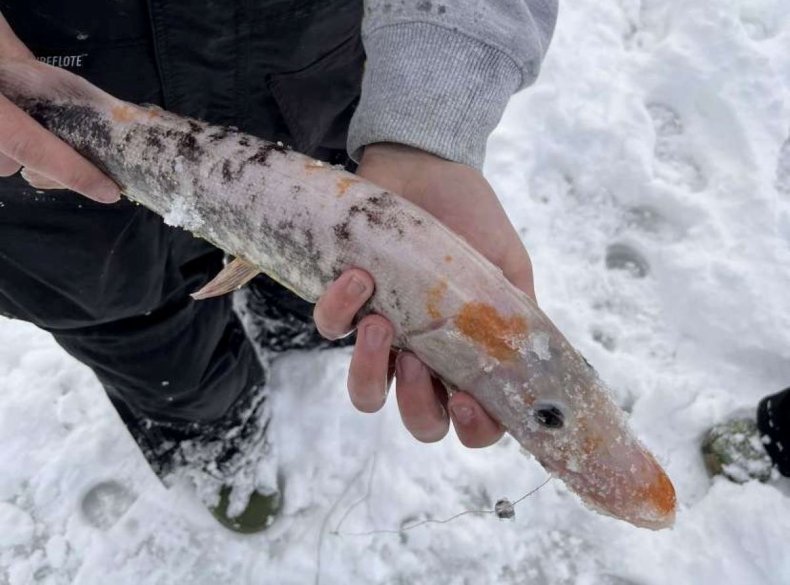 Biologists at Vermont Fish and Wildlife believe this particular fish is leucistic. Leucism is a condition caused by a genetic mutation, where there is a partial loss of pigmentation in the skin. This results in white and pale skin colorations. It is a very rare condition and is only ever seen in a handful of individuals.
Leucism is not the same as albinism.
An albino animal has lighter skin colorations due to being unable to produce melanin pigments. The best way to tell albinism and leucism apart is by the color of the eyes. Albino individuals usually have pink eyes, while leucistic individuals' eyes remain dark.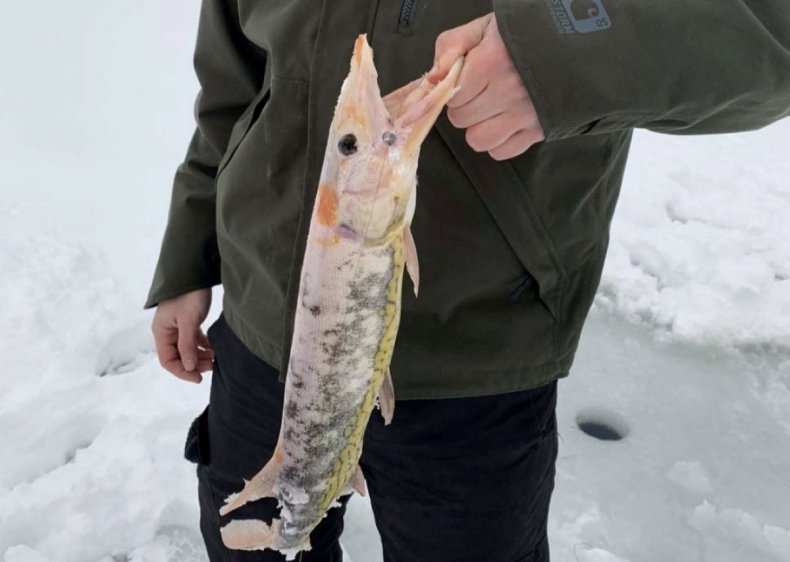 "It doesn't happen often in fish, so this is a very special catch!" Vermont Fish and Wildlife said on Facebook.
The fish was released back into the water after being caught.
People took to the Facebook comment section to share their thoughts on the peculiar-looking fish.
Despite it being confirmed as leucistic, some people theorized it was actually a type of inbreed.
"Messed up Pike/pickerel hybrid," one Facebook user said.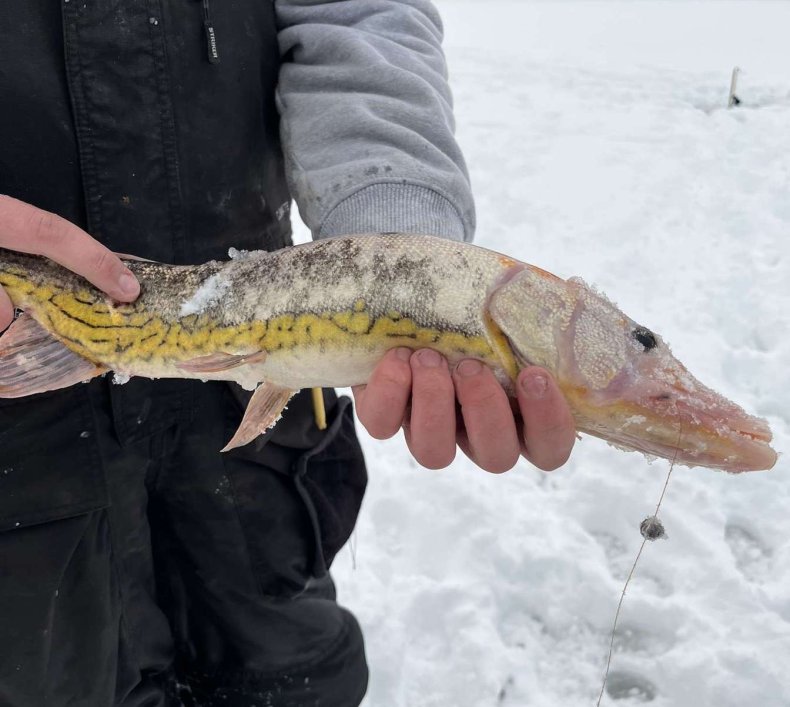 Another one said: "Cross with a koi. Not a good thing."
Others remarked on its strange appearance.
"I would scream," one Facebook user said.
"He's beautiful and unique! Thanks for letting him go on his happy way," another said.
Other social media users shared pictures of other strange animals they had caught.
One shared a picture of a leucistic cardinal bird, spotted in the south of the state.
Leucism is not the only strange condition found among fish.
Another shared a photo of a bass that appears to be covered in freckles, caught in New Jersey.
Vermont Fish and Wildlife replied to the comment, saying this is caused by the condition melanosis, which occurs when skin cells don't properly regulate pigment production.
"We've been seeing this with increasing frequency in Vermont waters like Lake Champlain, the Connecticut River, and lots of inland lakes," Vermont Fish and Wildlife said.
Do you have an animal or nature story to share with Newsweek? Do you have a question about fish? Let us know via nature@newsweek.com.