When Boring Won't Do Try These Totally Wild Face Masks
Update: 4/30/20 4:01PM EST
Who says that personal protective equipment (PPE) can't be fashionable? With face mask production ramping up to help keep people safe during the coronavirus pandemic, some companies are selling specialty face masks adorned with some unorthodox designs.
If you can't get your hands on an N-95 mask, why not get a face mask that says something about you? Concert promoters and merch designers Rocks Off have posted a number of different face masks available for sale on their website. A plethora of designs (some of them tie-dyed and trippy) show off iconic bands and musicians, while others depict classic works of art. These masks cost $23 a pop and a portion of each sale goes to benefit humanitarian aid organization MedShare.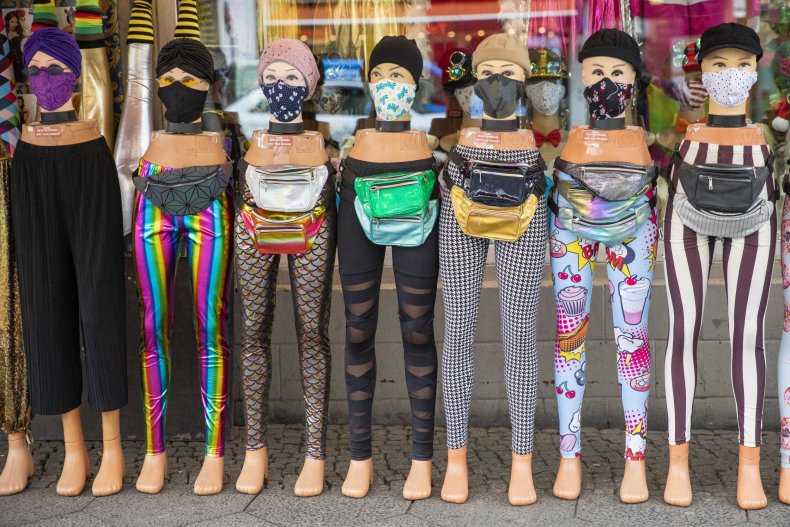 While some masks are utilitarian with messages about the virus, other masks are just plain weird, to put it lightly. Here are the seven strangest types of masks to guarantee that people will maintain a social distance from you in public.
Jacked Up Teeth
Look, we all bought those funny inserts that make your teeth look messed up for Halloween. But these types of masks are good for reminding you that you need to schedule a dentist appointment as soon as quarantine ends.
Joe Exotic
You can buy masks that transform the lower half of your face into celebrities like Steve Harvey, Miley Cyus or Alfred Einstein. But if you're going to pay tribute to only one celeb, it may as well be Joe Exotic. After all, the Netflix series Tiger King, which made him famous, did get us all through the early weeks of quarantine. That being said, some of this style go a little too far, like with...
Lemmy Kilmister

Some of the coolest masks pay tribute to legendary rock bands, and you can buy masks that show off your love of the Beatles, Rush, David Bowie, the Sex Pistols and more. But the one that makes your face look like the late and beloved Motorhead frontman Lemmy Kilmister is a little much. The guy wrote iconic songs, but do you want your face mask to show warts?
Food
Something about putting food on a face mask just seems so wrong. You can buy masks with burgers, sushi, hot dogs, and lobster rolls--but what's the point? No one would want to watch you eat a hot dog even if there wasn't a pandemic.
Kinky Masks
Not to yuck another's yum, but some activities are best saved for the bedroom and probably not best to broadcast through your mask while you're on your way to go buy groceries. You can also buy a mask to make yourself look like a blow-up doll if that's you're thing, but that too might not be suitable to wear while making a run to Trader Joe's.
Body Horror
We're already in a pretty bad situation as it is, so no one wants to think about it being worse with face masks that show mouths stapled shut or "bee beards"
COVID Messages
These ones are actually the most fun. You can get masks that show off phrases that have become all too familiar in wake of the pandemic like "I'm Just Getting Groceries", "The New Normal", "Got TP?", and "I've Got Antibodies." For rockers, though, there are a few masks that play on both the virus and classic rock songs, such as one brandished with "Nevermind the COVID" in tribute to the Sex Pistols and "COVID-19th Nervous Breakdown" as an ode to the Rolling Stones.
Correction: The first version of this headline was "Why wear a normal face mask when you can startle your neighbors with these?" It has been updated to reflect a more universal experience with masks.