The Weirdest Guinness World Records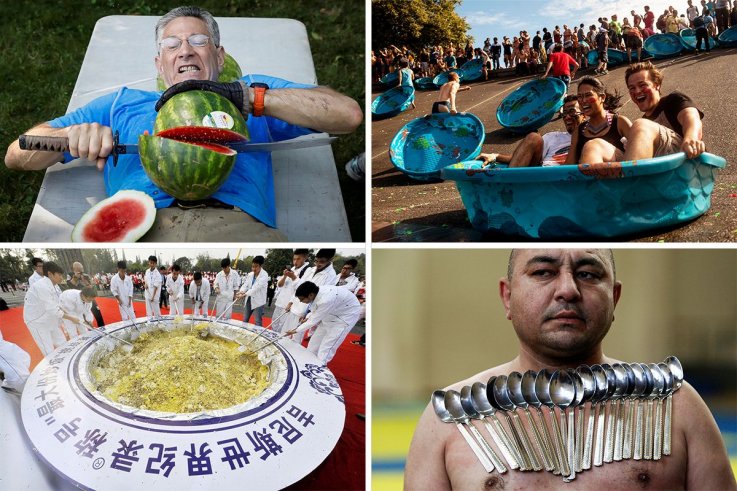 On a cold November day in 1951, Sir Hugh Beaver, a managing director of a successful brewing company, went on a shooting party in the Irish countryside. They shot at—and missed—a flock of golden plovers, and set about debating whether or not they were the fastest game birds in Europe.
Unable to settle the argument, Beaver had a brainwave. What if there was a book that could settle once and for all of these arguments about world records, which he reasoned, happened every day in Britain and Ireland's numerous pubs?
A few years later, an office was set up in London to produce the first edition of such a book. And as the brewing company that Beaver managed was the giant brand Guinness, they called it, of course, The Guinness Book of Records.
What started as a squabble about birds has evolved into a worldwide obsession. Now known as Guinness World Records, the 2017 edition of the book was published in 100 countries and 23 languages. It's launched branded museums and video games, and in 2012 studio Warner Bros even announced a movie based on the achievements of record holders.
Some records are pretty famous. Along with the oldest people in the world, Guinness World Records say that the most frequently broken records include the longest DJ marathon, the heaviest item lifted with glue and the most apples bobbed in one minute.
However, they claim to have more than 40,000 current records in their database, of which only around 15,000 are published online, let alone printed in the book. That leaves a number of obscure records, some of which are so odd that it's hard to imagine how anyone ever thought of them.
We've run down some of the strangest of these lesser-known records, from the largest gathering of people dressed as Albert Einstein to the biggest sofa in the world.