Tired of Festival Culture? 'Welcome to Deathfest' Is a Love Letter to America's DIY Black Metal Paradise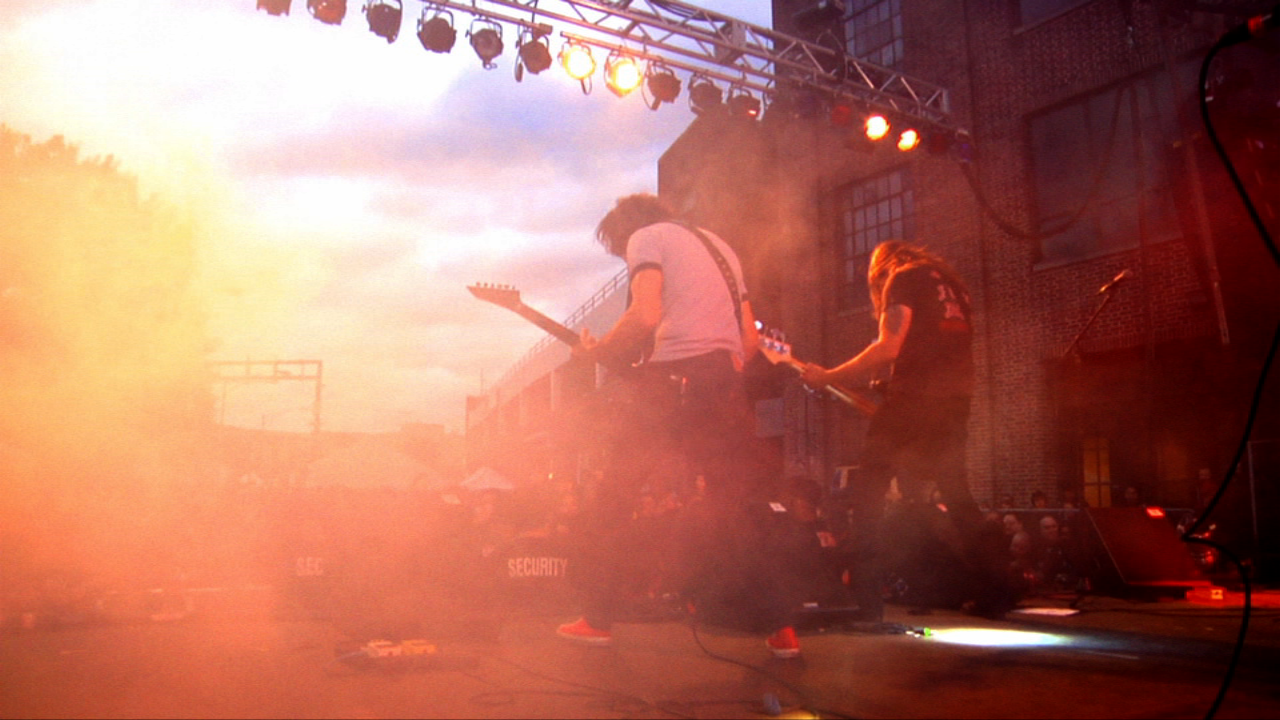 As organizers of Maryland Deathfest, the biggest independent extreme music festival in the U.S., Evan Harting and Ryan Taylor have encountered some bizarre requests.
"One band wanted to throw a five-gallon bucket of pig blood around and we blamed it on the health department and said they couldn't do it," Hartin says in Welcome to Deathfest, a new documentary that goes behind the scenes of the festival. "Sometimes you really just need a sheep's head and the show can't go on without it. I understand."
The four-day festival, held annually in Baltimore, Maryland, on Memorial Day Weekend celebrates its 15th anniversary this year. Attendance has ballooned from a few hundred patrons in 2002 to as many as 6,000 a day in recent years, and the budget has increased 30-fold. The success of Maryland Deathfest means there are now Deathfests in Oakland, California and Tilburg, in the Netherlands. In Welcome to Deathfest, Tom Grahsler, a New York-based producer, and Alicia Lozano, a producer and journalist, embedded with Harting and Taylor during the 2013 festival to capture just what it takes to transform Baltimore into a weekend-long black metal haven.
Among an ever-increasing number of festivals across the musical spectrum in the U.S., Deathfest stands out for its fiercely non-corporate attitude, Grahsler tells Newsweek. Coachella, one of the best-known U.S. festivals, counts Absolut Vodka and Marriott among its backers. Toyota, State Farm and Bud Light are listed sponsors for Chicago's Lollapalooza festival. The questionable relationship between sponsors and music festivals recently reached its pinnacle with the Fyre Festival debacle, which touted a roster of social media "influencers" to lure in festival-goers before it spectacularly imploded and left them stranded on a Bahamian beach.
Related: Metallica's James Hetfield rides the lighting with Newsweek
Instead, Harting and Taylor use Harting's grandparents' suburban home as their HQ to organize the festival, sort out merchandise and book bands with such appealing names as Pig Destroyer, Repulsion and, of course, Pneumatic Slaughter. And while many people would associate black metal—a more extreme version of heavy metal music—with church burnings, pentagrams and sheep's heads, we soon learn that some of the biggest problems Deathfest organizers encounter are slightly more mundane. Thunderstorms, studded belt safety and drama between hotdog vendors threaten the festival at various points.
"They are completely non-corporate. There's no Red Bull, there's no PBR. Fans of this music, especially metalheads, smell bullshit a mile away," says Grahsler. "It lays this enormous burden of trust onto Evan and Ryan. Because there's no corporate background, it is them. Their reputation is on the line every day."
It also means that cult bands like Bolt Thrower, a death metal band from Coventry, England, who share that "fiercely DIY" ethos, will play. (Bolt Thrower end up being a hit with one police officer keeping watch over the fest.)
So what makes Deathfest so special? A big part of festival culture, says Grahsler, is escaping the mundanity and torrent of bad news that make up everyday life. It's also about feeling like you're part of something larger. Crucially, festivals give people a way to connect back to their identity, especially one that revolves around loud, fast, extreme music placed firmly outside the mainstream.
"With Deathfest, if you're a metal person, you're choosing to live on the fringes of society in some capacity," says Grahsler. "When you go to Deathfest, you're now normal. You can pretty much be sure that anyone you bump into in your day will have shared values. They're gonna be your people."
"I think a lot of it is about community, family, where you can finally be yourself publicly," he adds.
Grahsler, Lozano and their team recently launched a crowdfunding campaign to pay for the music rights for the film; at $15,000, they are three times the cost of the movie. Once they've secured it, they hope to get the film picked up by a streaming service like iTunes or Vimeo. More than anything, Welcome To Deathfest is a reminder that it's still possible to be produce an independent music festival, even as DIY spaces like Brooklyn's Shea Stadium or Oakland's Ghost Ship are shut down or destroyed.
"It looks like it's harder and harder to exist on the outside of society and make the art you want," says Grahsler. "In 2013 and this year, in 2017, you can still have something that in some capacity is pure."