Welcome to the New Newsweek.com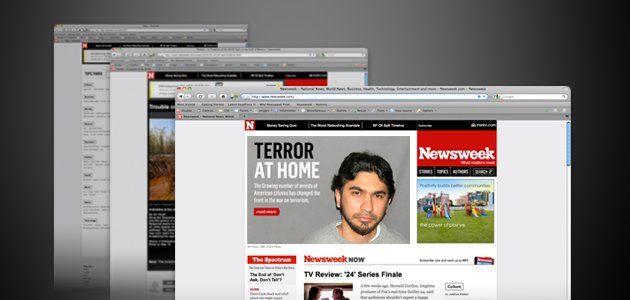 When we began the process of rethinking our Web site many months ago, we started by talking with you, or at least many of you, to learn how you use the Web, what you like and don't like about many of your favorite Web sites, and generally what you want in a news site. What we heard back was what many of us at NEWSWEEK also feel, which is that we're overwhelmed with information. So two words guided us as we reconceived Newsweek.com: simplicity and clarity. Our intention is to help you quickly make sense of the key events happening throughout the world. The new Newsweek.com is built for people who seek context and clarity in an information landscape cluttered with headlines and knee-jerk reactions. When you come to our site, we won't greet you with a dizzying array of a million places to click. We'll focus on what matters most, right now. We'll give you new information, a well-informed opinion, or an insightful piece of analysis.
There are four main components to our new home page: the site lead, the Newsweek Now content stream, a new feature called The Spectrum, and a few self-explanatory navigational tools. The first thing you'll see when you come to the new Newsweek.com is the one big story leading the site. We'll change it throughout the day, particularly as news evolves, but we want readers to know right away that this is our very best, most interesting offering right now. Below the lead story is the Newsweek Now feature, in which content streams downward, almost like a blog, giving you a quick glance at our latest offerings. It will constantly update throughout the day as our reporters, writers, contributors, and columnists throughout the world file new material. Nearby is The Spectrum, where we give readers a quick but deep dive into what's being said around the Web about the major story of the day (or at least the story that's the big water-cooler topic of the moment). Our editors scour the Web and deliver the five smartest takes from commentators coming from all angles.
This is only the beginning. We will continue to add features and make improvements to the site in the coming weeks and months. As with the launch of any new site, there will be a few glitches or bugs, and we thank you in advance for your patience. And do let us know what you think, or if you have suggestions or notice something awry. You can always e-mail us at tips@newsweek.com.
Cheers,
Mark Miller
Editor, Newsweek Digital