Welcome to Rio's Shantytown Counterinsurgency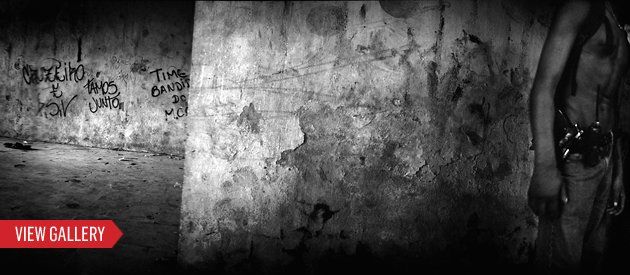 On a recent rainy morning on the north side of Rio de Janeiro, a convoy of police brass and state officials crept up a steep hill to a cluster of ramshackle houses on the outskirts of town—a favela, as the shantytowns are known in Brazil. A sturdy man in a gray suit hopped out of his armored car and, with a half-dozen bodyguards and a single umbrella-bearer in tow, strode into the knot of cramped alleys to a warm welcome and an avalanche of questions. Just a few weeks earlier, this favela, called Borel, had been a hellhole ruled by gangsters in flip-flops and Bermuda shorts. Armed with assault rifles, they terrorized the 28,000 people who live here. The locals had been under siege for so long, they claimed to have been able to distinguish the caliber of weapons fired when outlaws, rival gangs, and cops battled outside their windows.
But this morning was different. For the first time anyone could remember, the law was in charge. And now Rio Public Safety Secretary José Mariano Beltrame, Brazil's busiest crimefighter, had come to pay a visit.
"Secretary, is this project here to stay?" one woman asked timidly.
Beltrame answered: "There's no turning back."
In many ways, Beltrame seems miscast for the role of Brazil's top cop. He speaks slowly in a measured tenor, with the singing accent of his native Rio Grande do Sul, Brazilian gaucho territory. A youthful 53, he has sandy hair brushed with gray and wears bookish wire rims. Country aphorisms dot his speech. "We're eating porridge from the edge of the bowl," he says of the police tactic of starting cautiously, taking over the smaller favelas first before moving into the fiercest criminal hotspots. And it has worked: block by blighted block, Beltrame's troops have brought order to parts of a city that many Brazilians had written off as beyond rescue. "There is no way to take on a problem if you refuse to recognize it," he says.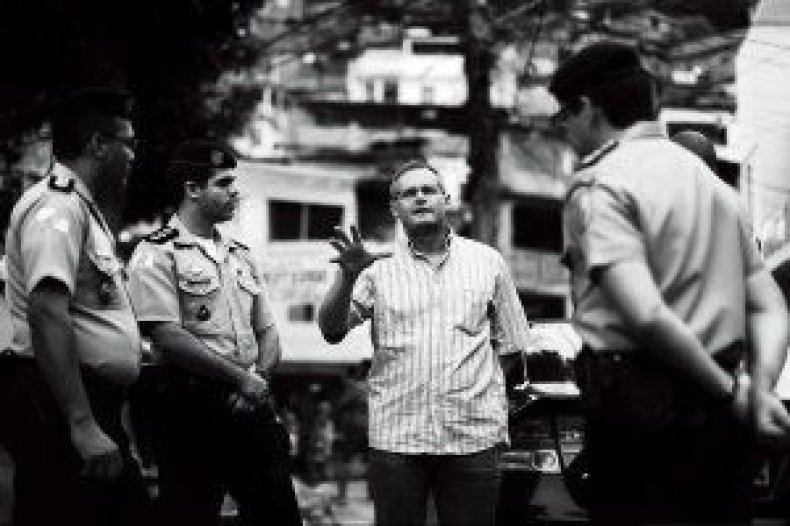 In four years under Beltrame's control, police have "pacified" 14 slums, including Borel, the giant Complexo do Alemão, and the City of God—the flatland favela that inspired the eponymous drugs-and-thugs film. Dons of three competing crime factions are either in jail or dead. Nearly 1,000 rogue cops, including two former police chiefs, have been cashiered. Dozens have been thrown in jail for selling protection or skimming off the drug trade.
Beltrame's successes bode well for Rio. The mayhem and fear that used to plague the city's commuters—assaults, robberies, kidnapping attempts, and carjackings—have plummeted. While Beltrame may not be able to fully take credit for this, the homicide rate for Greater Rio, once one of the world's most dangerous megacities, has fallen by half in a decade.
The plan was hardly ingenious: using wiretaps, computerized crime mapping, and brute force, take over the lawless parts of the city. Critics wonder where the authorities will get the extra guns to pacify the dozens of bandit hillsides that remain in rogue hands. "Rio's strategy is nothing new, but it demands enormous resources," says José Vicente da Silva, a former national safety secretary. "In one of the pacified favelas, there is one police officer for every 40 residents. There's no police force in the world with that kind of manpower."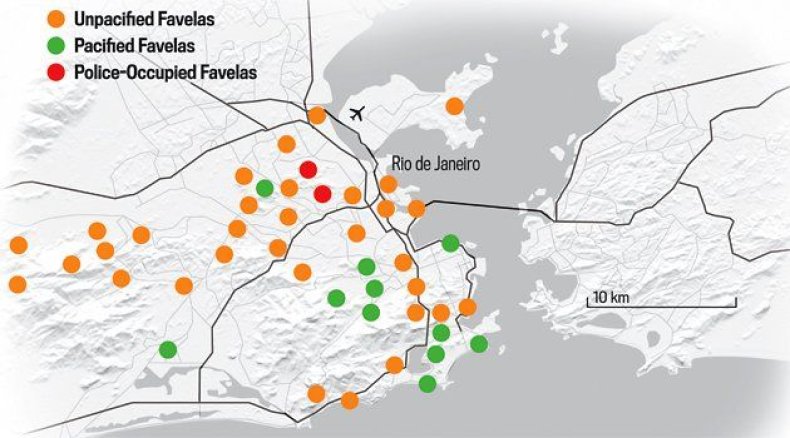 Still, others sense Beltrame has brought something new to crimefighting. "Beltrame is an outsider and has nothing to do with the old-boy police network and no respect for it," says economist Leandro Piquet Carneiro, a crime scholar who helped design the pacification program. "We are finally freeing entire areas of the city that were under the control of outlaws. This is a game changer."
And not just for Rio. Clearly, Latin America's biggest country is on a roll. The $2 trillion economy is roaring, and investors are hunting for opportunities, from the farm belt to the huge cache of crude oil buried deep below the Atlantic. The country's biggest firms—oil giant Petrobras, miner Vale—are the world's new blue chips. President Dilma Rousseff, like Luiz Inácio Lula da Silva before her, is on everyone's A-list of dignitaries. No wonder Barack Obama made Brazil the centerpiece of his Latin America tour last month. But if anything could derail the new Brazil, it is violent crime.
Although Brazil's overall crime rate is falling, the country is still a killing ground. Dramatic and successful as it has been, the aggressive counterinsurgency remains in its early stages. Hundreds of favelas are still no man's lands, and critics note that too often the police are still part of the problem. Rio police officers remain among the deadliest in the world, killing four suspects for every 100 arrested, according to a 2009 Human Rights Watch report. The Pan American Health Organization recently ranked Brazil (with 20 homicides per 100,000 residents) the sixth-most violent of 100 countries. The murder rate among young people has doubled since 1980. Scholars estimate that violence shaves 5 percentage points off the gross national product.
Rio has long been Brazil's criminal epicenter. The city's lavish Carnival may be able to turn macho men into maidens and street sweepers into emperors, but Cariocas have struggled for decades to reinvent the cidade maravilhosa—the marvelous city. Blessed with natural beauty and treasure, Rio suffered a perverse spiral of neglect, predatory politics, and street crime that drove away talent and investors, and converted outlying neighborhoods into a tropical Waziristan as Rio's keepers waged little more than a shadow war against crime. "The police would stage a raid, shoot it out with the outlaws, killing one or two traffickers and seizing a certain amount of drugs, and then parade their captives and their loot before the press, taking bows for a job well done," says Beltrame. "A little while later, the police would pull out, and everything went back to square one."
In 2007 the governor of Rio, Sérgio Cabral, tasked Beltrame with mopping up the slums, now home to 20 percent of the 9 million people of the metropolis. Previously, Beltrame had been a federal police inspector; his first job in Rio was to investigate the drug trade. But his newest mission proved to be slow going. Pushback from the gangs was demonstratively bloody. In 2009, weeks after Rio won the bid to host the 2016 Olympics—not least on the argument that the streets were under control—gangs shot down a police helicopter behind Rio's iconic Christ monument, killing three officers. It might have been a lucky shot, but video footage of the flaming chopper crashing into the hills created a massive uproar, as did the ensuing gun battles that claimed 23 more lives.
It was the sort of crisis that sends politicians into deep cover. But Beltrame decided to take the heat. Days after the crash, he met with community leaders at a tony Ipanema restaurant, venting unscripted, raw anger. His frustration, in part, was the red tape, porous justice system, and lack of federal cooperation. Calling the incident "our 9/11," he challenged Rio residents to join forces against the gangs. He won a standing ovation.
What lay before him was the Complexo do Alemão and neighboring Vila Cruzeiro—sprawling slums of 200,000 people where lanky teenage drug soldiers patrolled on motorbikes, barking out the day's offers: "Blow for 10! Blow for 20!" To seize and hold the twin bandit stronghold, authorities reckoned they needed up to 2,000 police officers with heavy backup. At first, the Brazilian Army balked, wary of committing tanks and battle-ready troops for police work. But the criminals forced their hand. When Beltrame transferred the most dangerous criminals out of state to thwart the syndicates operating behind bars, the convicts ordered their gangs to retaliate by assaulting commuters, torching buses, and machine-gunning police cars. Beltrame went to Governor Cabral, who went straight to President Lula.
On Nov. 28, 2010, backed by armored cars, minesweepers, and helicopter gunships, security forces marched into Cruzeiro and the Alemão. "We were prepared for a bloodbath," says Beltrame. Instead, the outlaws scattered, dumping their Kalashnikovs and drug stashes to melt into the community of working folk. Some escaped through the sewers, like Jean Valjean, the bandit hero in Les Misérables.
Residents of Alemão hung ribbons and thank-you notes on laundry lines to greet the police who raided the slum and flushed out the bandits. At this year's Carnival pageant, the popular samba ensemble Salgueiro tapped the new mood, deploying an entire wing of revelers dressed in the black uniforms and aviator glasses of BOPE, the special-operations forces.
Rio itself is far from saved: outlaws still control dozens of the city's most dangerous zones, including the Maré, with 13 separate favelas, and Rocinha, a 60,000-strong favela above the upscale São Conrado beach. "This is not about Brazil doing us a favor," Beltrame says. "Making Rio safe is doing a favor for Brazil." Beltrame may have only begun the war, but he has already scored key victories, hushing the chorus of naysayers, jaded cops, and crime-weary Cariocas who'd automatically dismissed the effort as unwinnable. To embattled Brazilians, that is already something of a revolution.