Welcome to West Papua's War with Indonesia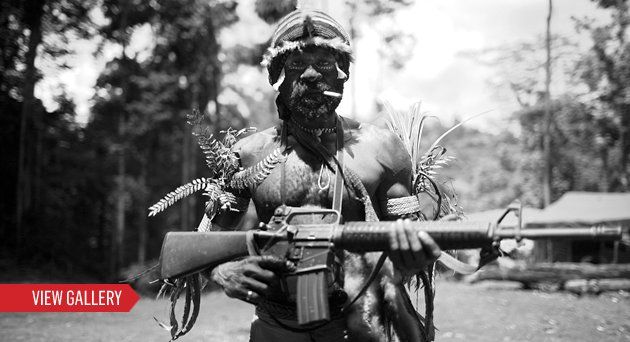 Nearly 10,000 kilometers away from the uprisings remaking the Arab world, activists in the Indonesian provinces of Papua and West Papua are taking notes. "We have all been watching the revolutions," says Jacob, a 24-year-old university student who used a pseudonym for fear of reprisals by security forces. With a group hiding out on the outskirts of Jayapura—the regional capital—he organizes pro-independence demonstrations. "The difference between us and the Middle East," Jacob says, "is that we're not fighting a dictator. We're fighting invading neocolonialists who have stolen our land."
Jacob is referring to Jakarta's claim to Papua and West Papua, formerly known as Irian Jaya, which pro-independence activists are now protesting on a weekly basis. (Separatists refer to both provinces collectively as West Papua.) On July 1—labeled Independence Day by local activists—thousands held secret rallies across the country to protest against the inclusion of the provinces under Indonesian rule. Forty years earlier to the day, Papuan resistance leaders proclaimed the nation's independence following a referendum in which a thousand Papuans were forced to vote against sovereignty.
The Dutch held onto the region through the 1950s, but Sukarno, Indonesia's first president, was keen to get his hands on the resource-rich territory. After efforts at the United Nations proved futile, he deployed armed troops to take land by force. While colonial powers tried to work out some kind of political arrangement, the Indonesian military launched widespread campaigns to quell domestic dissent. Thousands of refugees fled. And deep in the jungle, a ferocious and dedicated resistance came together and armed themselves. Today there is still low-intensity conflict. Human-rights groups allege the ongoing fighting has killed more than 400,000 civilians.
At a makeshift rebel training camp hidden beneath dense canopy, Richard Youweni, commander of the Free West Papua Movement's armed wing, told NEWSWEEK, "We were never given a real chance to vote for the future of our country. Instead, it was stolen from us." Flanked by soldiers in feathered headpieces and monkey-paw necklaces, Youweni made the case for his guerrillas battling the heavily armed Indonesian military. A few of his men are armed with rickety old machine guns. The rest carry spears, or bows and arrows.
Jakarta wants to keep hold of the provinces largely because of its vast potential for foreign resource-extraction projects. One of the largest copper and gold mines in the world—the Grasberg—belongs to U.S. mining giant Freeport-McMoRan and has long been a thorn in the side of many Papuans. They see the company, and similar foreign investments, as destroying the environment and propping up the Indonesian military. The U.S. previously sanctioned the military for its human-rights abuses in pre-independence East Timor. The Obama administration, however, keen to reward Jakarta for its antiterrorism efforts, is once again funding and training its ranks.
"Many human-rights abuses have been committed by soldiers on Papuan villagers but remain unknown," says Andreas Harsono, a consultant for Human Rights Watch. But this conflict, largely forgotten by the West, is coming to the fore in new ways. Tech-savvy students and activists are taking to the Internet to document abuses. While the rebels increasingly unite behind their commanders and exiled politicians, activists say that if the deadlock continues, they'll only fight harder. Rebels and student activists have asked for talks between Jakarta and the pro-independence leaders. But there's one obstacle: the rebel leaders want international mediation. Jakarta doesn't.
Lloyd George is a freelance journalist. He is working with Ortiz on a book about Burma.