A former Republican governor who is a long-shot candidate for the GOP race in the 2020 election has said that President Donald Trump's attacks on the media use the kind of rhetoric that dictators do.
Already this week, Bill Weld, who was Massachusetts Republican Governor between 1991 and 1997, said Trump is guilty of treason over allegations that he pressured the president of Ukraine Volodymyr Zelensky to investigate Democrat frontrunner Joe Biden and his son Hunter.
He told MSNBC that Trump was guilty of "treason, pure and simple. And the penalty for treason, under the U.S. Code, is death".
In a Republican primary debate hosted by Business Insider, Weld went head-to-head with Congressman Joe Walsh, taking the president to task over his attacks on the media.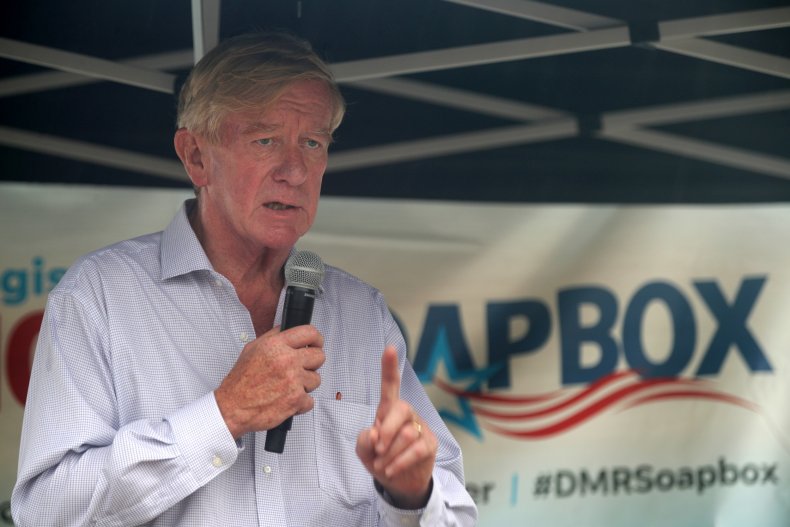 Weld said: "When the president said a free press is the 'enemy of the people', that is straight from the playbook of Benito Mussolini and Adolf Hitler and many, many other dictators through history.
"It just sent a chill down my spine," he said, adding that he believes Trump has given indications that "he wants to dismantle our democratic institutions including free and fair elections, one by one, and knock down all those trees until there is nothing resisting him.
"He has a book in his house, called The greatest speeches of Adolf Hitler, which according to the testimony of his first divorce trial, is one of his favorite books.
"This guy is just way out there, we have begun to see in the last few months him coming unglued and it is time for him to be removed and that's going to save us all," he added.
On Tuesday, House Speaker Nancy Pelosi announced the formal impeachment inquiry of Trump.
Weld worked on the U.S. House Judiciary Committee that analyzed the legal grounds to impeach Richard Nixon back in 1974.
On a visit to London in June 2018, before the report came out by former special counsel Robert Mueller into claims of Russian interference in the 2016 election, Weld said that the case to impeach Trump was stronger than Nixon's.
Weld fought against Trump when he was the vice-presidential candidate with Gary Johnson for the Libertarian Party in the U.S. election in 2016. They won no electoral college votes, but did get more than four and a half million votes nationally, the highest for a third party since 1996.
Earlier in September, Weld, Walsh and the other GOP challenger, former South Carolina governor, Mark Sanford wrote an op-ed in The Washington Post criticizing Republican leaders and Trump over the cancellation of Presidential primaries in four states.
"The primary nomination process is the only opportunity for Republicans to have a voice in deciding who will represent our part. Let those voices be heard, the op-ed read.
The candidates are rank outsiders. According to a CNN/SSRS Poll this month, Trump still has an 88 percent approval rating among Republicans.