On the Soccer Field, France and England Stand Defiant After Paris Attacks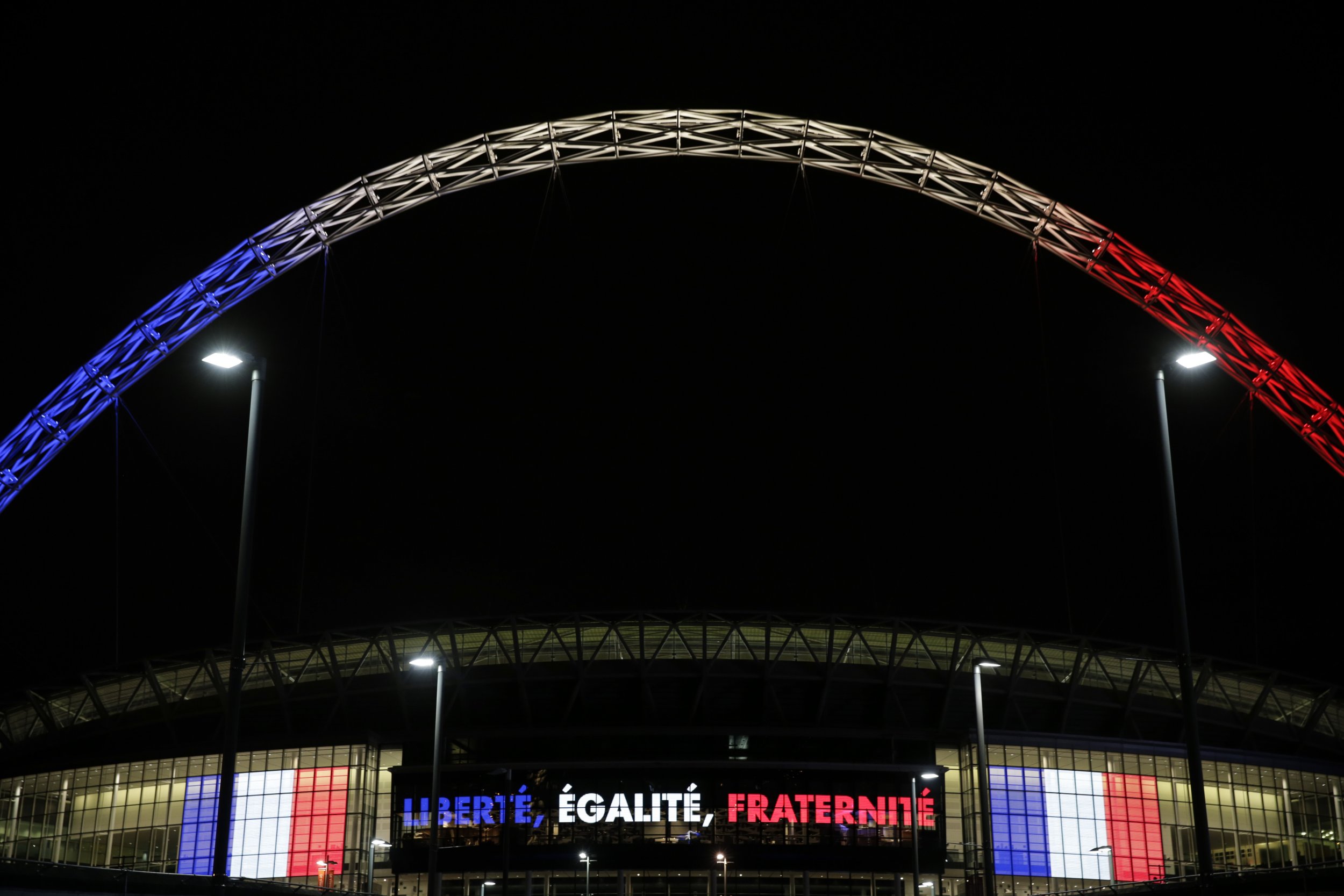 Days after three suicide bombers struck the Stade de France, just north of Paris, during a match between France and Germany, soccer fans sent Islamic State militant group (ISIS) a defiant message Tuesday night in London amid heightened security.
As the arch at Wembley Stadium beamed blue, white and red in honor of France's tricolor flag, more than 70,000 fans entered the grounds, overcoming fears of another assault following the attacks in Paris that left 129 dead and 99 in critical condition this past Friday.
Fans' decision to attend the game came on the same night that the Belgian soccer association canceled a match against Spain and German Interior Minister Thomas de Maizière called off a match against the Netherlands, both because of security concerns.
Prince William, the future king of England, British Prime Minister David Cameron, London Mayor Boris Johnson and British opposition leader Jeremy Corbyn all attended the match in London.
Before the game, England's manager, Roy Hodgson, said this would not be a normal friendly match, and he was right. The two teams have a strong rivalry, but both players and fans seemed to push it aside as les Bleus and les rosbifs—as the French endearingly refer to the English—united to show that the attacks would not change their day-to-day lives.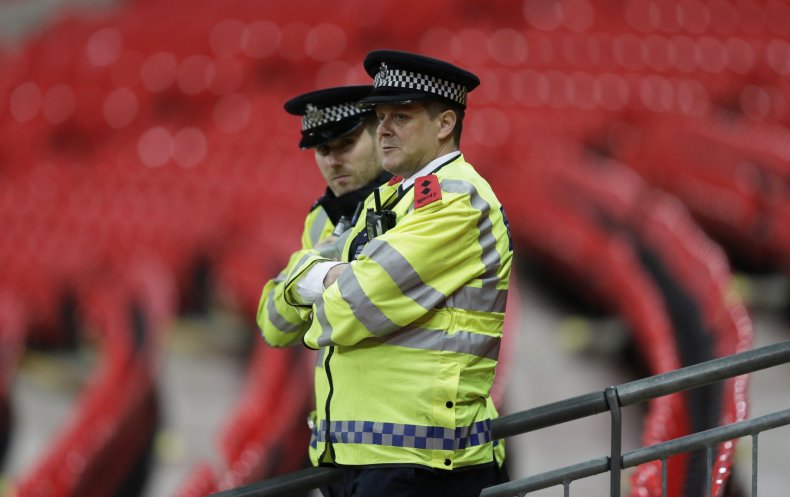 Outside the stadium, armed police patrolled the perimeter, while an English brass band played French songs below the French motto "Liberté, Égalité, Fraternité" on a large screen. Many hanging out near the entrance said they came to the match to send a message to ISIS, though most asked to be quoted by only their first names. "We are not afraid for this match," says Alexander, a resident of the northern French city of Lille, who draped a French flag around his shoulders. "We are together against terrorism."
Antoine from Marseille, France, says the attacks made him want to attend the game even more. "It's a symbol to be here tonight," he says. "It's a statement that we do not care. We will keep doing things, and we will celebrate life."
English fans also turned out to show solidarity with the French. Some even showed up without a ticket. Andy, 39, from the North London suburb of Ruislip, wore a French scarf and stood outside in the cold to show his support. "I'm just going to shake the hands of a few French people and let them know that we are here for you," he says. "The sorts of things that they were enjoying are the same things I enjoy. Rock concerts, a few drinks with friends. It could have happened to anyone in any city."
Inside the stadium, before the start of the game, English fans sang "God Save the Queen" before the crowd burst into a rousing rendition of "Le Marseillaise," the French national anthem. French fans punched their fists to sky and English fans held aloft a mosaic of the French flag. Both sets of fans observed a minute of silence, a somber moment of reflection after both squads came together for a rare joint photograph.
The game itself was slow, until England's Dele Alli lit it up with a 20-yard strike into the top corner to give his team the lead late in the first half.
French fans continued to wave their flags until a well-timed volley by captain Wayne Rooney early in the second half made it 2-0, but the French contingent remained boisterous.
In one of the more moving moments of the night, Lassana Diarra, a Marseille player formerly of Real Madrid, Chelsea and Arsenal, who lost his cousin Asta Diakite in one of Friday's shootings, entered the game in the 57th minute to rapturous applause. French star and Atletico Madrid forward Antoine Griezmann, whose sister escaped unhurt from Paris's Bataclan theater on Friday, also made an appearance. But their presence wasn't enough, as England prevailed 2-0.
The match, of course, was not about the result, and few English fans would have begrudged a French victory. For both groups of fans, the game was about moving forward in the face of fear and remembering those who perished in Paris on Friday.