Wendi Murdoch: Wonder Wife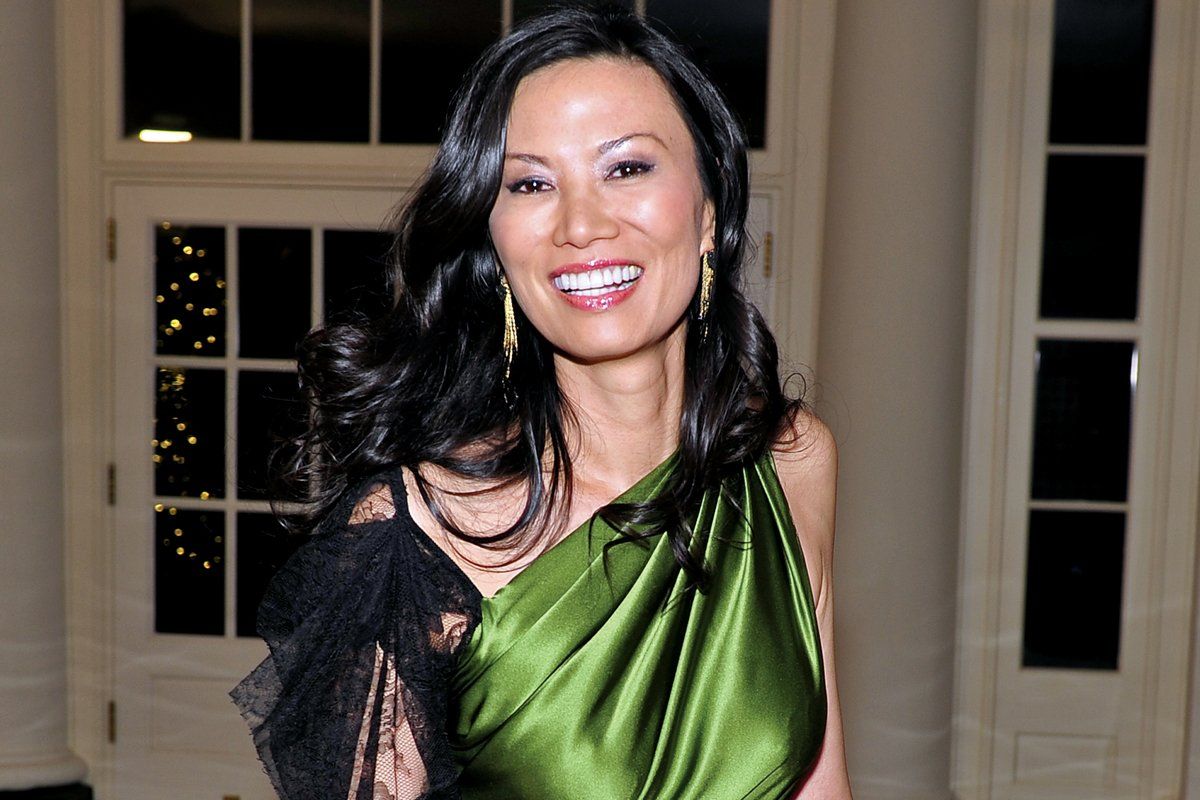 To those conditioned to think that a beautiful young woman married to a multibillionaire twice her age could be motivated only by money, Wendi Deng Murdoch—as the world now knows—has offered up a startling riposte.
In an unscripted display of marital fidelity that was, also, the most balletic act of violence on television this year, she clouted a man in the head as he approached her husband with violent intent—and a shaving-cream pie. The scene occurred at the parliamentary hearings on July 19, hearings designed, metaphorically, to knock her husband, Rupert, off his pedestal. Instead, it was a Murdoch who did the knocking down that morning, albeit a Murdoch with rangy legs, lustrous black hair, and cheekbones to die for. With one punch, it could be said, Ms. Murdoch revamped her popular image from "gold digger" to heroine, and fiercely protective wife.
The cameras cut off as she fell to the ground. But the scene didn't end there. An eyewitness saw Wendi back on her feet, grab the pie plate, and shove it right back into the face of her husband's attacker, who later described the "rage" in her eyes. As police dragged him away, she pummeled him with punches, then turned to comfort her husband, tenderly hugging him and wiping foam from his jacket.
The fashion designer Diane von Furstenberg says that, shortly after the incident, she emailed her kudos to Wendi, who "messaged right back to say, 'I should be thankful to have such a good life with so many friends around me.'" Von Furstenberg, who is married to Barry Diller, the chairman of IAC, a parent company of NEWSWEEK, believes Wendi's athletic defense "showed totally who she is. She's fierce, she's a ball of fire, she's a loyal wife. I've watched her grow from someone who was a bit shy to this amazing woman, full of energy. Her spontaneous gesture just said it all." (Echoing these sentiments in the worldly Chinese way, a Beijing netizen enthused: "This adds value to the image of Chinese wives.")
Wendi, 42, has long been the object of fascination, often of a disapproving kind. Shortly after she married Rupert, The Wall Street Journal, in one of the more prurient stories in its mostly staid history, ran a detailed account of her life before Rupert. Employing the Journal's classic deep-dig methods, the story detailed her rise from impecunious obscurity in mainland China to glittering third wife of a mogul.
It was this story, more than any other, that furthered her reputation as a woman on the make, by detailing her befriending of an American couple who helped her to move from Guangzhou to Los Angeles when she was 19. She lived with the couple, sleeping in the room of their 5-year-old daughter and studying at Cal State Northridge. Things turned acrid when the wife discovered that Wendi was having an affair with the husband, 31 years Wendi's senior. They divorced, and Wendi wed the man, Jake Cherry. "I loved that girl," he told The Wall Street Journal. "She told me I was a father concept to her, and it would never be anything else." Before long, they, too, were divorced, but not before Wendi had secured a green card.
The uxorious Rupert reacted to the Journal story with fury, calling the paper to complain. In those days, it was he who was the protective spouse. Wendi, who had gone to Yale to study for an M.B.A. after her divorce and then landed a job at the Asia-based Star TV, owned by News Corp., had met Rupert at a corporate event in Hong Kong in 1997. He was then married to Anna Torv, his serene wife of 30-some years and the mother of his children Elisabeth, 42, Lachlan, 40, and James, 38. It was, Rupert later said in interviews, a whirlwind romance.
Seventeen days after his divorce from the stunned Anna (the settlement reportedly awarded her more than $1 billion), Rupert married Wendi aboard his yacht, the Morning Glory, anchored with a view of the New York skyline. He was 68, she 30. Their two daughters, Grace and Chloe, were born in 2001 and 2003, respectively. (Last year, the girls were christened on the banks of the river Jordan in the presence of Queen Rania, and their godparents, Nicole Kidman and Hugh Jackman. The event made the cover of Hello magazine.)
Rupert's family, by all accounts, did not react altogether well to his marrying Wendi. His 102-year-old mother, Dame Elisabeth Murdoch, who lives in Australia, is still dismayed. Discussing the idea of Wendi and her two young children gaining more control of the Murdoch business in an interview with New York magazine last year, she said, "I hope it never happens." Rupert's grown children "do their best to be courteous to Wendi…James is always on his best behavior," said a former News Corp. executive.
Born in a coastal Chinese province in 1968, Wendi grew up during a bloody period in her country's history. Her parents, devout members of the Communist Party, first named her Wenge, meaning "cultural revolution," to reflect the times; as the mood lightened in the land, she changed her name to the more agreeable Wendi, or "cultural enlightenment." Her father, a factory manager, and her mother, an engineer, earned a combined monthly salary of about $43 on which they supported a son and three daughters. Although Wendi later described living conditions as "very, very poor," by the standards of the day, they led a white-collar life.
Wendi talks fast, even for a Chinese person, and has a sense of humor that can be blunt. Not long ago, a friend asked why she didn't have a bodyguard, to which Wendi replied, "I can do anything." Although she left China more than two decades ago, she is still a polarizing figure, admired or loathed in seemingly equal measure. Hung Huang, a celebrity blogger, says Chinese perceptions of Wendi are best captured by the phrase xianmu-jidu-hen, which translates as "envy-jealousy-hatred." But her televised right hook in defense of her husband may have moved public opinion in her favor: nearly half the respondents to a Chinese Web survey said it revived their "belief in love."
In China, the glitterati often shun ostentatious displays of wealth because they fear triggering resentment from the masses. But Wendi and Rupert spared little expense when they purchased a large, traditional "courtyard house" in 2004 that cost a reported $4.4 million—making it the most expensive of its kind sold in Beijing at the time. It has an under-ground swimming pool, a mini-cinema, and "a large function room where you could feed the entire Politburo," as one Chinese source put it. At a cocktail party I attended there earlier this year, Wendi showed herself an attentive host and a caring mother to her two young daughters, who ran about the compound with other children.
Despite their age gap, friends say Wendi and Rupert share a genuine bond. When he is en route to important meetings, she has been known to call the person at his side—repeatedly—to make sure his tie is straight. They are both hyperinformed and strongly opinionated news junkies with widely varied interests, chief among them the media itself. With a sweet and easy interpersonal dynamic, they genuinely listen as the other one speaks—be it the Greek debt crisis, the coming presidential election, the latest news from China, or the latest gossip from New York. They "share a very strong connection," says Chinese author Mian Mian, who had a small role in a recent film Wendi helped produce.
In the early days of their marriage, Wendi was steeped in Rupert's business, especially the social-networking site MySpace in China. But in the past few years, she has been largely focused on her children, fundraisers for maternal health, and caring for an aging husband "who's not as vigorous as before," as one former Murdoch associate puts it.
In terms of her immediate future, Wendi, for now, seems focused on her own projects, including her production of a movie directed by Wayne Wang, who made The Joy Luck Club and Smoke. Snow Flower and the Secret Fan, based on a bestselling novel by Lisa See, opened earlier this month in the U.S. and tells the story of two women who break from the constrictions of 19th-century China. Breaking their isolation, her heroines develop a secret code, writing letters back and forth in the folds of a fan.
When she isn't felling pie throwers, Wendi has been tirelessly promoting the movie. She was instrumental in getting government permission to film in China, and persuading Jackman to take part in the film. And when the leading lady dropped out at the last minute, Wendi, says See, "got on the phone to Li Bingbing—she's China's Meryl Streep—to do the film on 24 hours' notice."
Wendi's considerable dynamism is also focused on a Web project called Art.sy, meant to revolutionize how news of artworks gets spread on the Web, and especially how they get sold. For about a year now, she has been backing the project with Dasha Zhukova, another billionairess immersed in the art world, with help from über-gallerist Larry Gagosian and investment from Google's Eric Schmidt, David Tisch, and others. (NEWSWEEK and Credit Suisse co-hosted a preview dinner for the project at the Art Basel art fair this year.)
A close family friend described Wendi as "a very driven person. She seems to have a plan for her life, which is something probably none of us has." And he said he expected the much younger, more liberal wife to have a softening effect on her husband's conservative ideology. "I always thought Wendi would be a mitigating influence on his social circle and his world view. With her, he was mixing with people like Bono and David Geffen, people who would be taking fewer right-wing swipes than perhaps Rupert is used to."
For the moment, the swipes seem not to have abated. And the latest, most spectacular one came from Wendi.
With Isaac Stone Fish in Beijing, Lloyd Grove in New York, and Chris Lee and Isabel Wilkinson in Los Angeles