Wendy Williams Reveals She's Been Diagnosed With Lymphedema, Dating a New Man
On her show Monday, Wendy Williams revealed she has just been diagnosed with lymphedema. She also divulged that she is dating again, after filing for divorce from her husband back in April.
During Monday's episode of "The Wendy Williams Show," the 54-year-old talk show host explained why her ankles looked puffy in recent paparazzi photos. "Lymphedema, by the way, I've been diagnosed," she explained. "It's not going to kill me, but I do have a machine — and how dare you talk about the swelling of it all."
The talk show host said she had the condition under control and joked that her "machine" — likely a compression pump apparatus — has been a hit with friends.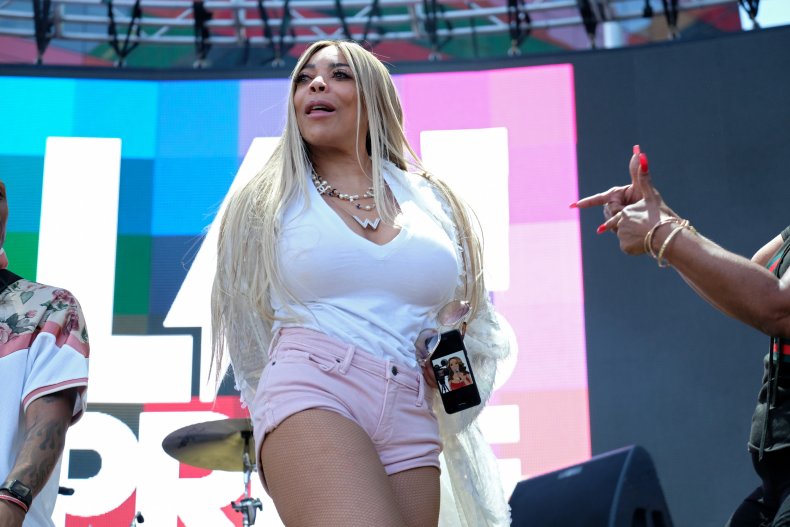 "If (the swelling in) my feet and lower things never go all the way down, at least I have this machine," she shared. "I sit for 45 minutes a day. And believe me, it's the best party entertainer ever. Everybody who comes over wants to do this."
According to the Mayo Clinic, lymphoedema is a chronic condition that causes swelling, usually in the arms or legs, when someone's lymphatic system is compromised — such as when lymph nodes are damaged or removed, which can cause a blockage that creates the swelling. Lymphedema has no cure but can be managed with an early diagnosis.
Back in January, Williams took a lengthy hiatus, saying she needed to recover from a fractured shoulder and take care of herself due to her battle with Grave's disease, an autoimmune disease that affects the thyroid. Upon returning from that break, Williams announced she had moved into a sober living facility.
Also during Monday's episode, Williams also revealed that she is dating a new man.
Although Williams was seen around Los Angeles and New York City with 27-year-old Marc Tomblin, Williams told fans that she has her heart set on a doctor in his 50s. "I'm not on the market anymore. I'm not in love. I don't know how I'm doing. I'm not in love, but there's somebody that I'm crazy about," she said. "It's not who you think. OK? Mother doesn't deal with children, but it just so happens that I guess with my charm and wit, I attract people of all ages."
Williams added: "27-year-old boys, quite frankly, find me attractive. I get it, but when it comes time for the comfort of a man, I need someone in his 50s, too, and he's gotta work. It helps that he's a doctor. He's been married. His kids are in their 20s, and yes, he's black. He's brown-black."
In April, Williams filed for divorce from longtime love and manager Kevin Hunter after two decades of marriage.
Wendy Williams Reveals She's Been Diagnosed With Lymphedema, Dating a New Man | Culture