Wendy's 50th Birthday: New Birthday Cake Frosty Flavor and Free Food Giveaway
Wendy's turns 50 years old on Friday, November 15, and is celebrating with a free food giveaway and a brand new Frosty flavor—the first new Frosty flavor in 13 years.
Wendy's Birthday Cake Frosty
Wendy's is celebrating turning 50 by launching a new flavor Frosty. The Birthday Cake Frosty is available now and will be for a limited time. The only flavors previously available were chocolate and vanilla, and the Birthday Cake Frosty is the first addition to the Frosty menu since 2006. It's made with a blend of vanilla and birthday cake flavors.
As well as the Birthday Cake Frosty, customers can also try the Birthday Cake Frosty Cookie Sundae, which is a Frosty topped with sugar cookie pieces and sprinkles. The Birthday Cake Frosty will be on the menu for a limited time only.
In a statement, Wendy's said: "In honor of our 50th, celebrate with us by enjoying a Birthday Cake Frosty Cookie Sundae. In restaurants for a limited time, the sweet celebratory treat starts with our creamy vanilla Frosty mixed with the flavor of classic birthday cake then is topped with sugar cookie pieces and sprinkles. It's a birthday party in a cup (no off-tune singing or party hat required)!"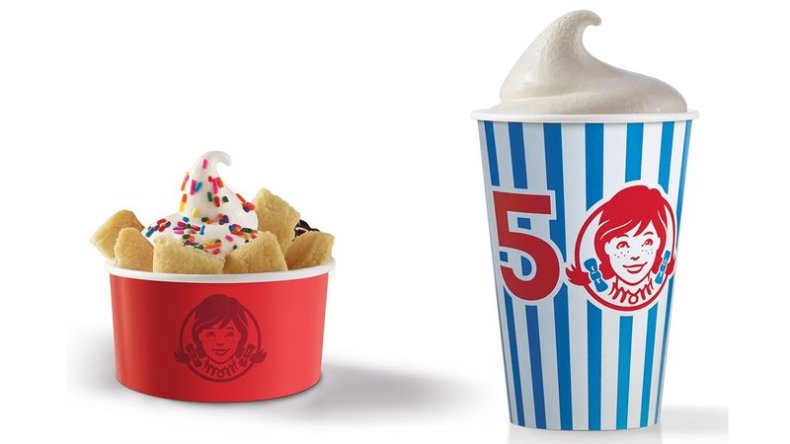 Wendy's food giveaway
To claim the free food in Wendy's giveaway, customers must use the Wendy's app to scan the Sip & Scan icon on a Wendy's cup or bag. The app will tell customers which food item they can claim for free. It could be a free Frosty or a Dave's Single, for example. Or, customers could win a small french fries or a four-piece chicken nugget portion.
Alternatively, as no purchase is required to enter, customers can enter following one of two methods. From December 23, customers can enter online to claim an Instant Win entry for free. Customers must have an online account and can only enter once per day. Additionally, customers can enter the Wendy's giveaway now by mailing a piece of paper with their personal details to Wendy's.
This offer is valid through January 3, 2020, and the free food prizes must be claimed on the Wendy's app within 30 days of winning.
Wendy's history
Wendy's was established in 1969 in Columbus, Ohio. By 1976, there were 500 restaurants in the U.S. and Canada, and by 1978, there were 1,000 Wendy's restaurants. Now, there are more than 6,000 Wendy's restaurants in North America.
In 1989, Dave Thomas, the founder of Wendy's, appeared in a commercial and quickly became a "beloved and iconic figure," according to Wendy's. Thomas appeared in more than 800 Wendy's commercials and passed away in 2002.