Police in Swansea, Illinois, are searching for a man who allegedly opened fire into a Wendy's on Tuesday.
According to the Swansea Police Department, the man went to the restaurant's drive-thru and "was not happy with the service."
"He then asked to speak to a manager who talked to him through the closed glass door. He pulled out a pistol and shot several times into the glass door and dining area," the department said in a statement posted to Facebook on Saturday.
Police said that no one was injured during the shooting, and that the restaurant's dining area was closed when the incident occurred. Police have yet to identify the suspect, but urge those with information to contact the department.
"Swansea Detectives worked the investigation overnight and continue today. The investigation continues and more to follow," police said.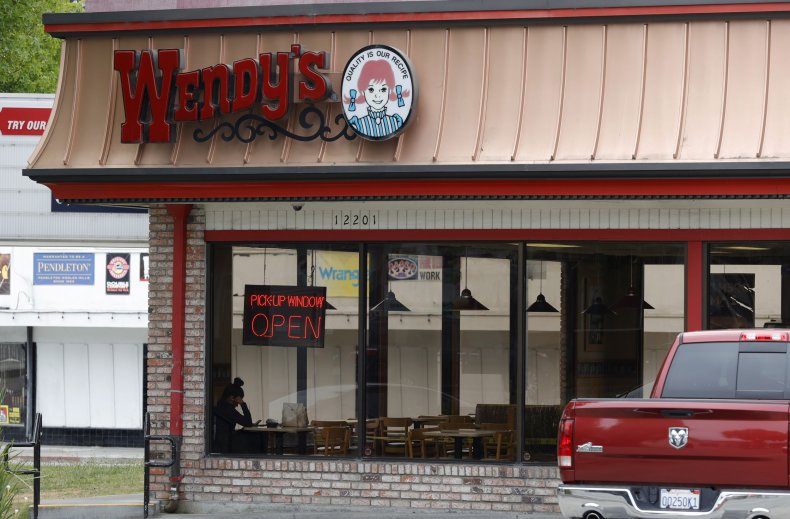 Newsweek reached out to the Swansea Police Department for any updates about the case and their investigation, but did not receive a response before publication on Sunday morning.
This incident is one of several mishaps at fast food restaurants in the U.S. regarding violence.
Earlier this month, police in Cincinnati said they were searching for two women who allegedly assaulted a Wendy's employee in an attack that fractured her leg.
A video of the incident shows the women punching and attacking the worker, with the assault beginning in the back of the restaurant and continuing into the lobby.
Police announced this week that they had made an arrest in connection with the assault. Ohio news station WXIX reported that police arrested Aneeja Smith and charged her with felonious assault, and that law enforcement officials are still working to identify the second alleged attacker.
In January, a Wendy's employee was shot in the head at a drive-thru in Phoenix. The customer at the window asked for extra barbecue sauce when an argument ensued.
Police say the customer allegedly opened fire into the store, injuring Brian Durham Jr., who was 16-years-old. The bullet reportedly grazed his brain, but he survived after five hours of surgery. The teenager's father said at the time that it's unclear how the injury will impact his cognitive abilities.
"They don't know how his speech is going to be," his father told NBC 12 News. "They give him commands and he moves his fingers and toes but can't talk."