When I was young I loved watching the 1977 animated adaptation of J. R. R. Tolkien's The Hobbit. I loved all of Tolkien's books and so, when Peter Jackson made The Lord of The Rings and The Hobbit trilogies, I was totally enamored with them, too.
I was born in Chicago, Illinois and moved to Portland, Oregon so I've always been a big city girl, but my husband Tye and I decided several years ago that we wanted to move out into the countryside. I felt that if we were to make that move, then it should be somewhere that was like the Shire in Tolkein's Middle-earth. I told my real estate agent that was my dream.
We had originally looked at moving to a city called Hood River in Oregon, but there was limited land available and it was very expensive. Then, we discovered a little town called Mosier about 15 minutes further east. We viewed a beautiful plot of land there and after a few setbacks, the owners dropped the price just enough that we could afford to buy it. Our 26 acre plot is on a hill and goes down to an acre of pond at the bottom. It sits within a little enclave where there are more trees than normal, so we have pine, fir and oak trees.
By this point I had seen the hobbit house in Pennsylvania that architect Peter Archer had designed and so our real estate agent suggested that I call Peter. He's based on the east coast but agreed to fly over and we drove up to Mosier together to look at our land. Peter is a wonderful architect and he was able to design our "hobbit house" to be built slightly into the hill. It's hard to make a house that's actually under the ground, you can't get a lot of light in there.
We wanted to make our hobbit house functional because we want to live in it, so Peter's design was more of a conventional "above ground" home than the one Bilbo Baggins lived in. Another key element for us was having a well so we had a water source. Ultimately, we had to drill down 900 feet in order to reach a fresh spring, but we were then able to go ahead and begin our build in October 2019.
Our hobbit house is a one bedroom home with a loft. It's small at 1,100 square feet but I didn't want a really large home; I didn't think that's how a hobbit would live anyway. Peter designed it so you walk through a circular door into a small entrance way before you step down into a library, which is going to have timber frame columns and bookcases. Then, you move into the living room which opens right up and has vaulted ceilings, a wrought iron chandelier and a fireplace. We included arched timber frames in the ceiling just like those in Tolkien's illustrations of Bilbo's home. There is one bedroom and a kitchen, and another big circular door that we call the moon door. When we complete the home there will be a veranda that overlooks the pond and the surrounding area.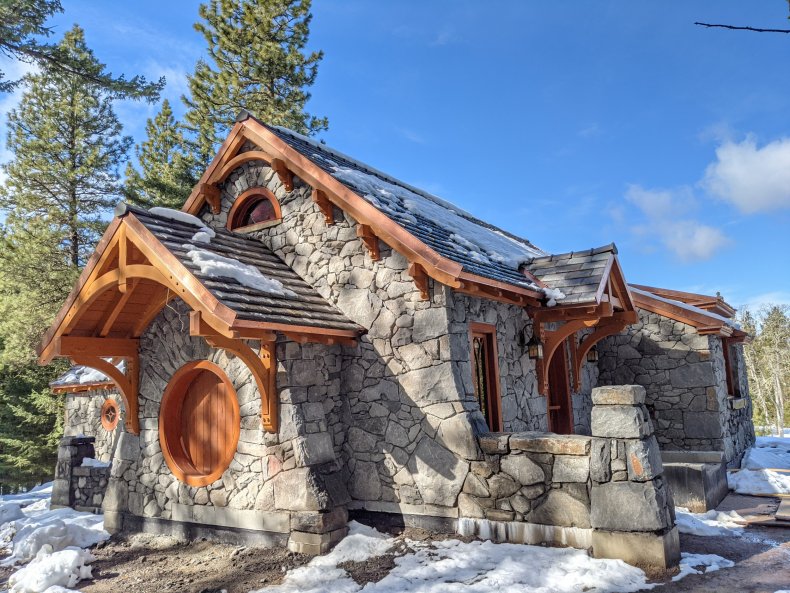 We were lucky enough to find a master mason who was able to procure stone from a local quarry for the house. Tye took a month off work to help the master mason—he learned how to split rocks that were two feet tall and three feet wide. The whole house is made from that stone and it's designed to blend in with the landscape.
We actually watched the Lord of The Rings and The Hobbit movies a number of times for inspiration for our home's interior. If you watch as Bilbo or Frodo are walking through their house in the Shire, you'll see they have curved walls. We didn't go that far with the design, but we wanted textured surfaces so I found a compromise; American clay with blush pink pigment in it. The clay softens the walls and almost gives them a suede-like feeling; you walk into our home and it feels like you're putting a blanket on.
It was important to me that there were accents of "hobbit" throughout our home, so our front door has a dragon with a bell that you ring. Bilbo's door was green and ours is natural wood, but the knob is in the center like his. We have lots of wrought iron throughout the home including hinges and bolts that we had forged locally. I even have a Lord of The Rings ring that has an inscription from the book on it and is going to be in a glass display over the fireplace. We are installing lamps that are shaped almost like wizard hats and my husband and I have created a mosaic in the bathroom. We studied how to make mosaic and designed a shire image that is going to go into our bathroom ceiling.
We also commissioned a local artist, Theodore Ellison, to design a themed glass mosaic which is also a scene from the shire. That will be placed so it is reaching over our fireplace made from reclaimed wood. And, we're going to put one of my favorite Tolkien quotes—"Not all those who wander are lost"—in gold stencil over the mantlepiece. Eventually, we're planning to have a wooden barrel shaped hot tub that will be sunk down into the concrete on the veranda, because it's so beautiful out there. My husband has been testing a glowing agate material that we'll spread lightly over the veranda; it glows like a star field and can last for years.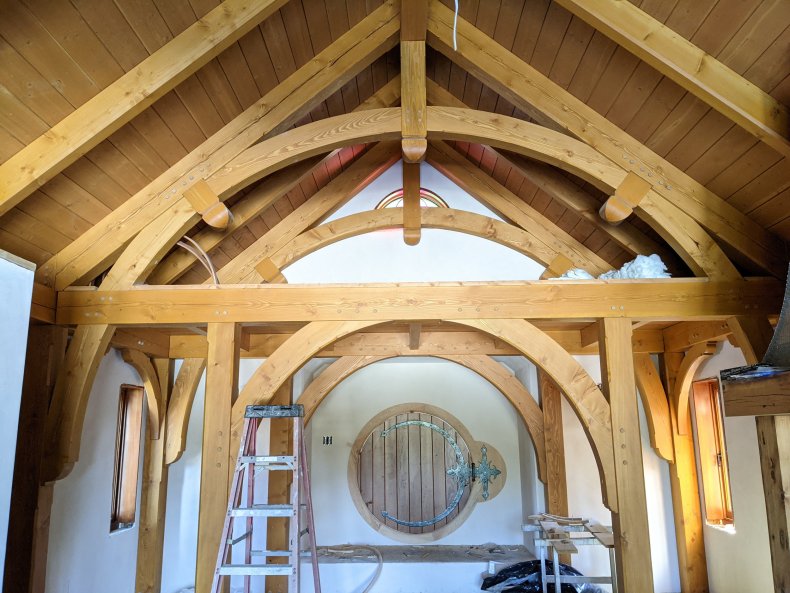 We expect to be able to live in our hobbit house in around three months from now, which will be Spring, when the wildflowers start to bloom. In my opinion it's the best time of year in Mosier. Of course, the COVID-19 pandemic has delayed us as supplies like copper and our roofing materials were hard to come by. We're also in the middle of nowhere so finding contractors is more difficult and costs are higher. We were particularly fortunate because our general contractors live five minutes away from us. They are a father-daughter team; the father is in his 70s and the daughter is in her 30s, so she is completing most of the manual work. It's great that our home is being built by a woman.
In total, the cost will be a little under $1 million. That includes the land itself, the cost of the well and the development, materials and building of the hobbit house. It has actually cost us less than we had expected considering we have 26 acres of land, a custom designed home and beautiful craftsmanship and materials. I don't have any regrets; it was my dream. And, I've dragged my husband into it and now he's all for it, too.
My husband is an engineer and I'm a teacher at Portland Community College in the physical education department, but our hobbit house is only an hour's drive from Portland, so we'll be there every weekend as soon as it's ready. We'd like to move out there permanently when we can; it's such a peaceful place to be and it's an active way of retiring. Working the 26 acres of land is going to keep us going; it's going to be fun. With the COVID-19 pandemic, I've been working from home so this hobbit home process has occupied me and allowed me to channel my creativity.
I like the idea that our hobbit house will be attractive to other people. We're thinking about having a gigantic party to "open" our home when it's complete. Tye is learning the cello so he and his teacher's music group will play at the party. I don't think he ever, in his wildest dreams, thought he'd be living in a house like this at his age, so that's cool. He really enjoys nature and we are both looking forward to managing the land and living in a very organic house.
I think Tolkien would approve of our hobbit house, he's long gone but in his period of time I think it's the kind of house he would have liked to live in.
Theresa Truesdell and Tye Aldana live in Portland, Oregon. They are currently overseeing the completion of their "hobbit house" in Mosier, Oregon. The house was designed by Peter Archer of Archer & Buchanan Architecture. Building work is being completed by Anna and Mike Butterfield of Butterfield-Designs LLC. The master mason was Michael Byrne Masonry.

All views expressed in this article are the author's own.
As told to Jenny Haward.