Were Clare Crawely and Dale Moss Talking Before 'The Bachelorette?' How They Fell for Each Other So Fast
Clare Crawley is supposed to "blow up the Bachelorette" according to teasers for Season 16. It's a season unlike one Bachelor Nation has witnessed before, but really this time! It's a welcome change in a year so full of unpredictability. While The Bachelor franchise usually follows a predictable script, COVID and true love led to a storyline we've never seen.
As the return of The Bachelorette was a welcomed sweet spot in the wild year, so is the idea that this season may actually see a love so strong, the whole structure crumbles under its weight.
Crawley is expected to leave the show with her frontrunner Dale Moss. It comes after Crawley claimed on night one that Moss was her "future husband." At the time she'd only hugged the man, making it an apparent "love at first sight" meeting. While Crawley has entertained her other suitors thus far, her attraction to Moss was obvious.
There are some things that make fans wonder if Crawley and Moss spoke before filming The Bachelorette. Due to COVID, a halt in Crawley's season allowed her time to Internet stalk all of the men who were cast for Season 16. And who could blame Crawley for looking at their Instagrams? Maybe I speak for myself, but I'm sure many of us would do the same thing.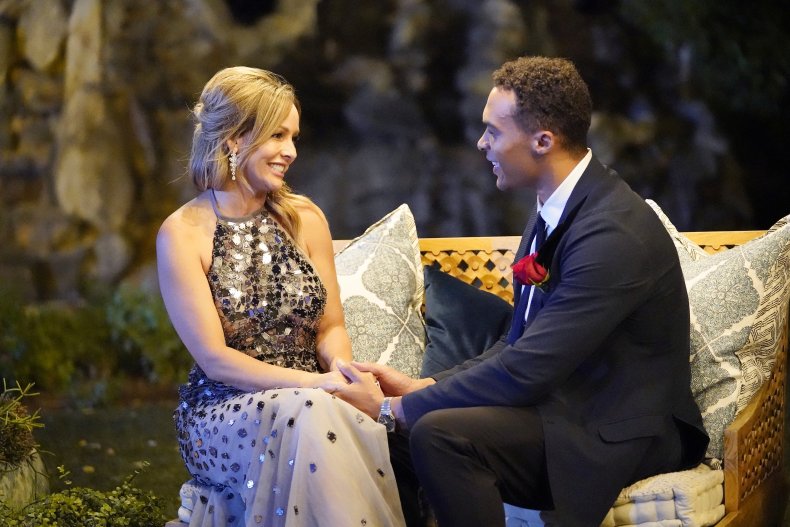 The question is how far she took it. Crawley already admitted to stalking the men online. That's why, when she said "I knew it" right after meeting Moss, Crawley's authenticity seemed a little shaken. But spoilers say Crawley and Moss didn't actually talk ahead of time, even though they may have looked at each other's Instagram accounts.
Reality Steve claimed the pair didn't talk ahead of filming, and that was confirmed by Bachelor alumni Michelle Money, who is friends with Crawley.
Crawley seemed to confirm this herself during the premiere episode when she thanked another man for breaking The Bachelorette rules to be the only man who sent her a message of support when the show was halted. In that statement, it seems clear Moss didn't reach out to Crawley.
Though they didn't talk before the show, it's possible Crawley developed a social media crush on Moss as he shared moments of his life during the quarantine. If that crush would have been strong enough to form a genuine love is a whole different conversation.
All we know is as of the moment Moss stepped out of the limo on night one, Crawley was hooked. We may never know what really happened behind the scenes, but do we ever?