'We're Creating a City in Georgia for Black People to Live Without Racism'
My friend Renee and I do affirmations together each morning, and earlier this year we were talking about how we were both feeling completely distraught about events going on in the world; like the killings of Breonna Taylor, Ahmaud Arbery, George Floyd and so many other Black people.
Renee told me that this was the first time that she had felt depressed and anxious about her husband going to work or not answering a phone call and I shared with her that it was the first time in my life that I had felt disempowered. I felt like I had no control over my life, my children's lives or my husband's life because of what has been happening in America.
Renee had sent me an article about some land and properties for sale in the town of Toomsboro, Georgia. It was advertised for $1.7million dollars, which is around the same amount that a two-bedroom New York apartment would cost. She said to me: "Ashley, we could buy a city."
There was so much buzz in the Black community and on social media about this idea of us buying a city, because many people are deeply concerned about the state of America, how Black Americans are treated and the injustices that we face.
When we look at any number of issues in the U.S: Who has been incarcerated more? Who is harmed the most by the pandemic? Who has been brutalised the most by police? Who experiences some of the highest rates of poverty? In every case Black folks are being disproportionately affected despite our minority status in this country.
Now, we felt we had to do something for ourselves. To start to change that and repair those disparities. Renee and I are actively involved citizens and educated people who wanted to be part of the solution.
We decided to attend this open house in Toomsboro and since I'm a real estate agent, I suggested we should also see what else was available on the market. I had highlighted about four different large parcels of land that were for sale in the area.
So when we finished visiting the open house, we went and looked at the other parcels of acreage. And when we stepped on the land we ended up purchasing, which is 96.71 acres just outside Toomsboro, it was as if the ancestors had said, "this is your land". It felt like a divine experience. The land is just gorgeous; it has a beautiful view of hills, valleys, trees and it's rich in natural resources. We looked at each other and just said: "This is it."
One of the reasons we selected Wilkinson County is that from the first day, when we went to the open house, we never felt like we were unwelcome. We never felt the sense of systemic racism there. Toomsboro has a Black mayor and Chief of Police. Wilkinson County sheriff department has a Black sheriff, there is a Black county manager, the chairman of commissioners is Black and several commissioners are African American. We felt it was already a place we could tell there was a sense that all people are welcome. We haven't been stopped once in Wilkinson County. We haven't had any of the experiences that you can have any given day of the week, even in a progressive city like Atlanta. In Wilkinson County, people look at you like a human being, with dignity. They are creating an environment for success and the joys of recreation.
By the time we left the land and were driving the two hours back to Atlanta we had come up with the name; Freedom Georgia. That same night we called a lawyer friend of ours to pick her brain about how we would actually do something like this, create our own city, and I created a PowerPoint presentation about the land. Two days later, we had 25 folks show up to a call about investing, and we now have 19 families who have invested in our land.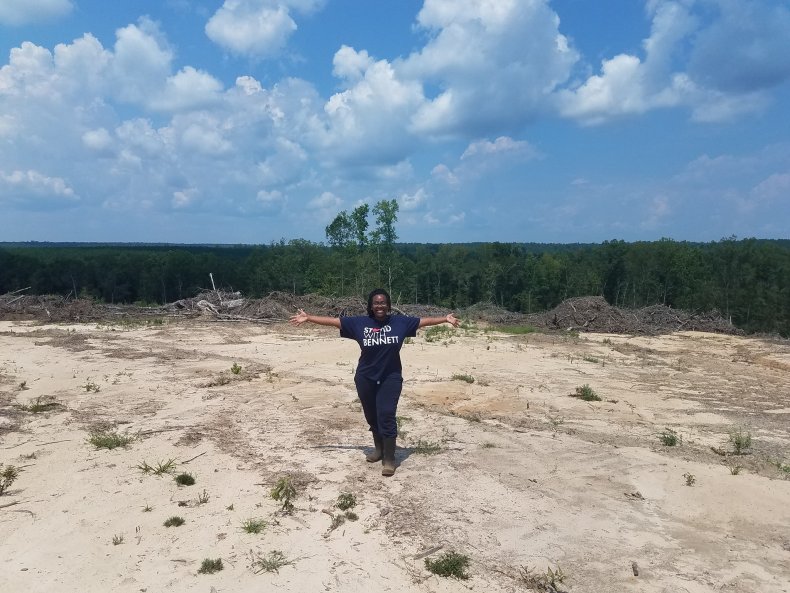 Freedom Georgia has five planned stages of development and the first stage is getting the city's infrastructure in place and designing the masterplan. We're deciding what this community will look like when it comes to the types of housing, businesses and shops that we need. We're at a place right now where we've gotten insight from architect Herman Howard, a master of planning and urban design, who can advise us on developing an innovative and beautiful community.
At this stage, we're hoping we will break ground on our first phase of housing in 2021. We hope to see all of our subdivisions completed in the next three to five years. Being a municipal corporation (a city) is going to take some time and political navigation. As well as having 200 residents and acquiring enough land mass (which we have done), there are other municipal requirements we need to meet.
So, we're now trying to figure out how we can build the best city if we get to start from scratch. The beauty is that we will get to select everything we want, from broadband to water and electricity providers and how we implement each of those. We have a lot of flexibility with the land, which is amazing because we knew we wanted to be environmentally friendly and utilise new technologies. For example, we have been looking at the work of Moses West, an African American entrepreneur who has developed atmospheric water generation technology.
Our intention is to employ and subcontract Black owned businesses in every form and fashion. That's not to say we won't work with non-Black vendors if we can't find a Black vendor and in some instances, of course that will be the case.
But our mindset is that, as much as we possibly can, we want to keep the dollars that we are going to spend on building this city in the hands of Black folks so we can create generational wealth. You can't create generational wealth if every dollar you spend goes to a different community.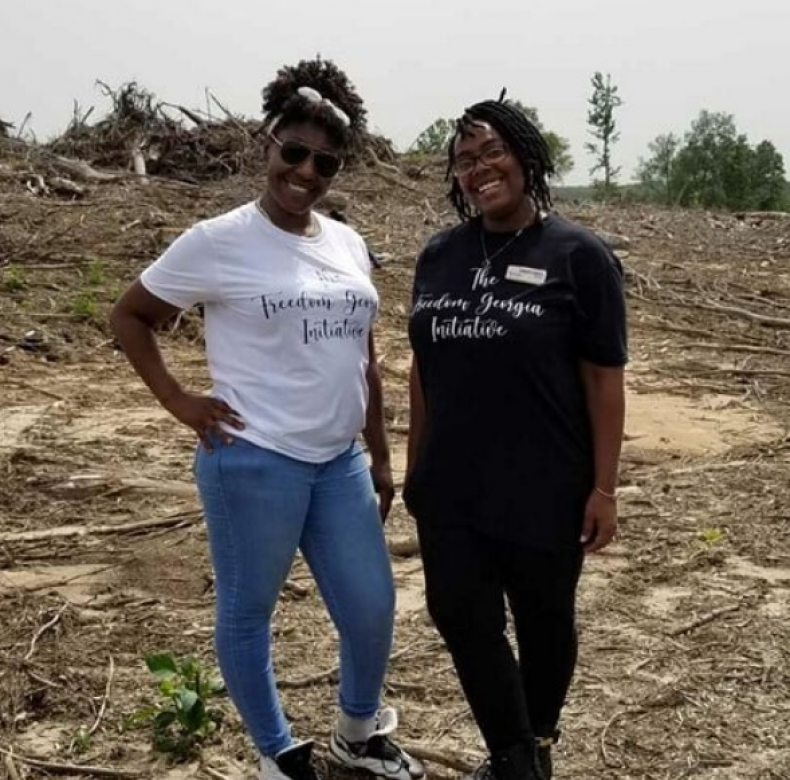 We would love to see a community that is thriving and filled with Black families. We want to attract Black families, prosperous families and law-abiding citizens who want to come and work collaboratively to build a hyper-local economy that creates wealth and creates legacy for Black folks. But no-one has the intention of telling anybody that they are not welcome.
My perspective is that if I don't become more intentional about my community, I can't expect anyone else to. So that's where we are, being more intentional about the type of communities Black families need to create and live within, so that we can empower our children and the next generation of children to have a sense of pride and a sense of collective power to make change when people are killing us or treating us unjustly. Real estate creates wealth in the community and Black families do not hold enough real estate in the U.S. Black land ownership has declined hugely; we own less land in America now than we did 110 years ago.
Freedom Georgia Initiative is a privately-owned, woman-owned, black-owned, veteran-managed Limited Liability Company (LLC). Most of the group who have invested are married, so when we decided who would put their names on the LLC we decided it should be the women. We're the ones leading this charge. Our husbands are wonderful Black American men who suit up every day to take care of their families and they give us the latitude and the flexibility to go after these entrepreneurial pursuits because they are providing for us. We wanted to honor the women who came up with the idea but also to inspire other women to do these types of things, and to be able to access the benefits that are out there for woman-owned businesses.
Of course, becoming a city is going to take some time and political navigation. But it genuinely feels like we are Black pioneers going out into the wilderness and deciding how we can develop it. We want it to be Black excellence at its best.
We'll be able to grow our own food and through animal husbandry we'll have the opportunity to know our own chickens and raise goats and cows.
This land will not be transformed into a big city with skyscrapers, because that would not do the countryside justice. For us, this is God's country and it's gorgeous. We want to build structures that honor the serene rural landscape and create a sense of peace and joy. We're building our very own utopia and it's really exciting.
We want to create an authentic community where everyone feels welcome, where people can be authentically who they are. We as Black folk want to feel welcome and be able to show up as our whole authentic selves and not be judged.
But we don't want to create any kind of community where other people don't get to enjoy the same spirit and experience that we're fighting for. We want to be a shining model of how to take things into your own hands and be the change you want to see.
Ashley Scott is a realtor, a believer, wife, mother, daughter, sister, serial entrepreneur, and proud graduate of Bennett College. She serves as vice president of the Freedom Georgia Initiative. Ashley is also the owner of the Mobile Mavens, a 360 degree marketing agency serving small businesses.
All views expressed in this piece are the writer's own.
As told to Jenny Haward.