'We're Helping Rescue Dogs Escape Ukraine'
When Russia invaded Ukraine, the animal welfare charity I work for already had contacts in Ukraine so we could immediately help within the country and get aid there. We have an employee who is Ukrainian and lives in Kharkiv. She spent the first few weeks of the invasion in a basement there with her young baby. When she was able to leave and find refuge in a different part of Ukraine, we began working with a transport network to get animal aid—such as food, leads, bedding and carriers—for people who are evacuating.
Recently we sent over 100 pet carriers destined for Kharkiv. If you have ten cats, trying to stick them in your handbag isn't an option, though I saw a woman who had a cat in her bra at the Ukraine-Poland border.
I run the wildlife crime campaigns for Naturewatch Foundation in the U.K, but my colleagues had identified a need for basic veterinary care at the Ukraine-Poland border. I offered to organize some trips out to the Polish border town of Medyka to help get items to where they are needed.
My first trip to Medyka was early March and we managed to drive there with about half a ton of aid to deliver to the border and help at a temporary shelter facility supported by our Polish partners on the ground, a small charity called Psierociniec. The queues of Ukrainians waiting to come over the Medyka border on foot were about 14 hours long and I would say perhaps one in four people were coming over with an animal; whether that be a dog or a cat or another create. We even saw somebody with a rat. In terms of supporting pets coming over with refugees, we have helped hundreds of animals.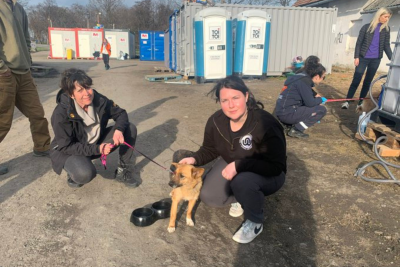 One woman we helped had traveled from Kharkiv with her teenage daughter, two cats and a terrapin. Her daughter had been injured on the journey, her ankle was huge and she was sent to hospital with a suspected broken leg. So these people have not only escaped a war zone, their teenage daughter has a broken leg, their two cats have no food or water and they have a terrapin in a jar. We looked after their bags and animals while they went to hospital and went to the nearest pet shop and bought some more aid for them. What else do you do for people who have been through all that? We felt that these people had had the decency and compassion to bring their animals with them, so they need the same shown to them.
When we briefly went over the border into Ukraine with our Polish partners, we went to the nearest animal shelter and also visited other borders that only allow cars through. Understandably, veterinary resources are very limited in Ukraine at the moment, both the items and the pets. People are displaced or have fled.
Then, on my second trip to Ukraine in early April, we were doing work at the border and were seeing large numbers of dogs being turned away. We asked why and we were told that the current regulations state that to get into Poland, animals are expected to have a pet passport, rabies vaccinations and evidence of those, but of course, having been rescued from a war zone, these shelter dogs do not have those.
So, our Polish partners have created a very, very temporary holding facility in Lviv in Ukraine and volunteers from Poland go over there to make sure that the animals held there temporarily have the care they need. Many of the dogs in Lviv are from an animal shelter in Borodyanka, Ukraine, where 450 dogs were left without food or water for five weeks. The majority died, but three organizations, Breaking the Chains, Tailed Banda and Tailed Thursday were able to rescue around 150 dogs in early April. Sadly, some of the remaining 150 died in transit because of the stress of moving.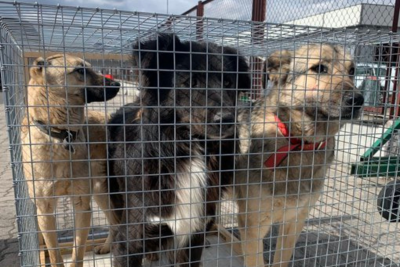 Some of the Borodyanka rescue dogs have made it over the border, thanks to Ukranians who have helped us. But from the Borodyanka dogs that came to the Polish border and are now in Lviv, there are probably 16 that have made it to Poland so far, and approximately 60 to 70 dogs that are still in Ukraine.
When one of these rescue dogs does make it over to Poland, we immediately assist in processing them with a Polish vet, so the dogs can get a vet check and then the pet passport, vaccine and microchipping procedures begin. One dog came over the border on April 10 and had been in a crate for 26 hours. When the crate was opened the dog couldn't stand because it was so weak. Luckily that dog is now in Poland getting vet treatment, but there are some that aren't as lucky.
We're not calling for a mass evacuation of all animals from Ukraine, but the welfare of shelter dogs is compromised by staying there. Being held in a temporary shelter is OK temporarily, but it's not good for the animals' long term welfare.
I am currently back in the U.K. but on an hourly basis I am getting updates from people on the ground in Poland and at the shelter. We have built really good partnerships and they give me information on what they need and we make sure it gets there. I think work on the ground is going to be vital going forward, but it will be on a basis of what is needed.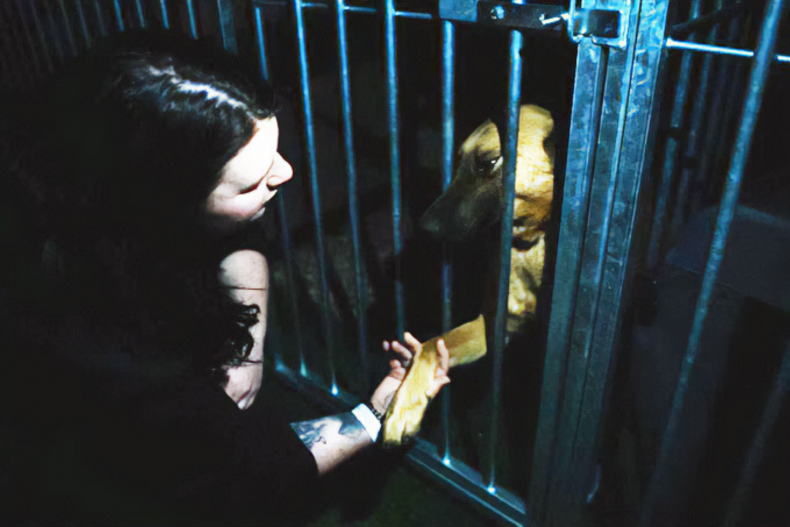 Long term, the idea for holding facilities at the borders would be worthwhile and valuable. And, I would like to see there be some consideration at the borders for animal welfare.
When there is clearly a need for immediate veterinary care or a better solution for housing, animals should be allowed over the Polish border if there are shelters that can take them. I would like to see the Borodyanka dogs allowed over so they can get the care they desperately need.
In my previous job I was an inspector for the Royal Society for the Prevention of Cruelty to Animals (RSCPA) in England, so I am used to seeing animals that aren't cared for properly and witnessing the effects of animal cruelty. But in those situations, you can put a reason to the cruelty, even if it's sick enjoyment or if someone can't afford food so their dogs are starving. And, that might end in a prosecution or an education session, so there is a resolution to it. To see animals within a warzone was really difficult to process. There is so much suffering for people and animals, but there are no consequences for that. So, we can only try our best.
Kate Parker is a wildlife crime campaigns manager at Naturewatch Foundation. You can follow Kate on Twitter @KateNWF.
All views expressed in this article are the author's own.
As told to Jenny Haward.