Small-town America will get the beat it needs with Bob the Drag Queen, Shangela Laquifa Wadley and Eureka O'Hara's new unscripted-series, We're Here. The show premieres on HBO Thursday and will see the RuPaul's Drag Race legends painting some of the most rural of places with the glitz and glam of drag.
The series is a mashup of a drag show, reality program and docuseries, but the overall premise is simple: the trio hopes to reverse the negative outlook that people in some small towns have towards drag and queer culture by exposing them to a thrilling one-night drag show. So Bob, Shangela and Eureka trot around the U.S. by visiting places that haven't been so welcoming to the LGBTQ+ community—such as Gettysburg, Pennsylvania; Twin Falls, Iowa; Branson, Missouri and others—to preach the gospel of acceptance the way they know best.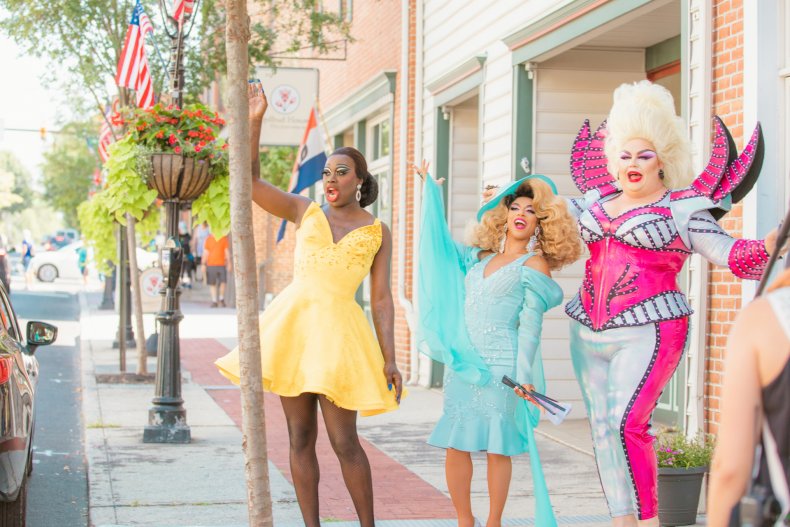 Their journey leads to heartwarming moments that magnify the importance of community as the three encounter locals that have been outcast and condemn by not only their hometown but, in some cases, their own families.
In each episode Bob, Shangela and Eureka help people living in the shadows and provide encouragement to folks who have shunned queer culture, lending their support and expertise to as they gear up to sashay down the runway in each town's very first drag show. As they coach their "daughters"—or rather, the three individuals set to appear in the drag show—the queens learn more about the issues their students are grappling with. '
In one town, the queens bond with a young makeup artist who's desperately yearning for a deeper relationship with his macho motorcycle-loving father. In another, they help a Christian woman reconnect with the bisexual daughter she ostracized. Elsewhere, the queens help a straight musician make amends for his past by redefining the definitions of masculinity.
In the end, they all come together to celebrate community and otherness with big wigs and makeup so good, even the harshest of critics will gag.
Exposing small towns to drag was an approach that particularly resonated with Shangela and Eureka—they're all from small towns themselves.
"When [show creators and producers Stephen Warren and Johnnie Inngram] told me about the idea of three queens traveling to small towns across America to help people kind of realize best versions of themselves and put on a drag show in a place that's never had them, I was like 'Oh my God, yes,'" Shangela told Decider. "Because I was born in a small town, I came out in a small town. I know these hardships and challenges but I also know the joy of being in a small town, so I wanted to unearth that for people who may feel like they were the only ones like them out there."
We're Here premieres on HBO on Thursday at 9 p.m. ET.