'We're Here' Creators on Helping LGBTQ+ Community and Telling "Authentic, Diverse Stories"
HBO's heartfelt docu-series We're Here is the brainchild of Johnnie Ingram and Stephen Warren, a real-life couple who wanted to see how they could help people from small towns with the involvement of drag queens.
Ingram and Warren spoke with Newsweek ahead of the show's second season and reflected on helping the LGBTQ+ community through the series, with the former saying they are keen to tell "authentic, real and diverse stories."
Starring Shangela, Bob the Drag Queen and Eureka, the origins of We're Here stemmed from a different, though still related, show: RuPaul's Drag Race All Stars.
Ingram and Warren were watching the 2018 edition of the show, which was won by Monét X Change and Trinity The Tuck, while on holiday when the idea for the HBO show came to them.
Warren explained: "We both thought what would happen if we took drag queens and put them in the real world in small towns and had them take residents of the town and put them in drag to tell their stories? How would the town react?
"We looked at each other and we knew this is a hit show, it's important, we've got to do this and we were both so excited."
Ingram said they have been "pouring both of [themselves] into this show" not only because they work on it as a couple, but also as he comes from a small town in Eastern Tennessee and knew what it was like to grow up queer in a conservative community.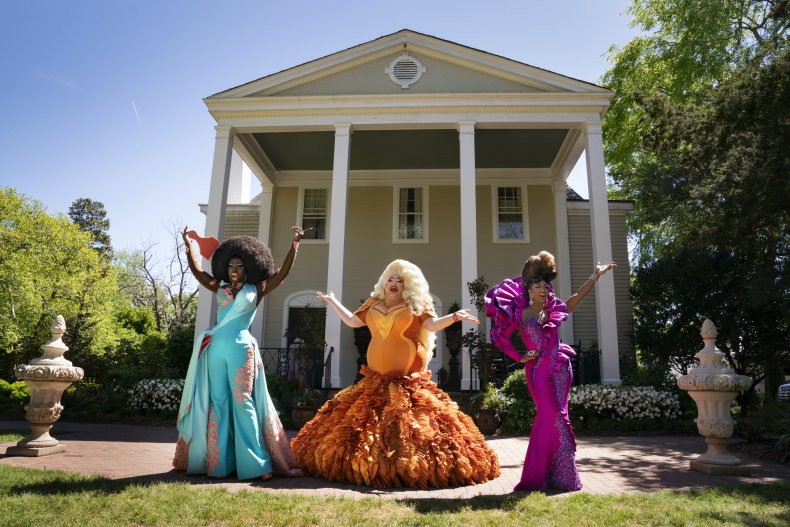 Ingram worked at drag bars while in college and it was thanks to bringing his family to his workplace that they were able to learn more about the LGBTQ+ community: "When they would come to town from a small Eastern Tennessee town to a big city and see these drag shows there was a flood of questions, conversations started that wouldn't normally happen. It was really kind of extraordinary."
It was a desire to give this opportunity to others that helped inspire We're Here, so how do they select the towns and people who Shangela, Bob and Eureka work with.
"The town is very much a character, some more so in certain episodes," Ingram said of the selection process. "Some places have more of an identity and some kind of aren't, sometimes the drag kids take more of the personality of the location, so it's a mixture.
"It's a recipe of finding stories that are compelling. We're asking a lot of people to stand for their communities because we come in and we leave, and we want to make sure they have resources on the ground so that when we do leave it isn't just something where it's one and done."
He went on: "We like to give you almost a little taste of places across the US, but also at the same time looking thoughtfully into the stories that we haven't told, and really look for people who can benefit from going on [the show].
"I mean, these aren't fairy godmothers and we're not changing the world with this but it is important, and I think you've seen in the news how queer culture is oppressed, and drag performers... quite often people protest their presence and their right to even exist, and I think that visibility is very important.
"So, it's a mixture of trying to tell authentic, real and diverse stories that truly do exist in these small communities, and a mixture of going to different places across the US."
Shangela, Bob and Eureka meet a number of extraordinary people in Season 2, including the Mayor of Del Rio, Texas, Bruno Lozano – whom Warren calls a "force of nature" – and activist couple Barbara and Yvon, who were "perfect" for the show.
But one town that stood out was Selma, Alabama, which features in the second season's fourth episode, where they meet transgender woman Akeelah, gay man Joseph, and Deborah, whose lesbian granddaughter was tragically murdered because of her sexuality.
Looking back at the episode, Ingram said: "Selma was an incredible place and it was a real privilege to get to go and tell the stories there, we're truly grateful.
"I think especially Bob, and Bob was born not very far from Selma, and his connection to that community is authentic and real and important, we really were just so happy that we got to visit and tell those stories."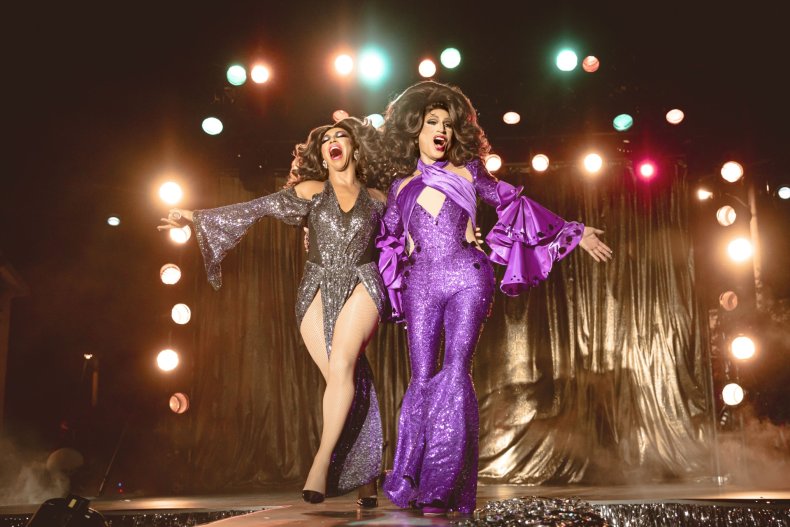 In order to tell these stories effectively it was important for Warren and Ingram to pick the right drag queens to be a part of the show, and the couple admitted that was an easy decision.
"We never even considered anyone else, truthfully," Warren said of Shangela, Bob and Eureka. "We knew based on the vision we had in our head for what we wanted the show to be that we needed three people that were diverse in terms of their talent, in terms of their life, and in terms of their experience.
"Most importantly we needed three people that had empathy, and these three people –through watching them on RuPaul's Drag Race and through meeting them – we realised they had very special depths of goodness that they can bring forth, and they each do it in their own way."
He went on: "We knew it was going to work, and over the course of the season what I think has happened – the first season we loved so much – [but in the] second season something magical happened."
Ingram strongly agreed, adding: "They're extraordinary artists, people more and more are seeing that the drag arts are evolving and they're able to tell real stories, and executing those stories through their art form is a real shift in how the drag arts are seen.
"They really embraced that idea and have really taken it to the next level this season, we're super proud of their extraordinary abilities."
We're Here starts airing weekly on HBO from October 11.