We're Not Angry Paul Manafort Was Released. We're Angry Millions of Others Weren't | Opinion
Last week, a judge released Paul Manafort from federal prison to home confinement due to concerns over COVID-19. Even though the virus had yet to enter the prison in Pennsylvania where Manafort, President Donald Trump's former campaign chairman, was less than two years into a seven-and-a-half-year sentence, the need for urgent action was clear. "Given the growing number of cases in Pennsylvania and increasing challenges in testing inmates and staff," Manafort's lawyers argued, "it is only a matter of time before the infection spreads to staff and inmates...at which time it may be too late."
Manafort's lawyer was correct, and the judge made the only reasonable decision.
Once COVID-19 enters jails, prisons and detention centers, it is impossible for the people who are caged inside to protect themselves. They are unable to social distance. They are crammed shoulder-to-shoulder in cells with dozens of other people. They are not provided basic sanitary products, like soap and cleaning solutions. And when they contract COVID-19, they do not receive proper medical care.
We aren't angry that Manafort will serve the remainder of his sentence from the comfort of his three-bedroom home in Northern Virginia with his family. Far from it: We are outraged that the exact same reasonable argument and urgent call for release made by the millions of other people caged in jails and prisons across the country—with the support of their families, public defenders, advocates, organizers and medical professionals—have been met with cruel indifference or derision by those with the power to do something.
In Harris County, Texas, for example, advocates and civil rights lawyers were calling months ago for the release of thousands of vulnerable people before the virus inevitably reached inside the jail walls—before it was "too late." Instead, the governor issued an unconstitutional executive order blocking local judges from releasing people. For police, prosecutors and judges, it was business-as-usual. And Andrew Pete, currently incarcerated pre-trial, was thrown into solitary confinement for complaining about high fevers, body shakes and his inability to breathe. Because of inaction despite all the warnings, as of May 16, 663 people caged and 91 staffers inside Harris County Jail have tested positive and 2,123 people have been quarantined.
In Michigan, after leaders similarly ignored urgent calls for compassionate release in prisons before it was too late, 74-year-old Susan Farrell became the first woman in one of the state's prisons to die from COVID-19. Farrell had served 30 years for allegedly killing her husband, who sexually and physically abused her. Today, Michigan has the highest death toll from COVID-19 in prison of any state, and there have been at least 2,173 confirmed positive cases.
And in Miami, where our organizations are partnered in the urgent fight in and outside of court to decarcerate as many as possible of the approximately 3,000 people in the three local jails, lawyers, advocates, those incarcerated and their communities set forth the same reasonable arguments as Manafort's attorneys before COVID-19 made its way in.
People inside of Miami jails went on hunger strike and began writing petitions and staging protests demanding their immediate release and a change in conditions inside. Their families contacted judges, prosecutors, the mayor and even the governor, but received nothing more than canned replies. Dream Defenders co-authored a demand letter urging top prosecutor Katherine Fernandez Rundle and local judges to immediate release people from jails in light of the lethal threat posed by COVID-19, and in early April filed a federal lawsuit with the Civil Rights Corps and Advancement Project against local jail officials to release as many people as possible and provide minimum health standards outlined by the Centers for Disease Control and Prevention (CDC).
At the time of the filing in early April, there were zero confirmed cases of COVID-19. Less than three weeks later, however, as local jail officials fought back fiercely against an emergency court order requiring them to provide basic health and humanity to those inside in the form of soap and disinfectant, 51-year-old Charles Hobbs convulsed in jail without medical attention and died from COVID-19 complications. Even then, local jail officials still fought back and appealed the court order requiring them to abide by the CDC standards, and a week later, they got their way. In a cruel opinion, a federal appeals court ruled, incredibly, that the jail would be "irreparably injured" if required to, among other things, provide soap and disinfectant to each person incarcerated. There are now at least more than 300 confirmed positive cases in Miami-Dade jails alone.
Anthony Swain is one of them.
Swain, a 43-year-old paraplegic black man with a life-threatening and degenerative illness, has been jailed pre-trial on unaffordable bail for the past four years. He courageously agreed to be the lead plaintiff in the lawsuit against the jail despite risk of retaliation, and he just tested positive for the coronavirus on Mother's Day. After being hospitalized, he was returned to jail.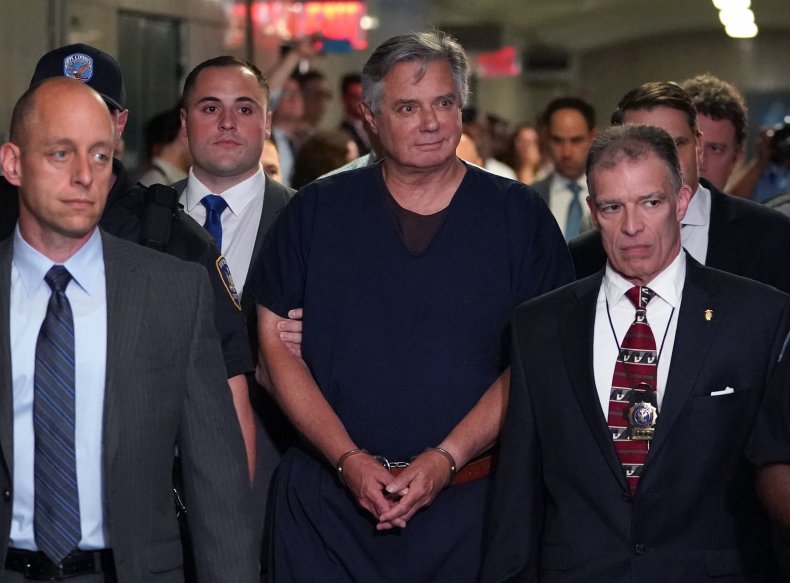 The cruel treatment of Swain, particularly when compared to the compassion afforded to Manafort, underscores so much of what is wrong with our system of "justice." Actual justice often isn't based on merit or humanity, but instead the color of your skin and how rich and well connected you are.
Yet the disparity between Swain and Manafort also presents an opportunity for Miami and the rest of the country to change course now.
Swain is still alive. As are thousands of others he is caged with and millions of others in similar circumstances around the country. We could save Swain and so many others like him by making the same common sense decision the federal judge did in granting Manafort's request for release. Significantly fewer people in jail will limit the spread of COVID-19 infection among people in custody and those who work in jails; minimize the number of people in custody who will need medical care; decrease the density of housing areas for people who remain in jail; and allow communities to maintain connections with and support from their loved ones.
It is not too late to save lives, but only if public officials act decisively and extend the urgency and compassion afforded Paul Manafort to people like Anthony Swain.
Scott Hechinger is a public defender, as well as the founder and director of Zealous, a national initiative to activate, train and support public defenders to move their advocacy outside of court. His Twitter handle is @scotthech.
Maya Ragsdale is a movement lawyer at Dream Defenders, an organization advancing a vision of safety that moves away from cages, deportation and war and toward health care, housing and jobs for all.
The views expressed in this article are the authors' own.