Were Passengers on Southwest Flight 1380 Wearing Their Oxygen Masks Incorrectly?
Southwest Airlines Flight 1380 was forced to make an emergency landing Tuesday after suffering major engine failure. A photo of panicked passengers incorrectly wearing their oxygen masks as the plane made its decent has made the rounds on social media.
The photo, by passenger Marty Martinez, shows several passengers using the masks to only cover their mouths, despite safety instructions saying people should use the masks to cover their nose and mouth. Bobby Laurie, a former flight attendant turned TV show host, shared the photo with a reminder of how oxygen masks should be properly worn.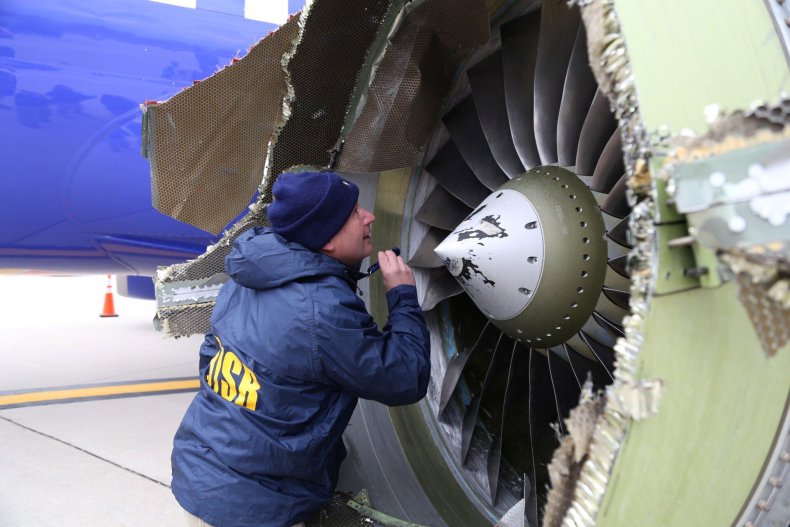 "PEOPLE: Listen to your flight attendants! ALMOST EVERYONE in this photo from @SouthwestAir #SWA1380 today is wearing their mask WRONG. Put down the phone, stop with the selfies.. and LISTEN. **Cover your NOSE & MOUTH," Laurie tweeted.
Oxygen masks are dropped when an aircraft cabin loses pressure. At the beginning of each flight, the cabin crew will remind passengers what to do if there is decompression in the plane's cabin.
"To start the flow of oxygen, pull the mask towards you. Place it firmly over your nose and mouth, secure the elastic band behind your head, and breathe normally. Although the bag does not inflate, oxygen is flowing to the mask," passengers are told, according to The Washington Post.
Passengers are also reminded to secure their own masks before assisting a child or another person with their masks.
This is particularly important at extreme altitudes. According to Business Insider, people have difficulties breathing and keeping enough oxygen in their blood at altitudes about 15,000 feet.
Although oxygen levels in the air remain constant at 21 percent until altitudes of about 70,000 feet, reduced atmospheric pressure lowers air density, according to the Aircraft Owners and Pilots Association. People are therefore unable to breathe deeply or fast enough to make up for pressure loss and can suffer from hypoxia, a condition that leads to loss of consciousness within minutes.
Oxygen masks are equipped to help passengers for only a short period of time, during which a pilot must get the plane to a safer altitude, CNBC reported.
Based on reports by passengers on the Southwest flight, the plane's engine failure happened at an altitude of around 31,000 feet. Pilot Tammie Jo Shults, a former U.S. Navy pilot, landed the plane roughly 12 minutes after the emergency was declared.
The incident, which left one passenger dead, is being investigated by the National Transportation Safety Board.