In the summer of 2019, I reached out to Brooklyn photographer Julia Comita hoping for the opportunity to collaborate on some fresh images for my portfolio. Julia, who I had been following on Instagram, suggested we meet over coffee and it was instantly clear we were on the same page, creatively.
I had prepared some mood boards; one of which was focused on vintage beauty advertisements. Julia was interested, but as we started looking at the vintage ads we could immediately see that they were very white and cisgender. There were so many types of people that were missing. As creatives living in New York City with beautifully diverse peer groups, we knew that inclusivity and representation were important messages for us.
We decided that we wanted to work together on a project to re-create ads from the '70s, with Julia as photographer and myself as make-up artist. Our idea was to update them with more diverse models and inclusive language. Though the originals were fun and colorful, the images and text were also very cheesy, with undertones of sexism or heteronormative assumptions. After doing some research into inclusive modelling agencies, we were able to secure some amazing talent.
Due to our limited resources, our project, Prim 'N Poppin', began with five images. But, we were still able to include representation from the Black, Asian, trans, plus-size, vitiligo, and body-mod communities. Although it wasn't intentional to cast all our models from within the LGBTQIA community, as a queer person myself, it's amazing that it turned out that way.
Maria Rivera is in our MaybeBabie ad and she is a transgender female who identifies as she/her. Our MaxFab ad features Kaguya, who identifies as she/they. Our CakedOn ad is with Cory Walker and our Jesi Taylor Cruz is in our Sammy Hansen ad; both models identify as they/them. Our only image featuring two models is the Love-On ad, with Coral Johnson-McDaniel and Ava Trilling. Ava identifies as she/her and Coral identifies as they/them and b****. It was important to add interviews with each of our models on the Prim 'N Poppin' site because this project is about them. We wanted them to share their own voices alongside these images.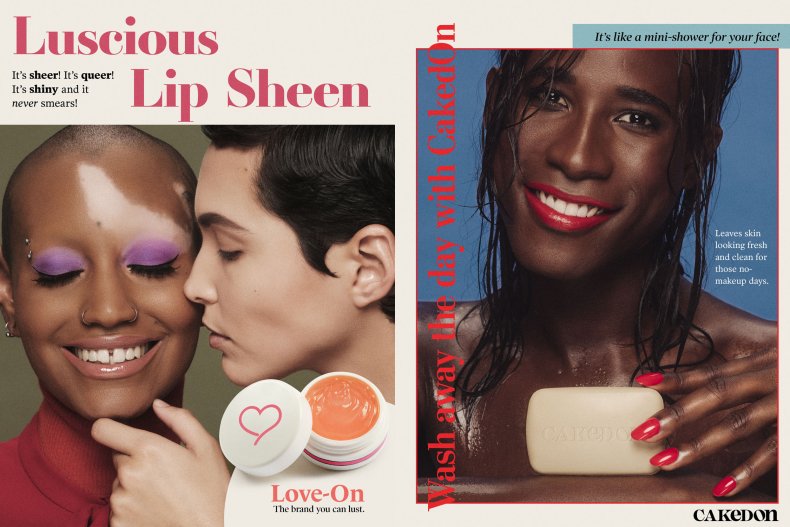 The image of Ava and Coral is particularly personal to me because I felt it was important to represent androgynous women and lesbian/queer love. The advertisement we based the image on shows a somber-looking woman, with glossy lips and a man reaching round to caress her lips from behind her shoulder. It appears that he is about to turn her face and kiss her, and the accompanying caption reads: "Your lips look luscious, BABE." The whole concept made me really uncomfortable, we wanted our image to flip that on its head. As a feminine woman who has often been seen with androgynous-presenting partners, I've experienced belittling questions from cis-gendered men like, "why don't you just date a guy?" so this felt like a great opportunity to showcase beautiful, consensual love.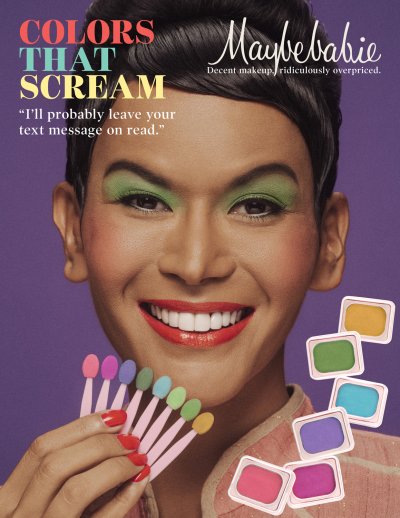 Updating vintage beauty for 2021
Both the poses and product placement were integral to our images. We didn't want to take away from the over-the-top cheesiness and charm in the original ads, we simply wanted our models to bring new life to the images. When it came to the shoot itself, in the fall of 2019, the feedback from our models on the day was really inspiring. Though Julia and I were tied up with the production, we overheard some of the conversations from the models; they hadn't felt fully represented in advertising and they'd wondered what it could have been like for them if they were. It was one of the moments that really motivated us to make sure this project was seen.
Julia and I have worked really well together with this project; she is extremely detail-oriented and technical whereas I tend to lead with my emotions. So, it has been a great partnership and an incredible learning experience for me. We were able to complete the project from start to finish in about six months, but out of respect for the momentum of the Black Lives Matter mission, we decided to release the images in 2021.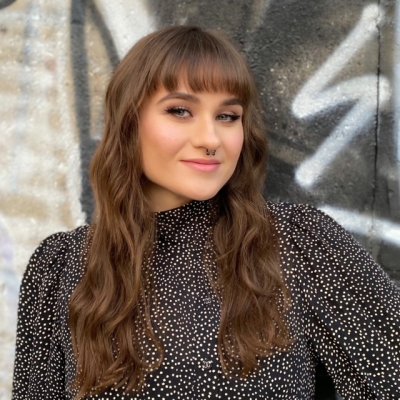 Julia and I have had many conversations about the impact of visual advertising on consumers of all types, and how complex an issue it is. Because of these conversations and what we've learned from our models, it's not only important for us that those who see our project acknowledge a lack of diversity, but that the advertising and beauty industries recognizes it as well. Those industries should not only be mindful of the work they are putting out, but also who they are hiring, who they are representing, and how they are representing them. Is it just their face being seen, or is their voice being heard, too? And, is there depth to what is being shared?
Creating change in the beauty and advertising industry
I believe advertising in particular has come a long way, but there are still so many faces that are missing and communities that are under-represented. When it comes to age, body size, physical ability and religious expression, there is still a long way to go. This project has made me reflect deeply on how I can use my work to create the change I'd like to see, and I hope it inspires other people to do the same. There are still changes that can be made in every industry to improve inclusivity.
Julia and I plan to expand the project and we are currently researching options for funding. We'd love to include models with disabilities, mature models, and models within the native community, for example.
We've also included an "allies" page on the Prim 'N Poppin' website where people can find modeling agencies with diverse boards, beauty brands geared towards inclusivity and organisations that offer support for mental and emotional well-being. Included on the page is the Trans Beauty Clinic, an organization in New York that is very close to my heart—they do incredible work for the trans community, assisting them with basic hair, makeup, and grooming needs.
I love these images so much. Julia has also suggested hosting a gallery exhibition with all the images at some stage, which made me realize I hadn't been dreaming big enough for this project. She has really pushed me out of my comfort zone and beyond what I believed my potential to be which has been really amazing. I feel very fortunate to be able to have the platform that I do and make a career of what I love, which is making people feel beautiful.
Brenna lives in Queens, NY with her partner Gaby and her cat Pumpkin. She is a makeup artist with 11 years of experience and is represented by Exclusive Artists Management. You can visit Prim 'N Poppin' for more on this series and follow her on Instagram @brennadmakeup and Julia Comita on @Juliacomita for updates
All views expressed in this article are the author's own.
As told to Jenny Haward.