We're Sacrificing Children's Lives to Endless Lockdown | Opinion
When the COVID-19 pandemic first hit our shores, the crisis prompted an unprecedented response at all levels of government. Drastic stay-at-home orders and lockdown policies were hastily put in place in hopes of stopping the virus's spread.
We now know that lockdowns and pandemic restrictions have more than just severe economic repercussions; they've led to very real and often deadly second- and third-order unintended consequences that jeopardize public health and constitute an emergency in their own right.
In particular, we're sacrificing children's lives by subjecting them to mental health crises from seemingly-endless lockdowns.
Lockdown orders have created a mental health crisis in our country and across the globe. The Associated Press recently interviewed emergency room doctors who described the spike in mental health crises they've witnessed and warned that child suicide is becoming an "international epidemic."
"We are very surprised by the intensity of the desire to die among children who may be 12 or 13 years old," French Doctor Richard Delorme told the Associated Press. "We sometimes have children of nine who already want to die. And it's not simply a provocation or a blackmail via suicide. It is a genuine wish to end their lives."
Delorme warned that his hospital has seen youth suicide attempts double amid restricted pandemic pandemic. Tragically, data from the Centers for Disease Control reveal that this crisis in youth mental health has plagued the U.S. as well.
The Centers for Disease Control reported that 25 percent of young adults considered suicide during the lockdowns, while overall mental health issues appear to have spiked as well. Other CDC data reveal a 24 percent uptick in emergency room mental health visits for children ages five to 11, compared to 2019. For young people aged 12 to 17, the increase is 31 percent.
These numbers are staggering, and they demand instant attention, though getting this attention will be difficult and fraught. In months since the pandemic began, Republican and Democratic politicians have coalesced into two camps; Democrats have by and large prioritized the health aspect of the pandemic and encouraged further restrictions, while Republicans have focused more on reopening the economy and mitigating economic harm, leading elected officials like Texas Governor Greg Abbott to recently remove nearly all restrictions on economic life in his state. Democrats pilloried Abbott for his decision; Texas Democrat Party Chairman Gilberto Hinojosa said the governor is "killing the people of Texas," while progressive darling Beto O'Rourke dubbed the move "a death warrant for Texans."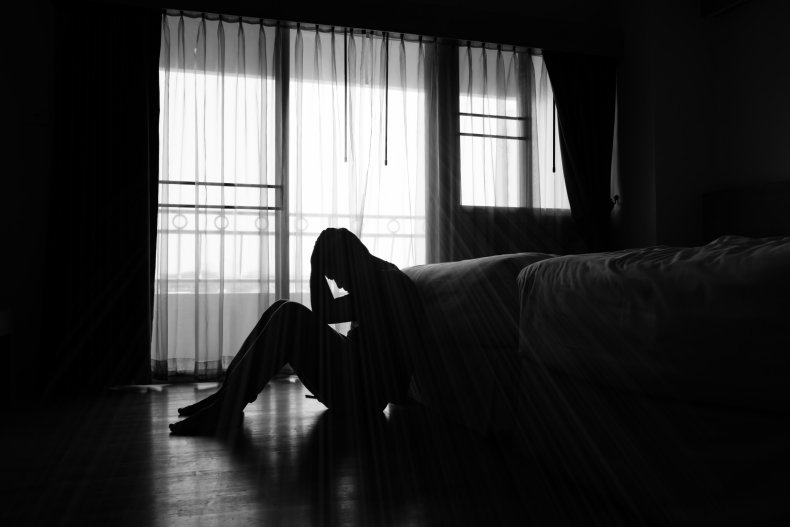 But it's long past time for the debate to evolve past this simplistic economy vs. public health paradigm. For one, the actual efficacy of lockdown measures to contain COVID-19 has proven dubious, or we wouldn't still be in the mess. Multiple studies have found little or no evidence of direct association between lockdown stringency and COVID mortality. Meanwhile, state-level outcomes have varied wildly regardless of lockdown stringency.
But more importantly, we're sacrificing children's lives to endless lockdowns. Whatever benefits COVID mitigation lockdown policies might offer in slowing the spread must be weighed against the tragic mental health consequences they've wrought.
This kind of calculation isn't cold or utilitarian; ignoring youth suicide is.
And, unfortunately, the life-threatening unintended consequences of pandemic lockdowns and restrictions extend far beyond the realm of mental health. Unprecedented government restrictions—which essentially placed healthy Americans under a form of house arrest—have fueled social isolation and worsened the already-grave addiction and overdose crisis facing our country.
According to the CDC, there were over 81,000 drug overdose deaths in the U.S. in the 12 months ending in May 2020, the highest number of overdose deaths ever recorded in one year. It's no coincidence that this period includes the spring of 2020, when lockdowns were perhaps at their strictest in many parts of the country.
Similarly, domestic violence spiked by 8.1 percent after pandemic lockdowns were imposed, according to an analysis from the National Commission on COVID-19 and Criminal Justice. And the study's authors say this is probably an underestimate.
Lockdown proponents argue that aggressively rolling back restrictions on daily life prior to full vaccination means exposing people to potentially deadly health consequences, something they say isn't worth any economic trade-offs. But social restrictions are killing people, too.
Restricted life amid the pandemic is creating lethal public health crises in its own right—and these consequences are far too grave to ignore.
Brad Polumbo (@Brad_Polumbo) is an editor at the Foundation for Economic Education.
The views in this article are the writer's own.
If you have thoughts of suicide, confidential help is available for free at the U.S. National Suicide Prevention Lifeline. Call 1-800-273-8255. The line is available 24 hours, every day.