'We Celebrate Christmas In a Tiny House'
About seven years ago I was going through a major life transition after divorce and was looking for ways to reduce stress in my life. During that time, I was introduced to tiny houses on wheels. I have always loved small spaces like cabins and forts so it really delighted me. I also learned about all the amazing ways the tiny house movement was positively impacting communities. I began to see that this could be an opportunity for me to take direct control of my life and have a tiny home of my own that I could afford and maintain.
I pitched the idea of building a tiny house to my partner Christian and although we had only been dating for a year at this point, he was all in. It took about nine months to build our tiny house in 2014, we purchased plans and ordered a tiny house trailer, and then customized the plans to meet our needs. For example, we added a second loft bedroom for when my son was staying with us.
At the time, we were based in North Carolina and that's where we built, on a friend's farm, who happened to be a master carpenter and he mentored us. We also spent months looking for salvaged, free and low cost materials and were able to get leads on houses being demolished. With one such property, we were able to go and tear down their walls and put them up in our house. Though we probably saved thousands of dollars, it was time consuming.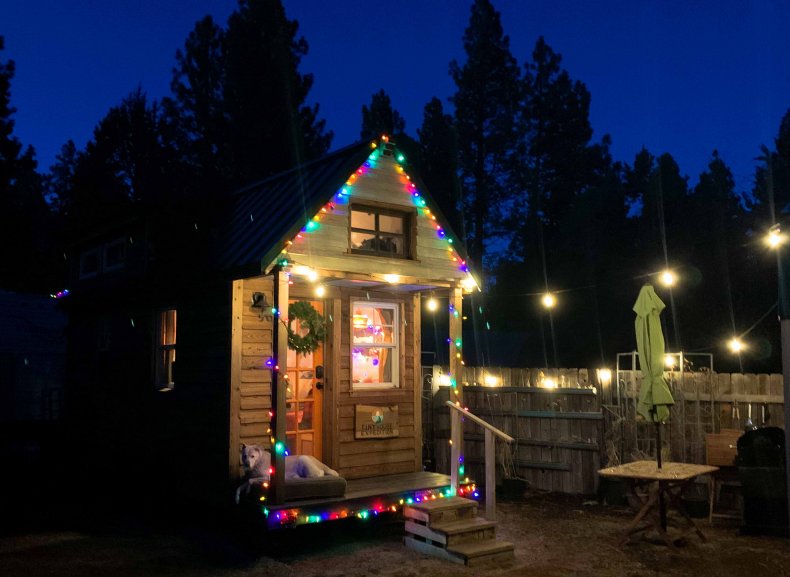 Once our tiny house was built we decided we were going to travel for a year to 18 months in our tiny house to document the tiny house movement across America. We wanted to meet different tiny house dwellers and communities and document how tiny homes were creating positive change on a personal and community level. Along the way we realized that we live in a giant country so to do this we needed more time.
But also that we enjoyed the travelling; we visited National Parks, saw family who are spread out across the U.S. and met other nomadic dwellers. There are actually not that many tiny houses that travel, but there are RVs and converted school buses and vans. We traveled for about four and a half years and met a lot of those people and built a kind of nomadic community before I started to really feel a desire to set down roots. So, we decided to try out a home base in Bend, Oregon, where we are now. There are a lot of tiny houses here and we fell in love with the area.
The pandemic has made it harder to experience the community here but we are lucky that our finances and health have not been impacted. And, we have saved a ton of money because our living expenses are so low, and our rent is a few hundred dollars a month, which is fortunate because we live in an expensive place.
This will be our sixth Christmas in our tiny house and four of those Christmas' have been spent in different states. Each of our tiny house Christmas experiences have varied based on where we are—our first was spent parked in my dad and stepmom's driveway in Oklahoma. My son lives with us part time and he came to visit and got to experience Christmas with us and his grandparents. And the next year, we stayed with our tiny house at my sister's house for Christmas in Utah.
One of my traditions is that Christian and I always spend Christmas morning at home with just my son. I love to make it magical for him and have kept that up even in a tiny house—I love playing the elf at night and stuffing the stocking and hanging chocolates on the tree.
But downsizing to live in a tiny home means downsizing Christmas accordingly. I went from having three boxes of Christmas items to one that included decor, wrapping paper, lights and a tree. We're minimalist by traditional homeowner standards, but I love having a very festive Christmas, so we put up lights and a garland and we have a very small artificial tree. Though I grew up with the tradition of always having a fresh tree, I now enjoy the smell of one with a Douglas fir tree scented candle.
Some tiny house dwellers get really creative with alternative Christmas tree solutions, they might have tiny little metal trees with ornaments or they might have Christmas tree shaped lights on their walls. I really admire that, but for me, a Christmas tree is a must.
Something else that's important to me is the fact that at Christmas time, we're always parked on someone else's property, in a back yard or a driveway when travelling. As a result, we want to be good neighbors, and part of that is spreading Christmas cheer. We're always sure to put Christmas lights on our porch.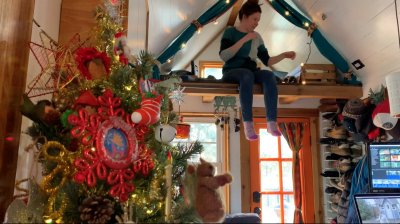 Unfortunately, this is the first Christmas that my son and I will be apart because he lives in North Carolina with his dad and his grandfather. We made that tough decision because the COVID-19 pandemic is so awful here in the U.S., and it is just not a good idea for him to travel.
It's really heartbreaking, but we're going to open our Christmas presents together, make gingerbread and watch Christmas movies together, we'll just do it all over video call. In addition we're also getting to spend time with tiny house dwellers nearby. We will be gathering in a COVID-safe way with a group of friends at our local ski resort. We'll all go snowboarding and then hang out outside in the parking lot to enjoy some festive beverages and holiday treats. There will be about ten people representing three different tiny households, and a couple of non-tiny house people too.
The tiny house community at large is incredibly diverse, people come from many different socio-economic, racial, religious and political backgrounds. What I love is that tiny houses are something that all these different people can relate to and that adds value to their lives. That may be a financial advantage or maybe it's just being able to live simply and put emphasis on experiences.
We actually tend to be tiny house magnets. If you wear a tiny house t-shirt or have a tiny house bumper sticker on your car, which we do, people will come up to you in the grocery store and ask you if you live in a tiny house. When you say yes, they'll tell you that they do too, or their sister or a friend does.
It's so heartwarming because it's a common ground that makes it easier to make friends, which can be hard in the modern day. It's really delightful. I am biased but tiny house people are good people.
Currently we're saving money to buy our own land in central Oregon. We want to have our own tiny house there but also host two to three other tiny homes. Perhaps in the future we will build a small cabin that will be our retirement home, but, we'll always keep our tiny house.
Alexis Stephens and Christian Parsons began travelling around North America in their DIY tiny house in 2015 and created Tiny House Expedition, a multimedia project including their website, YouTube channel and social media around tiny living. They created educational docu-series, Living Tiny Legally . Follow them on Instagram @tiny_house_expedition .
All views expressed in this article are the author's own.
As told to Jenny Haward.