'We're Swapping Our Four-Bedroom Home For a Tiny House'
My family and I emigrated from Zimbabwe to New Zealand in 2001. We'd had a building company in Zimbabwe so when we came to New Zealand we thought we would get rich by building houses. My husband Noel and I built three and lived in the third one—a four-bedroom, three bathroom property—but we didn't get rich.
Seven years ago, we were building one of the three and living in a rental, when our daughter Shaye built her first tiny house in our driveway and named it "Lucy." Shaye's tiny house was one of the first that people got to know about in New Zealand, because it was filmed for the Living Big in a Tiny House YouTube channel. But at the beginning, I remember saying to her: "You're crazy! No one is going to be able to live in a house this size!" I thought she might be able to camp out in it for a little while but she wouldn't be able to live in a tiny house for an extended time. And the composting toilet? I thought that was terrible.
I didn't think it would work at all, but it was a very cute little green house; "Lucy" was lovely. And once Shaye built "Lucy", someone asked her to build a tiny house she called "Doris Jean" and then there was another one called "Andrea."
I think Shaye got the building bug from me. When she was younger in Zimbabwe, she would come with me around all the properties we were building. In Zimbabwe and here in New Zealand, I would design the houses and then we'd send those sketches off to an architect and they would draw it all up properly. Shaye has always drawn houses but hers got smaller and smaller while mine stayed the same size! At first, Shaye was only building one house at a time for others, then two, and then it became three houses at a time. I've helped her from the beginning and so far, we have designed and built about 70 tiny houses and have three workshops. All of our tiny houses are on wheels and all the plans can be customized.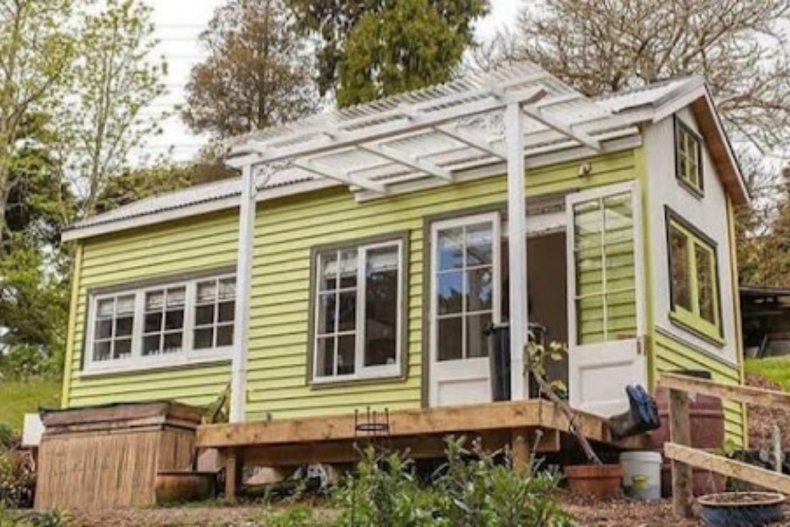 Shaye and I do a lot of designing together and brainstorming about what we can do to make things work better. I'm the practical one and she's the creative one. I will design a walkway and she'll make it a really pretty walkway, so we work well together.
After Shaye's marriage ended, she built herself another tiny house that I helped her design: the "Hazel" named after her daughter. It went absolutely viral in 2020.
Downstairs, "Hazel" has a big kitchen and lounge with sliding doors that open out onto a massive deck. There is a bathroom with a shower, toilet and double basin. Then it has a little door that opens into a pod that was Hazel's playroom. Upstairs, there's a walkway above the lounge area that connects a main bedroom and a second room.
Hazel was actually the first tiny house we built where you can walk upright throughout the house, upstairs and downstairs, so you don't have to crawl in the loft. I decided on that because I'm old and there's no way I'm going to be crawling around! I believe we were the first to design walkways upstairs in tiny houses and all of our designs now have them. Some we sell also have doors you can open out into pod areas that you can add to extend the house, for "future proofing" as Shaye calls it.
Sitting in Shaye's "Hazel" house and spending time there with her and her daughter was just so relaxing. There was no stress about mortgage rates or electricity bills. That's when I became convinced Noel and I could live like that.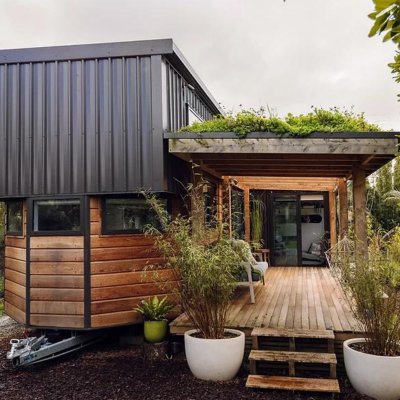 At the end of 2019 I resigned from teaching at the same school for 19 years and went to work for Shaye's company, Shaye's Tiny Homes, full time. Noel then resigned from working for the same plumbing company for nearly 20 years and joined us in mid-2020, just after COVID hit.
Noel saw how habitable the tiny houses are and it convinced him he could live in one. That's when I knew we could do it. Noel is very active and never sits down, and I thought he would battle with a tiny house. But the more that he's seen them and the more he's worked on them, he's decided they are a really good way to go.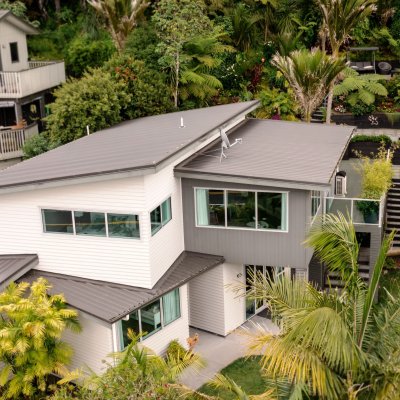 The home we have lived in for seven years is definitely a big "boomer" house. It's actually an upside down house; our living area, dining room, kitchen and master bedroom are upstairs and downstairs has three bedrooms and a bathroom. But we don't use the downstairs area at all anymore, it's lonely and sad. Our grandkids do come and stay but they get quite scared sleeping downstairs, so we make them forts underneath the dining room table upstairs.
So, we sold it and the new owners are moving in at the end of March 2022. And, our tiny house build has started; our trailer arrived recently and the whole structure can, in theory, be built in two months.
If we move on to some land my daughter Lara is buying with her partner Andrew, we have a specific design with a little pod for our downstairs bedroom. Our new design has a bigger lounge area with a very high ceiling, a big kitchen, a laundry area and a big bathroom. There are two bedrooms upstairs that will be for our grandchildren and a guest room. The guest room doubles as a living area with a sofa bed and it looks out over the lounge. With its big skylight, this tiny home will be very beautiful.
But if that land sale falls through then we will have to rent a piece of land, and will only be able to have the tiny house trailer itself, without the pod. In that case, we will have to go back to the original tiny house that I designed with Noel and I in mind during lockdown in 2021.
That tiny house is called "Sophie" and has a cozy lounge with nice windows that look out on either side. I explained to Shaye that old people like to watch TV in the evenings! It also has a big kitchen because Noel loves cooking, and a nice big bathroom with a shower. I was hoping to have a toilet that would have a temporary connection into a septic tank, but if we can't get that I can do without a flushing toilet! Upstairs is a walkway between the front room and a main bedroom at the back.
I'm not worried about downsizing in the slightest. I have got to get rid of everything, but I might just give it away. I've given away some beds already to a young friend of ours, but we also have a living room suite, a dining room suite and some cupboards and wardrobes. There is also a local single moms group I have been giving things to; I had a cupboard full of children's clothes and toys that I have donated to them.
I have one friend who is claustrophobic so she says there's no way she could live in a tiny house, and I have another friend who lives in a house with a summer bedroom, a winter bedroom, three other bedrooms and three lounges, so I can't see that she would move into one either. But I do have a friend in England who is living in a caravan, so she would love it.
Our plans do all depend on what piece of land we're going to live on, so it is a bit up in the air. I'm 64 this year and Noel is 70. He likes his feet on the ground, so there is a little bit of nervousness there. But as I always said to my students when I was a teacher: Those that can have flexible thinking are going to be better off than those whose thoughts are set in concrete.
We would like to think we will now live in tiny houses forever and if we end up living on Lara and Andrew's land that probably will be the case. We have 10 years of fun left ahead of us before we get really old, so we want to see more of New Zealand because it's such a beautiful place. It's time to have fun now, because we've worked really, really hard for a long time.
Sheila Boddington lives in Auckland, New Zealand with her husband, Noel. She works for Shaye's Tiny Homes. You can find out more at shayestinyhomes.com or on Instagram @shayes_tiny_homes.
All views expressed in this article are the author's own.
As told to Jenny Haward.
--