Wesley Purkey Faces Execution—His Attorneys Say He Doesn't Understand Why
Wesley Ira Purkey's attorneys have filed a motion for an injunction to halt his execution, arguing that he doesn't understand the reason for it.
Purkey, 68, of Lansing, Kansas is scheduled to receive the lethal injection at the U.S. Penitentiary in Terre Haute, Indiana on Wednesday for the 1998 murder of 16-year-old Jennifer Long.
If his execution goes ahead, he'll become the second federal death row inmate to be put to death this week after the federal government resumed executions after 17 years.
Daniel Lewis Lee, 47, was executed on Tuesday morning for the 1996 killings of an Arkansas family as part of a plot to create a whites-only enclave in the Pacific Northwest.
Purkey's attorneys have filed a motion to halt his execution, arguing that he is mentally incompetent.
"Wes Purkey is a severely brain-damaged and mentally ill man who suffers from Alzheimer's disease," Rebecca Woodman, one of Purkey's attorneys, said in a statement to Newsweek.
"He has long accepted responsibility for the crime that put him on death row, but as his dementia has progressed, he no longer has a rational understanding of why the government plans to execute him."
Purkey believes he is being put to death as retaliation for his complaints about prison conditions, Woodman added. "He believes his execution is part of a large-scale conspiracy against him by the federal government in retaliation for his frequent challenges to prison conditions, and he believes his own lawyers are working against him within this conspiracy," she said.
She added that the Constitution prohibits executing someone who lacks a "rational understanding of the basis for his execution."
"The Eighth Amendment prohibits executing someone who, like Wes, lacks a rational understanding of the basis for his execution, and the court must not allow the execution to go forward unless and until it can confirm that Mr. Purkey has this understanding," Woodman added.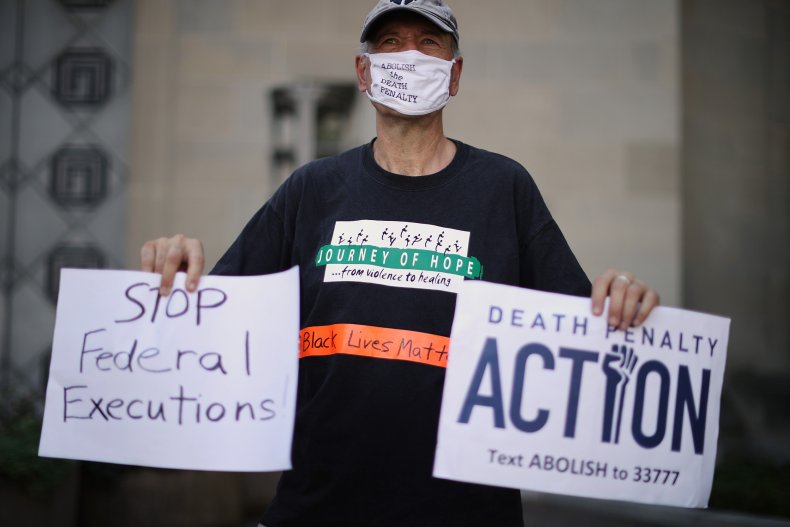 Purkey was convicted by a federal jury in 2003 for raping and killing Long before dismembering, burning and dumping her body in a septic pond. He was sentenced to death for the crime. He was also convicted in state court for bludgeoning to death Mary Ruth Bales, an 80-year-old woman, in 1988.
In the filing arguing for an injunction, Purkey's attorneys said that he suffers from dementia, schizophrenia, complex-post traumatic stress disorder and severe mental illness.
"He has experienced multiple, extensive traumatic brain injuries throughout the course of his life," the motion states. Additionally, Purkey has endured "atrocious trauma, including repeated sexual abuse and molestation by those charged with caring for him as a child," it adds.
Last week, three mental health organizations urged Attorney General William Barr to stop Purkey's execution and instead commute his sentence to life in prison without parole.
The letter, signed by Mental Health America, the National Alliance on Mental Illness and the Treatment Advocacy Center, cited Purkey's childhood history of physical and sexual abuse and the time he spent in psychiatric hospitals until shortly before committing the crime that led to his death sentence.
"His diagnoses included schizophrenia, bipolar disorder, and brain damage," the letter said. "He experienced terrifying delusions and hallucinations, including the belief that people were spraying a poisonous mist into his room and that drug dealers had implanted a device in his chest that was intended to kill him.
"Mr. Purkey's condition has worsened during his many years on death row. His thought patterns have become increasingly bizarre and he has filed numerous complaints against prison officials that reflect his irrational state of mind.
"In expressing our position, we do not trivialize in any way the magnitude of Purkey's crime or the suffering of his victim and her family. However, we are gravely concerned that the issues concerning Purkey's competence to be executed have not been adequately considered by the U.S. or by any court of law."
Purkey's attorneys also questioned why the federal government was proceeding with executions while the U.S. "remains in the throes of a global pandemic in which prisons are being a disproportionate share of the potential deadly infections."
Over the weekend, it was revealed that an employee at the Terre Haute prison who was involved in the planning for this week's executions had tested positive for coronavirus.
A spokesperson for the Bureau of Prisons told Newsweek that a number of measures were being taken to mitigate the spread of the virus during executions, including temperature checks and screenings.
The spokesperson added that as much as possible, staff were also being assigned to the same posts and not rotating.