Wesley Snipes CGI Eyes in 'Blade: Trinity' Confuses and Delights Internet
"Wesley Snipes" is trending online after an odd story from the set of Blade: Trinity resurfaced.
Multiple reports emerged from the set suggesting that lead actor Snipes was unhappy with the movie's script and the choice of director David S. Goyer. Blade: Trinity marked the end of Snipes' Blade trilogy as he played the Marvel character Blade, an extremely skilled vampire hunter.
The 2004 movie, which co-starred Ryan Reynolds, Jessica Biel and Kris Kristofferson has now become a topic of discussion online after someone highlighted a scene in which computer-generated imagery was needed to open Snipes' eyes.
"Remember in Blade Trinity, when Wesley Snipes was fighting with the production team and refused to open his eyes for the morgue scene so they had to CGI his eyes on?" wrote Twitter user @USSRdad, attaching the five second clip to the tweet.
"I can't believe they kept this instead of just cutting from eyes closed to the grab." Wrote one commenter while another added, "Right? Why did he even need to open his eyes?" Many others simply replied with expressions of hilarity.
This was Marvel's "Henry Cavill won't shave his top lip," wrote @wandussyy, referencing the infamous issues behind DC's Justice League in which Henry Cavill's mouth had to be CGI'd in reshoots as he had a mustache. Meanwhile @samatlag wrote, "Still better than Dr Strange third eye," which is a criticism of the recent CGI inserted into Doctor Strange in the Multiverse of Madness.
Blade: Trinity was poorly reviewed by critics at the time, despite being profitable at the box office.
In 2016, Goyer told Uproxx that shooting Blade: Trinity was "the most personally and professionally difficult and painful thing I've ever been through." He added, "It was a challenged shoot, as has been reported," and he added that he's never spoken to Snipes since.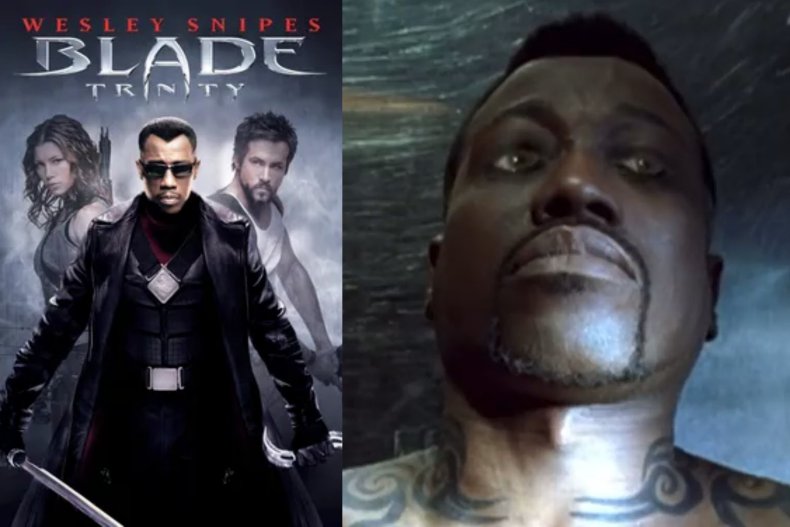 In 2012, comedian Patton Oswalt, who had a small role in Blade: Trinity, opened up about Snipes' alleged behavior. "Wesley was just f****** crazy in a hilarious way," Oswalt told the AV Club. He claimed that Snipes "tried to strangle" Goyer, and by the end of the shoot would only communicate via Post-it notes, signing them "From Blade."
In 2020, Snipes was given the chance to respond to Oswalt's claims during an interview with The Guardian.
"Let me tell you one thing. If I had tried to strangle David Goyer, you probably wouldn't be talking to me now. A Black guy with muscles strangling the director of a movie is going to jail, I guarantee you," said of the allegations. Snipes went on to question Oswalt's account and why people believed him.
He continued, "I remind you that I was one of the executive producers of the project," he says. "I had contractual director approval. I was not just the actor for hire. I had au-thor-i-ty to say, to dictate, to decide. This was a hard concept for a lot of people to wrap their heads around."
Blade is a Marvel property and is being reintroduced into the Marvel Cinematic Universe. Kevin Feige has announced that two-time Oscar-winning actor Mahershala Ali will take over the role of Blade with the new movie scheduled for release on November 3, 2023.