Wesleyan Students Arrested Following MDMA Hospitalizations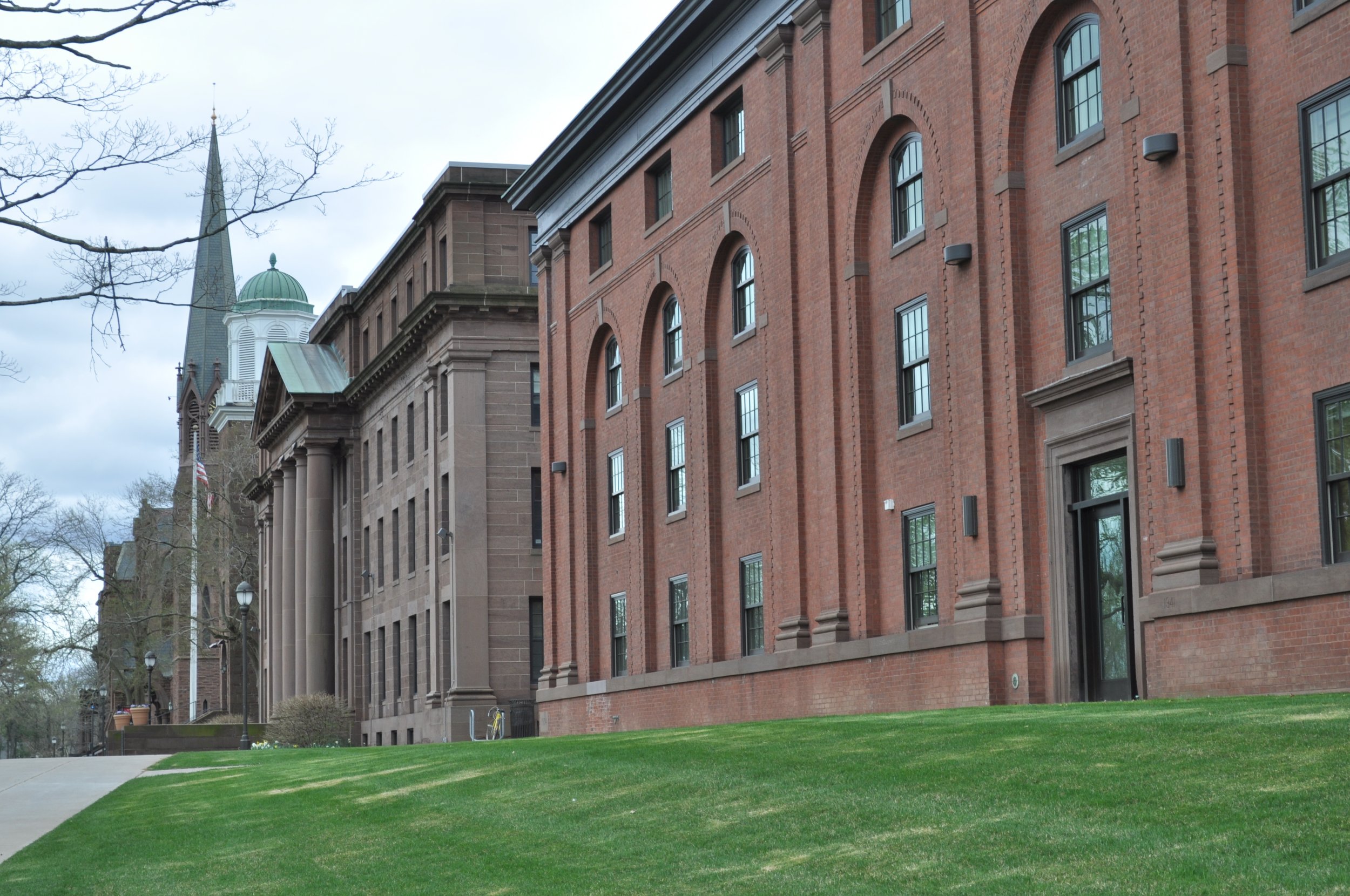 Updated | Police in Middletown, Connecticut, have arrested four people after a suspected bad batch of MDMA sent about a dozen people from Wesleyan University to the hospital on February 22.
"Members of the Middletown Police Department's Major Investigations Unit, Narcotics Unit and members of our Patrol Division have worked around the clock since the numerous Wesleyan University campus overdoses from this past weekend were reported," Police Chief William McKenna said in a statement February 24.
McKenna said that forensics experts are working to identify the exact drugs the individuals took, which were thought to have been MDMA, a type of Ecstasy also known as Molly. "This particular batch may have had a mixture of several kinds of designer drug chemicals, making the health risks unpredictable and treatment to combat the effects complex and problematic," he said.
Police said they issued arrest warrants for four Wesleyan students and had them all in custody by 8 p.m. February 24. Those arrested were Eric Lonergan, 21, Andrew Olson, 20, Zachary Kramer, 21, and Rama Agha Al Nakib, 20. Olson was first released on bond and is expected in court March 3. The other three students were arraigned in court February 25 and later released on bond.
A directory of student organizations lists Olson as co-president of the school's chapter of Students for Sensible Drug Policy, an international group. The chapter was first founded in 1999; Olson reestablished it in 2013. Olson spoke with the school's newspaper in February 2014 after two students were arrested on drug charges.
Betty Aldworth, executive director of Students for Sensible Drug Policy, says her organization and its more than 250 chapters neither condemn nor condone drug use but believe it should be addressed as a public health issue and not a criminal justice one.
"If these students had access to safety measures, then we would not be in a situation where 12 young people were hospitalized and four other young people are now having their lives disrupted by being dragged into the criminal justice system," Aldworth says. "It's a devastating situation that is absolutely unnecessary and almost exclusively a result of our failed drug war policies." She suggests that students have access to "drug-checking kits" that could verify the purity and potency of substances.
Aldworth adds that the Wesleyan chapter of her organization is a small one and that she has not been in touch with Olson in the past.
According to his LinkedIn profile, Kramer, a dean's list student, interned with the Food and Drug Administration. He was at Hartford Hospital visiting an ill friend when police took him into custody, according to the arraignment report.
"My client denies distributing MDMA to the kids at Wesleyan. He is not charged with the offense of distributing MDMA to any of the kids at Wesleyan. There was no MDMA found in his possession," said Jennifer Zito, Kramer's lawyer. "My client was unfortunately caught up by a dragnet sweep by law enforcement." She describes Kramer as "an exceptional student" who has a 4.01 grade point average, won a poetry competition and sings in an a cappella group.
"Naturally, this is extremely upsetting, and we hope that justice will prevail in the end," Zito said.
Lonergan, who police say is from Rio de Janeiro, Brazil, and lives in the Buddhist House on campus, is suspected of illegally obtaining or supplying the drugs. The others face possession charges.
Police executed four search and seizures on and around the Wesleyan campus.
In an email to students and parents February 24, Wesleyan President Michael Roth wrote that the school had suspended the four students pending a formal hearing. "We take very seriously allegations concerning the distribution of dangerous drugs, and the university will continue to cooperate with state and local officials. We will do everything we can to make our community as safe as possible," he wrote.
Twelve people from Wesleyan, 10 students and two visitors, sought medical help on February 22 for possible drug overdoses.
Middletown Fire Chief Robert Kronenberger told Newsweek on February 23 that his department made seven runs to the school between 7:30 a.m. and 1:30 p.m. and gave aid to eight individuals. "We saw the trend, and we worked with the university and the police department to notify them of the trend," he said, noting that certain people treated were "in some serious dire straits."
As of February 25, two people remain at Hartford Hospital, according to a spokeswoman. In his February 24 email, the Wesleyan president wrote that those two students "have made progress." No patients remain at Middlesex Hospital.
A Wesleyan student organization called Active Minds had students sign "get well" messages on Tuesday.
The dozen hospitalizations were not the first this school year involving MDMA. Officials from Wesleyan's Davison Health Center emailed students on September 16, 2014, following two weekends of MDMA-related student hospitalizations.
James Hall of the Center for Applied Research on Substance Use and Health Disparities says crime lab data shows that in recent years, what people have thought is MDMA is more often cathinone, "the category of synthetic drugs that was referred to as bath salts a few years ago."
"With these new synthetics, a very small change in the dose amount can have a dramatic effect," Hall says. "In the most extreme cases, we see a problem that we haven't even seen since the height of the crack cocaine epidemic," he adds, referring to a condition known as excited delirium, which involves psychotic behavior and an increase in body temperature. "These are really guinea pig drugs, and the population that's now taking what they think is MDMA is consuming literally poisons."
A 2006 survey of 1,206 American college students found that 9 percent said they had used Ecstasy. A 2013 National Survey on Drug Use and Health found that 12.8 percent of people ages 18 to 25 reported using MDMA in their lifetimes.
The Hartford Courant cites federal records that show that one in every 13 Wesleyan students was disciplined for drug violations in 2013, and that the school had the second highest number of students referred for disciplinary action involving drug abuse violations in 2012 and 2013, among 300 comparable schools.
"This illegal drug, which has both stimulant and psychedelic properties, is often taken for the feelings of well-being, stimulation and the distortions in time and sensory perceptions that it produces," the National Institute on Drug Abuse says about MDMA. The drug can increase body temperature, heart rate and blood pressure.
Since 2013, at least four college students have died after taking what they thought was MDMA. Those students attended the University of Virginia, Plymouth University, the University of New Hampshire and Texas State University at San Marcos.