Viral Video of 'Serial Puncher' In NYC Subway Viewed Over 1M Times
A viral video has sparked online concern over an alleged "West 4 puncher" at Manhattan's West 4th Street Washington Square subway station, but there remain questions for some over the allegations.
Kaelee Boussarie told Newsweek how a punch by a stranger left her bloody-nosed, briefly without vision and momentarily fearing her glasses had shattered.
The New Yorker and TikTok shared her experience at West 4th Street station to TikTok on September 9. The video has since racked up more than 1 million views and an array of comments from people claiming to have similar experiences with the same woman—earning her the name "West 4th puncher."
But despite multiple claims online, no hard evidence of the woman being a "serial puncher" exists, with no documented news reports, police press releases or social media posts regarding her activity.
In the post, Boussarie wrote: "POV: You're me getting off the train at West 4th and trying to avoid this lady," she wrote onscreen, with a green screen background of the station.
"I guess it's a NYC right of passage," the 27-year-old captioned the clip.
"She was a white lady, mid 30s to mid 40s, about 5ft 4ish, she had lightish brown, blondish hair," claimed Boussarie, who added that she got off the Manhattan-bound F train, and used the stairs between the escalator and the news kiosks when she was punched.
"I was walking quickly and gauging how to weave through the people in front of me, one of which was the lady who had attacked me, without breaking my stride. I'm not sure if it was how I looked or what, but she slid over without any notice and stuck her arm out, cocked it back, and punched me in the face very hard," Boussarie told Newsweek in an email.
"I lost my vision for a split second, thinking my glasses had shattered into my eyes, but they had wrapped around my head and broke. My head felt like it was squeezed really tightly and I just kept walking. I looked back and the lady had also just kept walking. All I can remember visually was the shocked look in a man's eyes as I walked past him. I was crying from shock and disbelief at what had happened, my mask was wet, and realized it was blood from my nose."
Boussarie told Newsweek that she spoke to an officer immediately after the incident, but decided against submitting a formal report or pressing charges.
As the views rolled in on the video, so did the claims of identical stories in the comments. Allegations from young New Yorkers claimed to have had similar experiences with the same woman, or having heard of similar stories from friends.
"My friends clocked her right back," claimed one comment.
Joke videos also took over the corner of TikTok, with users envisioning how they plan to protect themselves should they encounter the woman. "Getting my tote bag ready to defend myself against the West 4th St Subway puncher," wrote @kyleronkin as he filmed himself swinging his bag in the station.
"I actually took the comments off because I was getting worried about her well-being. I know she has hurt me and others but she clearly needs help in some form and I don't want her, or people who fit her description, to have a target on them. Lots of people were commenting awful things they'd do to her and I don't think that's right, she needs help," Boussarie said.
The mystery of the puncher reached more than just young people in New York City, with TikTok users all the way from Argentina to England weighing in with jokes.
Although the mystery of a "West 4th puncher" has taken over TikTok, there remains questions over it all—as to whether the woman is genuinely a "serial puncher," and if all the attributed punches were even the same person.
"I had never heard of her before, except until I made that TikTok," Boussarie told Newsweek. "I made [it] as a way to make light of the situation. I heard the Kendrick Lamar sound and thought it would be a funny way to share my story. I didn't know that she was a problem for a lot of people in the area."
"I was shocked to hear that other people knew who I was talking about in the first place. One person said they had seen her in Washington Square Park as well as in the West 4th station," she added. "Some of the stories people told me were very possibly this same lady who also hit me, but I can't say for sure."
No news reports or police press releases can be found of a frequent puncher at the station, and no social media posts can be found discussing the woman or claims before the original viral video.
When asked by Newsweek about the existence of a "serial puncher," a spokesperson for New York Police Department's DCPI, Detective Sophia Mason, said that there is no complaint report on file with matching information.
It's these same clues that have caused questions among TikTok viewers too. "I'm not convinced that the West 4th subway puncher is real," tweeted one user. "I feel like one woman threw hands once at 12:08 am and 40 NYU students got on TikTok and amplified that story into what it is."
Regardless of how much hard evidence exists around it, the online tales of a West 4th Street puncher have managed to cause a stir and looming concern among users who frequently visit the station IRL, as well as those who have never even stepped foot in the city.
"All of this points to how we need better mental health systems and care for the houseless. That being said, I'm not 100% sure if the lady who hit me was houseless or mentally unwell but I didn't knowingly give any reason to be punched, especially by a stranger," summarized Boussarie.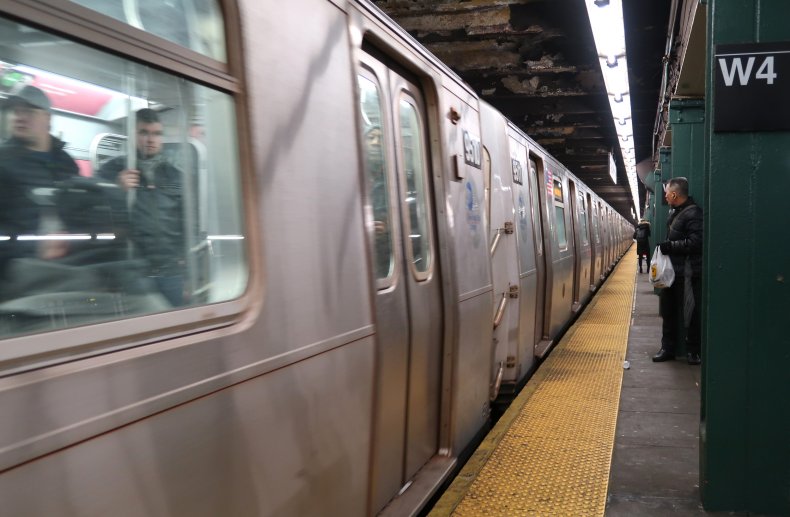 Update 09/19/21, 9:19 a.m. ET: This article was updated with further comment from Kaelee Boussarie.