West Bank Gun Battle Exposes Growing Resentment Towards Palestinian Authority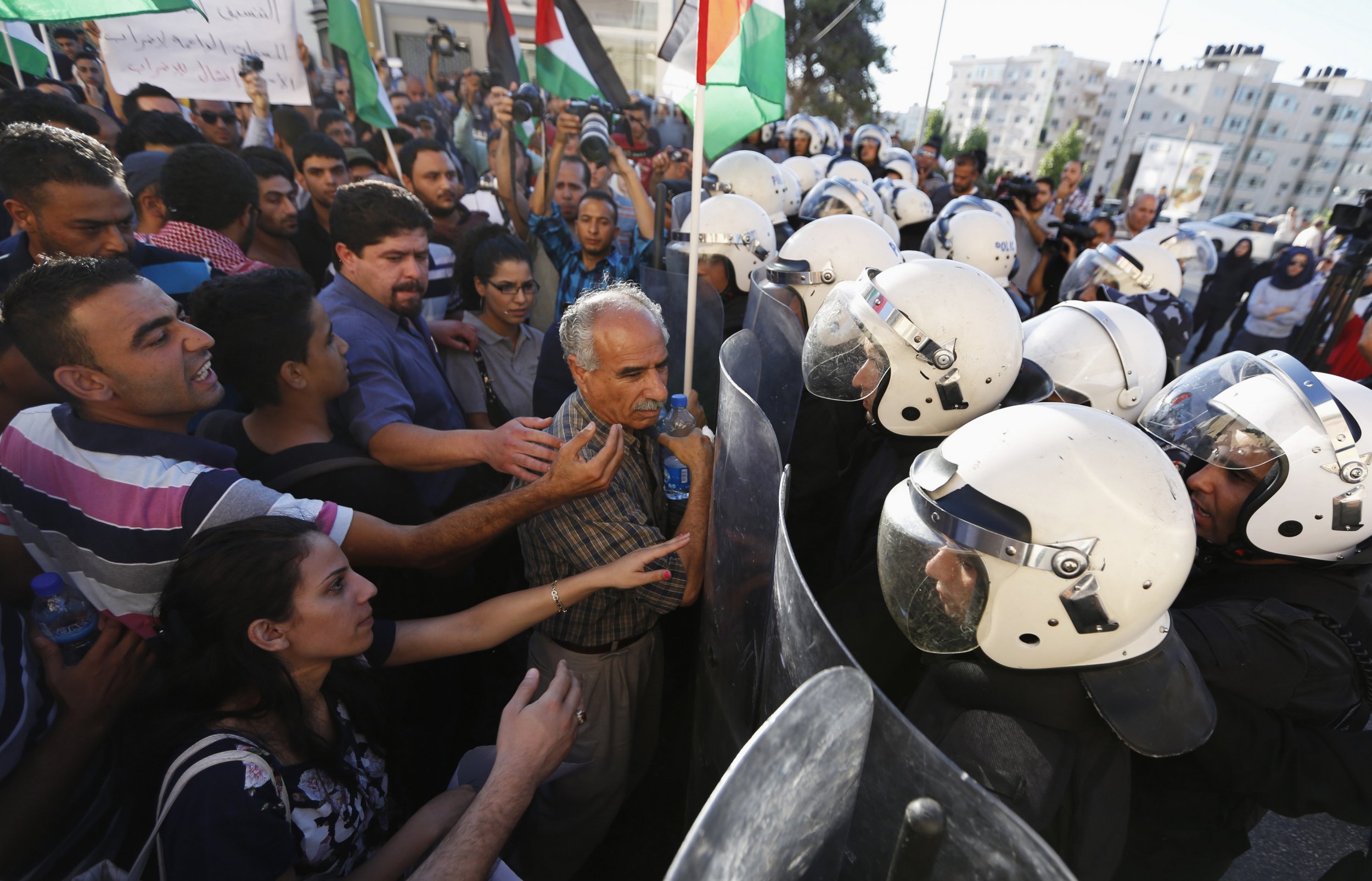 Unidentified Palestinian gunmen and Palestinian Authority (PA) security forces today became embroiled in one of their biggest gun battles in recent years in the northern West Bank city of Nablus.
Before sunrise this morning, a number of residents of the Balata refugee camp took aim at the PA security forces who had been conducting an operation to confiscate a large cache of weapons that had built up within the camp's perimeter, according to The Times of Israel.
Security sources told Palestinian outlet Maan News that three officers were injured in the shootout, which went on for several hours. Local police warned residents of the city to remain inside for safety reasons.
Security forces entering West Bank refugee camps is not an unusual occurrence, although residents often resist them by throwing stones or setting tires on fire. In November 2013 security forces exchanged fire with gunmen at Balata camp.
However, analysts say that clashes between residents and Palestinian security forces are on the rise as disillusionment grows towards the Palestinian leadership, headed by president Mahmoud Abbas.
According to Ramallah-based journalist Bethan Stanton, many Palestinians in the West Bank believe that the PA are pandering to the Israelis by carrying out raids on the camps in order to arrest alleged members of armed groups such as Hamas and Islamic Jihad.
Daniel Nisman, president of geopolitical risk consultancy The Levantine Group argues that the neglection of these Palestinian communities is fostering criminality and terrorism. Nisman explains that residents in the refugee camps are increasingly feeling abandoned by the PA, and believe they are not receiving their fair share of international aid which the leadership receives: "[The gunfight] just shows that they are completely cut off. It has really been building up for months if not the past few years."
"In the refugee camps in general in the West Bank, they are kind of going into a world of their own. There are multiple factions cooperating with each other against the PA," he adds. "These are extremist offshoots who basically see themselves as having a shared enemy which is the PA and Israel. They themselves view the PA as functioning as an offshoot of the Israeli security apparatus."
Abbas, also known as Abu Mazen, was elected president of the PA in January 2005 but has outlasted his term which was due to end in 2009, leading to militant group Hamas - who control the Gaza Strip - declaring him an illegitimate leader.
Grant Rumley, an expert in Palestinian politics at the Foundation for Defense of Democracies in Washington points out that there is a growing gap between the younger and older members of Palestinian society in terms of how they view the leadership.
"For Palestinians under 45, all they have known is the PA as this bloated, bureaucratic instrument. They have very antagonistic opinions towards it," he says.
"Palestinian youths and the middle-aged look at these raids into camps like Balata, and look at protests in the West Bank that are quashed by the PA forces, and they think: 'What is the point of having a PA like this if this is what it is doing?' I think moments like these are data points along the path of frustration against the PA."
Abbas is opposed to armed resistance against Israeli occupation and has so far been unsuccessful in his negotiations to set up an independent Palestinian state. Despite his claims that Israel and Hamas are the parties to blame for the failure of talks, his approval ratings have slumped from 50% last summer to 35% in December 2014.
According to United Nations Relief and Works Agency (UNRWA) figures, Balata is the most populous refugee camp in the occupied West Bank and has an unemployment rate of 25%.