Farewell Boleyn: 112 Years of West Ham United
You have to walk down a long Roman road to the Boleyn, the place where West Ham have played home football for 112 years. Green Street bisects a densely populated area of east London that remains one of the last to be gentrified.
Stretching from Romford Road to Barking Road, two busy, parallel thoroughfares that share names with two of the club's traditional strongholds, Green Street seems to sum up much of what has made West Ham what it is today. Straight and narrow with bleak stretches giving way to life and colour, beer fog, and menacing side-streets crisscrossing the main strip in the same way West Ham's legacy was long veined by violence. It's a different club now, of course, with different fans, but the street remains.
Walking down it on match­day, after elbowing through a tight canal of wide­-shouldered supporters on your way out of Upton Park station, there's that old buzz in the air. First you hear the pub roar, a pre­match loading up of vitals, and the market-­bustle of the crowd. Cutting through it all, a frequent "Irons! Irons!" alongside a faithful refrain — "Hats, scarves, and badges!" — from a trader who's been making ends meet for as long as any of us can remember. Few can recall anyone actually buying much off the geezer, save for the odd optimistic pre-season pin bought by red-faced little bastards with mischief in their eyes, or a claret scarf purchased by ill­-prepared fans during the busy Christmas period.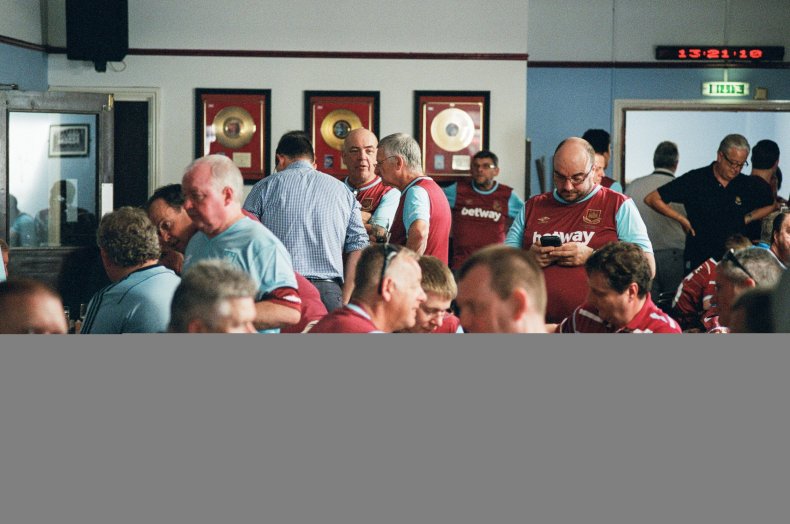 As you push on past a thin parade of kebab­, chicken­, and corner-shops painted in club colours, the street opens out to reveal the stadium they'll abandon in May in favor of the state­-sponsored thunderdome a few miles down the road, Stratford's gleaming Olympic Stadium.
The Boleyn Ground (also known as Upton Park) has a reputation that precedes it, but head­-on it's pretty unimposing. You can't help but think of the confusion heaped on rival fans who've visited over the years, half­-shitting themselves out of a long­-train-­down beer run, seeing the stadium loom with its cartoonish castle facade. It looks pretty ridiculous in the daylight, like somewhere a Disney prince might find themselves living between maiden rescues.
Just a street over, though, lies the Hammers Social Club: a claret-brick building sat squat by the stadium's Castle Street side entrance; a supporters' bar with a sign stained yellow by London fumes that can't have changed in forty-­something years, and fans that have been there even longer.
Inside, the walls are adorned with West Ham heroes of the past—players with "proper" English names like Geoff and Bobby and Billy—and mounted television sets ignored by most of the patrons. The place is a hive of activity with a sense of community: the regulars—short­-sleeves, tanned arms, barely a capillary left in many a face—slap backs and bark loud laughs while holding straight pint glasses and talking about which players are money-grabbing c**ts and which players just bloody love this football club, John. These are the people this club was built on, and who epitomise the fabled West Ham Way: hard bastards who duck and dive, hustle and harry, with beady eyes, quick wits, and calloused hands. Underdogs who play it the right way, against all odds.
"I've been coming here 57 years," says Brian, nursing a pint. Pointing at Lee, who is fiddling with the zip bag full of West Ham-related badges that he brought into the club, he continues, "And the boy has been coming here for about 30. Upton Park will always mean something to us because we'll remember it, but the kids will forget. As soon as we win a few games, everyone will forget all about this place."
As soon as I enter, I spot a bloke I'd met outside earlier in the day. He's called Lee, talks fast, and wears a baseball cap and a cavalcade of club tattoos. It's what first caught my eye, the two tattoos on his calves: Bobby Moore on the right and Paolo Di Canio, perhaps for the first time ever, on the left. As we chat, people stop to rub each tattoo for good luck.
"I've shown them to Paolo, down in Swindon," says Lee, his eyes lighting up at being afforded another chance to talk about his hero. "He loves 'em, so that's all that matters to me."
Inside the club he waves me over, introduces me to his dad, Brian—"The paparazzi are here, dad—wanna talk to 'em?" Brian's a big, proud bloke with thick glasses and sun-­stained arms. "What do you wanna talk about?", he says to me.
Walking into the bar, it strikes me what it means to be a "family club"—a cliché usually bandied about when a club is about to be sold to an oligarch that's just found a few hundred million in a pair of old Levis.
Being a West Ham fan is something you pass down from generation to generation, like a hereditary disease. A nagging ailment that leaves you in a state of constant unease, and forces you to support a club predetermined to fail in the most painful way possible.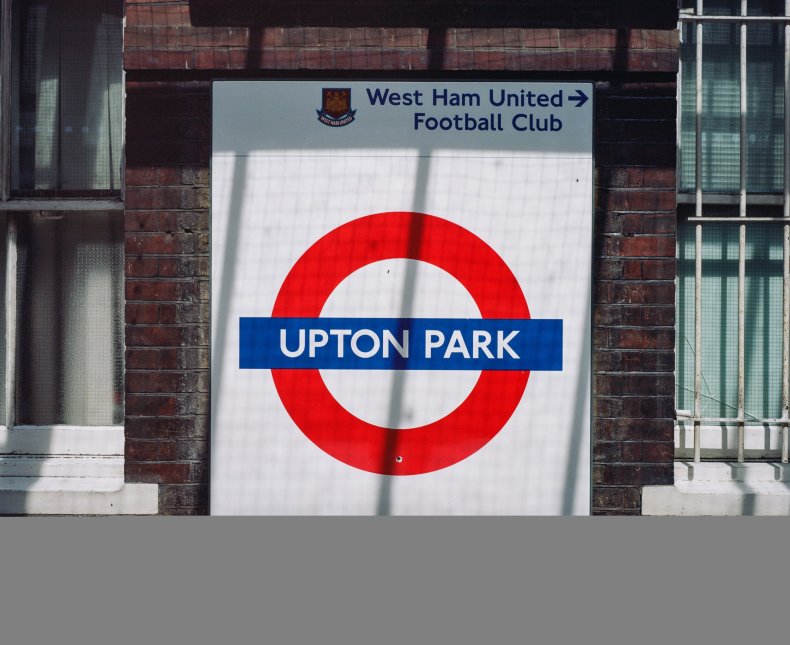 And it'll be Green Street that's hit first, and hardest. Plenty of shops along the road have been closed down already — shutters coloured in claret, naturally — and plenty more will follow, unable to maintain their existence without a football club over the road. Lying in the shadow of the stadium's Bobby Moore Stand, the Hammers Social Club will likely shut overnight, and the patrons will have to go elsewhere. Good luck finding anywhere like this within half a mile of Olympic Park: it's a friendly, lively place that brings everyone together with lashings of personality and club spirit; where everyone knows your name and welcomes intrepid traveling Hammers fans with a cheap lager and open arms. The Boleyn pub just up the road will be hit like a truck by the closure too.
I mention the Boleyn, the pub my dad and his mates would spend countless hours in when he was my age, and Lee is quick to distance it. "It's s**t, mate. Nobody goes in there who's proper anymore. It's full of f**king wallies."
His words are probably biased out of respect for his current location—the one that lets him flog his badges from a suitcase by the bar—but he's probably not that far off. While the Hammers Social Club is designed for families and friends to have a laugh and a chat, the Boleyn is a sticky gaff with fair­weather punters who tuck football shirts into cargo shorts and carry cash in velcro-wallets.
It's a beautiful, legendary pub that's lost its way, perhaps in a last attempt to survive in a post-­West Ham era. I spent an hour in there before the game between West Ham and Bournemouth, and it was a fitting spot to watch the pre­-match entertainment: a clearly off-­it Gazza sharing Soccer AM sofa chat with Jack Whitehall before the England legend—sporting a weird goatee, tired eyes, and bleached denim—missed three consecutive shots on goal against a nightmarish, 30-foot wooden cut­out of Manuel Neuer.
These kind of transient fans— "F**kin' townies, them lot," someone called Mark is quick to tell me —are what West Ham will rely on to survive as they transition from the Boleyn's 35,016 capacity to the Olympic Stadium's top-­four­-rivalling seat numbers. It's a necessary evil for a club that feels it has outgrown its homely current residence.
"It just has to happen, don't it?" says Steve from Forest Gate, just down the road. He is reluctantly pro the move. "If we want to push on as a football club—and we do right?—then it just needs to happen. I know what they're f**kin' doing, though. They aren't fooling anyone." Steve nods sagely and takes a long, long draw of his Guinness.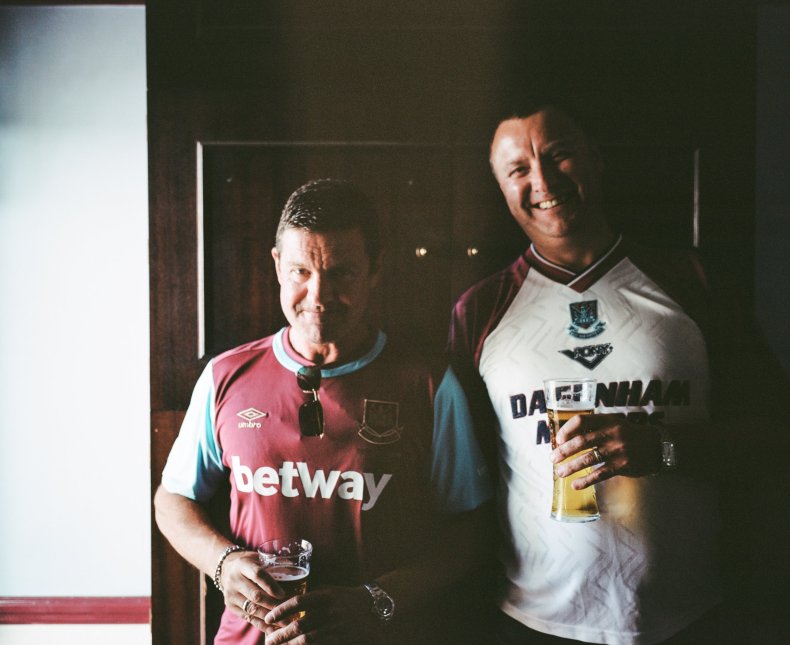 What are they doing? I ask. Someone else—also called Steve, I think—butts in. This Steve is wearing the same retro West Ham shirt with Bobby Moore's retired number six on the back that half the punters in the club are sporting. "They just wanna get the stadium, so that they've got it and it's theirs, right? And then they just wanna hold it until some rich Arab is in town, hoping he'll buy it off 'em." I'm inclined to agree with Steve II.
As many people I speak to are quick to reference, the Olympic Stadium situation at West Ham is not dissimilar to the Commonwealth Games stadium that preceded Manchester City's stratospheric takeover. I'd be extremely surprised if our own club's owners—David Sullivan and David Gold, and Karren Brady—aren't hoping for something along those lines.
When I finally came out of the social club—quite a few beers in, and with not much but a Percy Ingle bacon ­roll for ballast—and went into the ground, I couldn't help but feel for this great heap of bricks, steel, and glass.
It might not hold a candle to the beautiful, luxurious stadia of the game's elite, but then beauty is not beauty for all men. The Boleyn is a squared­-off stadium that exudes British football from its bar-lined bowels to its mix-­and-­match roofing. Four tower blocks watch over the ground like bouncers. The stadium's stands loom ominously around the typically-­immaculate pitch, with front­-row fans perfectly placed to call a professional sportsman a "lazy, fat prick" or lavish praise on whichever home player is doing the business that day.
In West Ham: In My Day by EX fanzine's Tony McDonald, a book purchased on Romford Road on the morning of the game, ex-Hammer Ian Bishop sums up the classic West Ham atmosphere:
"Upton Park can be a very intimidating place, even for home players, when the fans are against them... I don't think some supporters realise just what a big influence they can have on the success, or otherwise, of West Ham. They just don't realise the effect they can have on their own players."
There's always been a sense that West Ham fans could switch things up on you at any moment. Much like many people you've met in pubs up and down the country, our fans are perhaps the most prone to a split­-personality disorder: good as gold one moment, pumping their fists in adulation and relief, and cursing every player on that pitch the next, shouting with pure hatred, bloodying their knuckles on the curved­-plastic of the seat in front. "It was always gonna happen like this," they spit. "This always f**kin' happens." At times it can seem as much a part of the fabled West Ham Way as a love for free­-flowing, positive football.
Still, this ability to never settle on one particular emotion hasn't come from nowhere. At the start of the season I went to watch West Ham versus Bournemouth, which seemed to many like it would be a fairly routine home win. Coming off the back of a brilliant victory against a deflated Arsenal, West Ham had a slight misstep in a home loss against Leicester the previous week, but there was a feeling that all would be made right against the recently promoted Cherries, a team that had never beaten them before.
West Ham kicked off in the glorious sunshine of a late­-August afternoon, and were soon 2-0 down. Out­-played, the home side didn't look like they had the hunger of Bournemouth and were dominated the entire first half. When the whistle went on the 47th minute, West Ham left the pitch to a chorus of deafening boos.
Fifteen minutes of low-­murmured pessimism later, the second half began. West Ham brought it back to 2-2 within eight minutes. The fans were ecstatic: grown men flailed celebratory arms in the air, hugging each other, thanking the football gods—Bobby Moore, Johnny Lyall, Ron Greenwood—for blessing them with a sweet reprieve. Back to 2-2 when all had looked lost.
Thirteen minutes later, Bournemouth scored again. 3-2. The West Ham players looked beaten. Thirteen minutes after that it was four, thanks to a red­-card tackle from last­-man Carl Jenkinson and the resulting penalty.
Even when West Ham striker Mobido Maïga scored on the 83rd to make it 4-3, every single fan left in the stadium knew it was over. It was same old West Ham.
"Dad," said a small kid behind me. "Are we always going to be like this?"
In the months since that game, West Ham have had a good season—with blistering highs featuring some of the best football our fans have seen in generations with the entire stadium dancing to Payet's rhythm, and the dull lows—the run of draw—after-draw-­after-­draw a particular pre­-Christmas a particular lowpoint and a serious test of endurance. But when it's all said and done, European football in a new stadium beckons next year.
But for all of their spewing of emotion, West Ham fans at least don't take themselves very seriously. During every home game a man stands alone at the back of the Sir Trevor Brooking stand. A mountain of a bloke, he starts bellowing all of the words to "Twist and Shout" for no reason other than the fact that it is quite funny, and this is just what he does. He sings the verses—top of his lungs—and the rest of the stand—all 5,000 of them—sings his adlibs. It's brilliant, and it's typical of what makes West Ham great, a club that gravitates towards slightly-­odd talents and rag­tag weirdos. No other club would rank John Moncur, the shinpad-­bothering shithouse whose ability is less well remembered than his persistent winding­-up of referees, or John Paintsil, a rubbish full­back fond of solo laps of honor, among their club legends.
Modern football has already tried to buff all trace of eccentricity from the game, and won't West Ham's move to Stratford do the same in the stands? Gentrifying fans out of the club is something that needs to be taken into account. It's a huge leap of faith to ask an entire set of fans so in love with tradition, community and cheap pies, to now support a team, with a new badge that looks like something from Pro Evo, in a hermetically­-sealed behemoth where the nearest tube stop is called Pudding Mill Lane; where songs echo around the ground and disappear; where drinks cost £6 and programs cost £7. Asking fans to leave a ground they love to be razed and replaced by luxury flats while the club makes its escape from Newham is something they can't take lightly.
But then, West Ham never do things the easy way. Perhaps it's time for the new West Ham to rise and for fans to embrace the challenge. To bastardise American politician Dean Alfange: perhaps it's time to take the calculated risk, to dream and to build, to fail and to succeed, to prefer the challenges of life to the guarantee of mediocre Premier League existence. Or something.
Maybe it will all be worth it. We might look back on this transition—of stadium, of manager, of personnel—God bless you, Dimitri Payet—as a key moment in the history of this club. After all, time lends poetry to a battlefield.
I think back to something I overheard in the Hammers Social Club after a game in those rough early days of the season. A young boy sitting with his dad, at a table by a shrine dedicated to the West Ham Guide Dogs. They were talking about the game.
"Just a bit of glory, dad. That's all I want."
Sam Diss is a writer for Mundial Magazine, where this article was originally published in issue three. Mundial tweet from @MundialMag. Sam's Twitter account is @SamDiss.