The West Is Jealous of Putin's 'Brilliant Victory' in Syria, Just Like It Was in World War Two, Says Russian Senator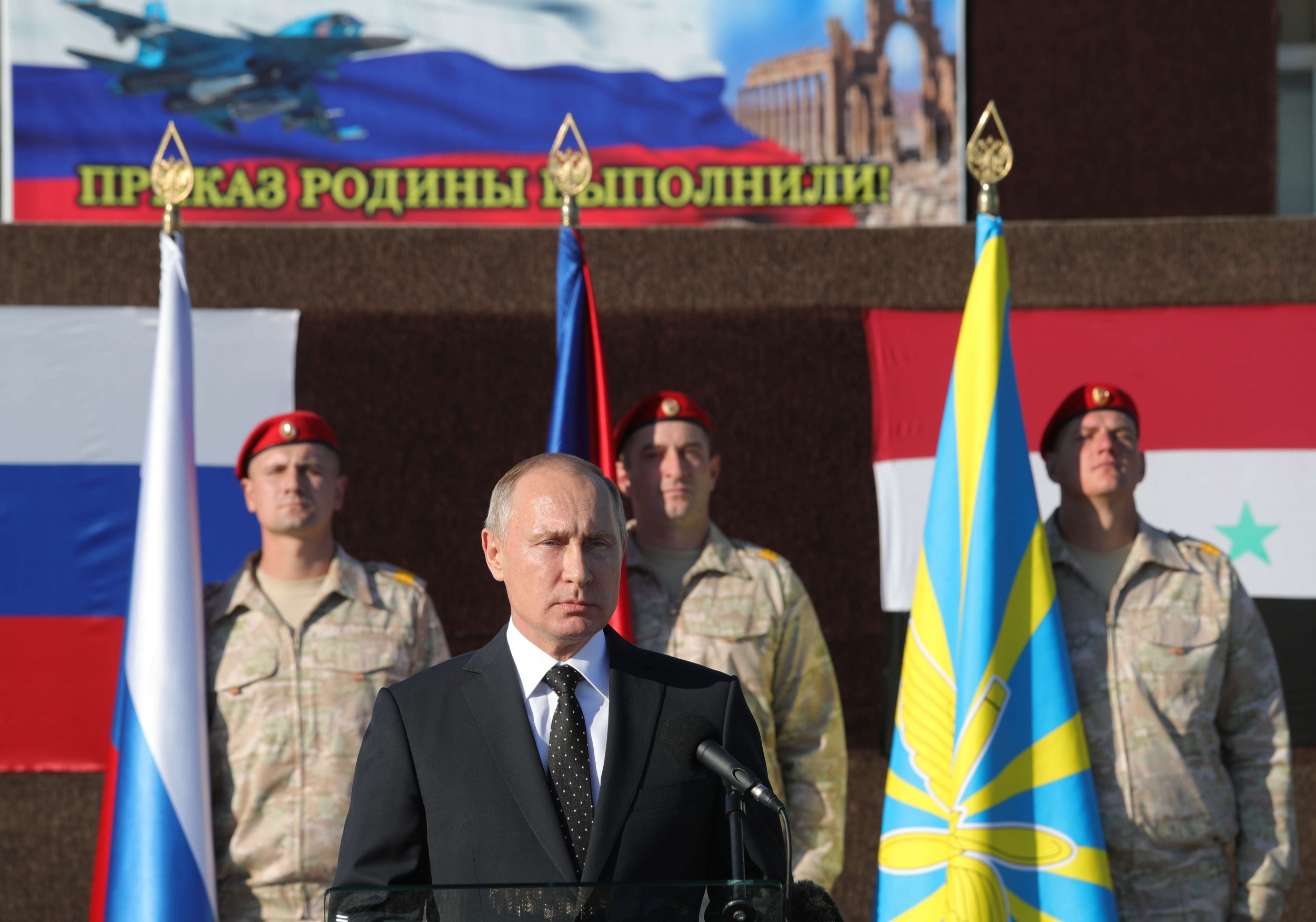 When Russian President Vladimir Putin made a surprise visit to Syria Monday and declared that troops could return home, pundits and lawmakers back in Moscow were eager to celebrate a so-called victory.
After more than two years of backing the Syrian regime in the country's bloody civil war, Russia was ready to celebrate success. President Bashar al-Assad has been emboldened and reasserted his hold on power, and Moscow has felt vindicated in the face of the West's long-standing objections to Assad's brutal rule. Western intervention in Syria focused on fighting the Islamic State militant group (ISIS)—something Russia has also sought to claim on its list of achievements.
Read more: Russia says it has liberated 200,000 square miles of Syrian land, but Syria is only a third of that size
After Putin's announcement, Senator Konstantin Kosachev, who heads the Foreign Affairs Committee, claimed the U.S. and its allies were jealous of Russia's "brilliant victory," suggesting the West had a chip on its shoulder about Russian military wins dating back to World War II.
"This geopolitical jealousy from the West is totally explicable and we are perfectly familiar with it in the context of World War II," Kosachev wrote on his Facebook page on Monday. "And yet all of this will not in any way take away from the very fact that Russia won today. And nobody can take this victory away."
Despite taking place more than 70 years ago, the battles of World War II are still widely referenced in modern Russia. The Soviet Union's catastrophic losses at the hands of Nazi Germany in the early stages of the war and the Red Army's ultimate triumph in beating German forces all the way to Berlin is a story that has become almost sacrosanct in the collective Russian consciousness.
Recent polls show that most Russians believe the Soviet Union would have beaten Germany without any help from the U.S., U.K. or their allies. The Russian Embassy in London this year accused the U.K. and France of not doing enough to fight Nazi Germany but defended the Soviet decision to strike a pact with Adolf Hitler and jointly invade Poland.
Putin has himself tried to portray the war in Syria, which began as a national uprising against Russia's ally Assad, as an analogue of World War II. Last year, he told parliament that just like the Nazis, "terrorists" threatened the world and only Moscow was alive to the threat.
Other Russian senators were quick to praise Putin's Syria trip. "A brilliant victory has been achieved, which showed the world not only the might of the Russian armed forces but the humanistic nature of our entire foreign policy," Russian Senator Franz Klintsevich said in a statement issued by his press service. He dismissed the suggestion that "external ambitions" were behind Russia's intervention, saying the military had provided a service to the Syrian people.
In Russia's lower house of parliament, Leonid Slutsky, head of the International Affairs Committee called Putin's visit "historic," while a member of the same committee, Adalbi Shkhagoshev, compared it to the Russian leader's trip to Russia's North Caucasus in 1999 during an Islamist insurgency there, parliament's official newspaper Parlamentskaya Gazeta reported.
"Unlike the U.S. and NATO, we did not occupy the country in which we were fighting," Sergei Zheleznyak, member of the International Affairs Committee, said in a statement. "Contrary to Russia, the U.S. demonstrated no significant results with its coalition in the fight against terrorists on Syrian soil."
The sweeping statements do not entirely fit with events on the ground, as U.S.-backed forces retook the biggest ISIS strongholds in both Syria and Iraq: Raqqa and Mosul, respectively. Russia instead defined "terrorists" based on a list of the Assad regime, and much of Moscow's early bombardment in Syria focused on anti-Assad rebel forces rather than ISIS.
Russia has denied reports of any civilian casualties, despite researchers accusing it of shedding more blood than any other country or group in the conflict during some months of fighting, including allegations of being behind strikes against medical facilities.
The most recent stage of fighting, when Russian forces turned their attention to ISIS-held Deir Ezzor, has been shrouded in conflicting reports and allegations from Moscow and Washington. Russia repeatedly accused the U.S. of protecting or supporting ISIS and posted images of "irrefutable evidence" of its claims on social media, before users found that the source of those pictures was computer game footage.