In light of the Taliban's takeover of Afghanistan, the World Bank recently halted development aid to the nation of 38 million people. In withholding the bulk of this year's $800 million development allocation, the World Bank cited concerns about the Taliban's "impact on the country's development prospects, especially for women."
Though foreign aid has undergirded Afghanistan's development and infrastructure over the past two decades, its provision has been on a decline, owing to U.S. reports of systemic corruption within the Afghan government and the misuse of aid funds. But this recent restriction of aid comes at an unfortunate time, as development aid to Afghanistan has made a remarkable difference in public health—albeit one that's often overlooked. For example, life expectancy rose by nearly nine years from 2001 to 2020. From 2003 to 2015, infant mortality plummeted 29 percent, as childhood vaccine coverage doubled. The construction of women's health clinics and increased antenatal care pointed towards a reduction in maternal mortality.
Now that the U.S. military withdrawal is complete, we've reached a critical inflection point where hard-fought gains in healthcare should not evaporate. The World Bank's aid earmarked for health must continue. Afghanistan's unique health risks suggest that an investment into its health systems is integral to curtailing global disease transmission.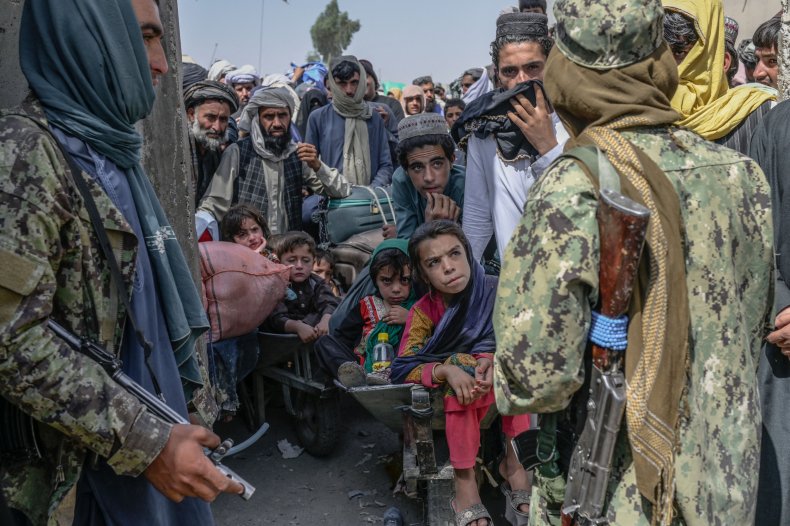 Afghanistan and neighboring Pakistan are the only two countries where endemic polio continues to exist. If polio vaccination efforts are not funded in Afghanistan, the disease can re-emerge elsewhere through global travel. The U.S. in particular is more vulnerable to polio now than at the turn of the century, given that rising vaccine hesitancy has quadrupled the percentage of American children not receiving vaccines.
But even if the World Bank reinstates development aid, will the Taliban—who have deliberately killed polio vaccination workers—allow aid to flow towards maternal health and vaccines?
The Taliban have been clear about their reasons for distrusting vaccines: the CIA and military intervention. And there's reason for their anxiety: In Pakistan, the CIA devised a Hepatitis B vaccine campaign as a ruse to collect DNA samples leading to Bin Laden's capture. Moreover, in Afghanistan, Western healthcare officials directed aid to areas under coalition control, rather than areas with the greatest humanitarian need. Instead of boosting overall public health, these measures functioned as a bid to boost the legitimacy of the coalition-backed state.
These mistakes cannot be repeated. A new generation of healthcare aid must not revolve around geopolitical games or "soft power."
One potential solution to ameliorating the Taliban's distrust is to equip nonpartisan organizations with open lines of communication with the Taliban with the tools to stabilize the country's healthcare system, like Doctors Without Borders (MSF), for example. MSF is no Western puppet; when the Taliban briefly took over Kunduz province in 2015, the U.S. military bombed the MSF hospital there. If the Taliban can ascertain an organization is non-partisan, there's potential for vaccine campaigns to proceed sans violence.
There's also potential for better global health outcomes via combating Afghanistan's opium trade. Afghanistan supplies more than 80 percent of the world's opium, and opium demand from within the country itself is widespread. In a Lancet study, an estimated 5.1 percent of Afghans — nearly 2 million people — recently used illegal drugs.
Funding healthcare aid that prioritizes addiction treatment can help defeat the opium trade. No supply-side intervention, whether it be bombing poppy fields or paying farmers to stop poppy farming, has succeeded in reducing opium production. But data shows demand-side programs like addiction treatment significantly reduce lifetime drug consumption and potentially production as well.
Investing in addiction treatment centers that provide medication to safely detox is one way to curb drug demand. Rural outreach, which targets women and children in the opium production industry, can reduce accidental exposure addiction. Development agencies may not even have to wade through Taliban restrictions; the Taliban have signaled some willingness to engage on this issue. By continuing healthcare aid, the World Bank can succeed where the U.S.'s $9 billion Drug Enforcement program failed.
Addiction treatment infrastructure may be our best bet to reduce opium demand within Afghanistan and may furnish a model for curbing the broader South Asian drug crisis, too.
We're in a milieu of great flux in both international security and global health. Reinstating development aid isn't just a moral debt we owe the Afghan people. It's the best way to preserve the progress forged thus far.
Henna Hundal is a Fellow at the World Economic Forum and healthcare contributor to Afghanistan's Khaama Press. Sai Rajagopal is a South Asian Studies researcher at Oxford.
The views in this article are the writers' own.