West Needs Russia's Help to Fight ISIS and Assad Can Stay, France's Macron Says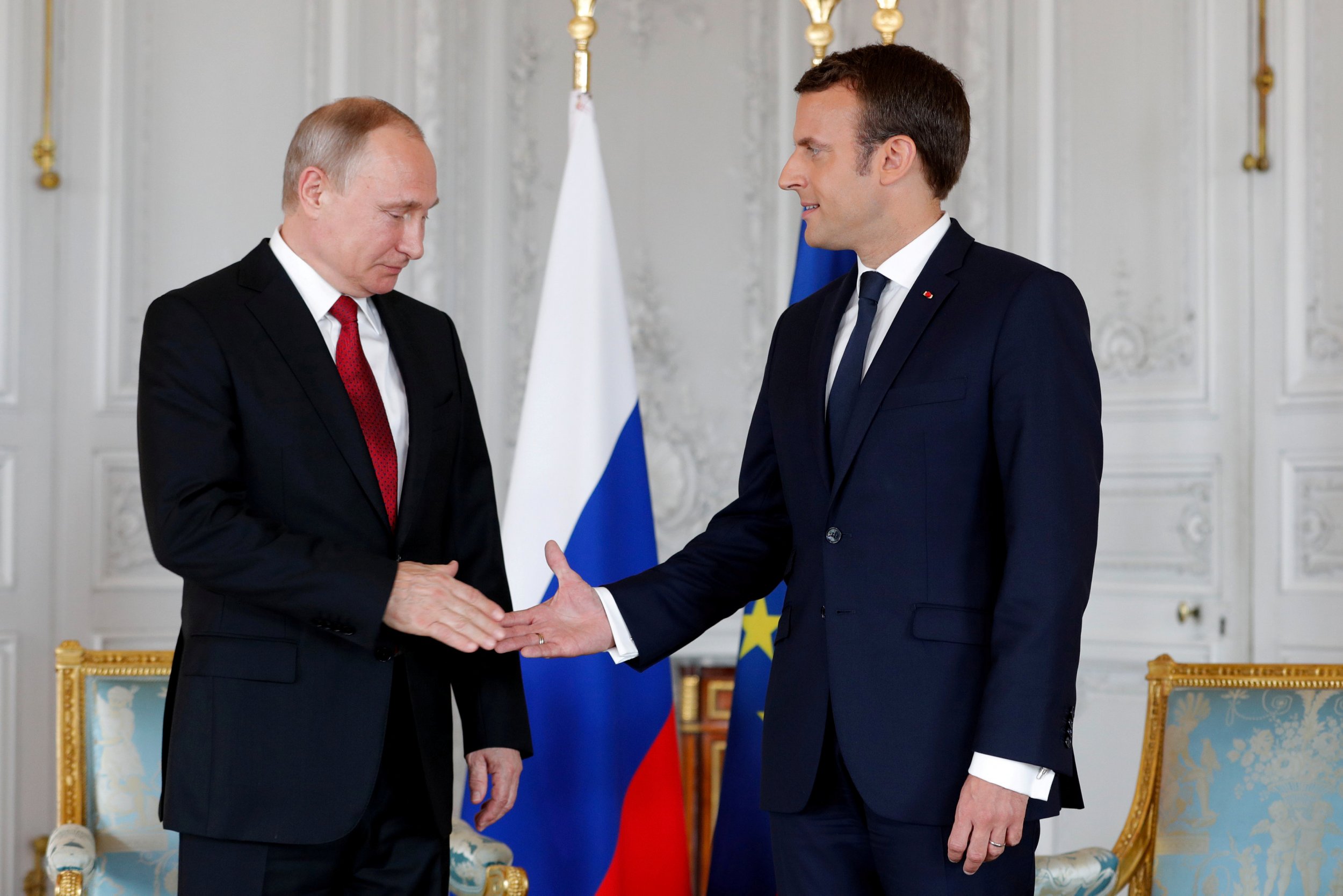 The recently elected French president said Wednesday he is looking to change his country's course on Syria drastically and will no longer seek the removal of the war-torn country's leader. The move comes as tensions between the U.S. and Russia escalate over Syria's future.
In an interview with eight European newspapers, French President Emmanuel Macron revealed a major departure from the position of previous French administrations on the six-year war in Syria. He said he would abandon efforts to overthrow Syrian President Bashar al-Assad, who faces an insurgency led by various rebel groups backed by the West, Turkey and Arab Gulf states and jihadist groups such as the Islamic State militant group and Al-Qaeda. Macron said Assad, who enjoys support from Russia and Iran, was not the enemy of France and that, with Russia's support, French foreign policy in Syria would focus on targeting jihadist groups, whose supporters have killed hundreds in France.
Related: U.S. Will lose Syria to Iran and abandon Kurdish allies, former ambassador says
"The new perspective that I have had on this subject is that I have not stated that Bashar al-Assad's departure is a precondition for everything, because nobody has shown me a legitimate successor." Macron said, according to Reuters.
"My lines are clear: Firstly, a complete fight against all the terrorist groups. They are our enemies," he added. "We need everybody's cooperation, especially Russia, to eradicate them."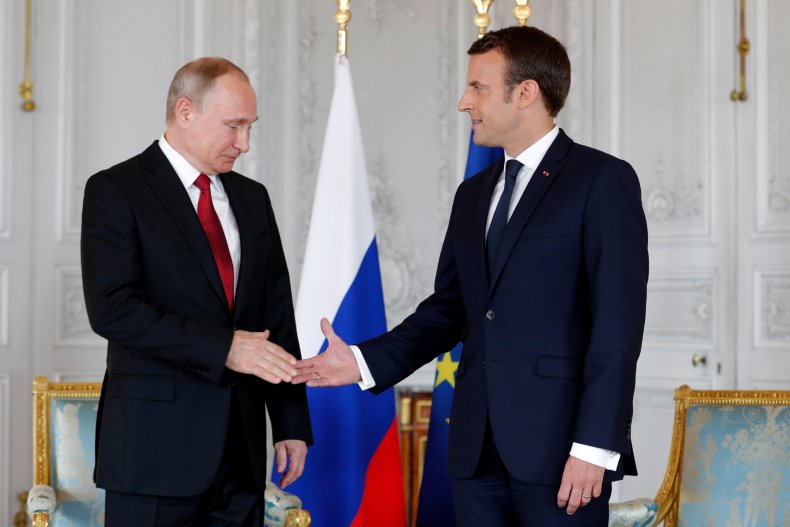 Despite having good relations with the Syrian government prior to the war, France had become one of its greatest detractors. Since the 2011 protests that triggered the current crisis in Syria, France has overwhelmingly sided with Assad's opposition, even as a number of rebel groups became increasingly supportive of or overwhelmed by ultraconservative Sunni Muslim organizations. Among Western leaders, former French President Nicholas Sarkozy was among the foremost supporters of efforts to overthrow Assad and repeatedly called for his resignation over alleged war crimes committed against civilians.
France's militant anti-Assad stance may have partially stemmed from its attempt to return as a "great power" in the Middle East, to counter the U.S.'s domination of regional foreign policy and to appease majority-Sunni Muslim powers such as Saudi Arabia, according to a 2015 analysis by The Washington Post.
In recent years, however, national security has become a major issue in France. A series of deadly massacres claimed by ISIS and other jihadist supporters have killed more than 230 people since 2015. The country remains in a state of emergency since November 2015, when a series of gun and bomb attacks killed about 130 people in Paris. Macron said earlier this month he sought to end the state of emergency, which broadens authorities' ability to investigate suspected terrorism, but that he would likely integrate certain, controversial measures such as warrantless house searches and house arrests into standard police code, according to France 24. With domestic tensions high, France has acknowledged the new realities of Syria's war.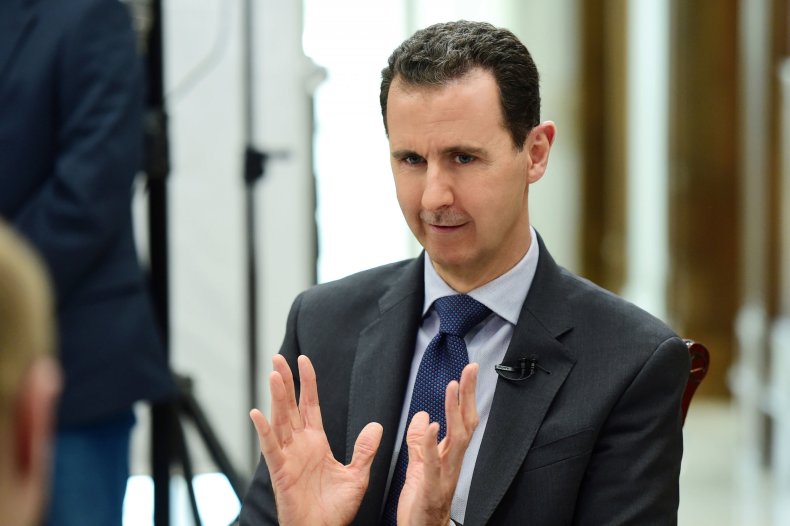 In October 2015, Russia staged a direct military intervention at the request of Assad, whose fatigued military forces had been forced to withdraw from swaths of the country. Since then, the Syrian army and its allies have retaken virtually every population center in the country and were found to have been the most engaged faction against ISIS in April. Earlier that month, President Donald Trump, who had previously made a similar concession to Assad's rule, accused the Syrian leader of conducting a chemical weapons attack against civilians, allegations vehemently denied by both Damascus and Moscow. Less than 72 hours later, the U.S. bombed a Syrian airbase in response and has created an even wider rift with Russia by shooting down a Syrian fighter jet that local, majority-Kurd forces backed by Washington accused of bombing too close to their positions.
In response to Sunday's incident, Russia said it would sever a "deconfliction line" used to avoid air incidents with the U.S. and said it would treat any U.S. or allied aircraft as "targets" for Russia's surface-to-air missile systems. Tensions over the U.S.'s military presence, which has been declared illegal by the Syrian government, have manifested in the country's south too, where the U.S. has set up a Special Forces camp to train and equip anti-Assad fighters battling ISIS. Pro-government forces advancing east have been struck three times by U.S. forces claiming that they breached a "deconfliction zone" unilaterally established by the U.S. and its allies in southern Syria.
Washington said it's seeking to re-establish a basic level of communication with Moscow in Syria, where the two sponsor forces practically overlap in the fight to dislodge ISIS from its de facto capital of Raqqa. France is not the only member of the U.S.-led coalition in Syria to adjust its position in light of recent events. Australia announced Sunday it was temporarily ceasing its military activity in Syria after Russia's threat to coalition aircraft.
Macron's decision also appears to be part of a greater initiative to court Russia on international affairs. A day before Macron's interview, French Foreign Minister Jean-Yves Le Drian visited Moscow to speak with his Russian counterpart, Sergei Lavrov. Drian told reporters after the meeting that he looked forward to improving relations between the countries and working together on issues such as the war in Syria and terrorism.
"We are facing the same threat of terrorism which we are determined to battle," Drian said, according to Reuters.
"Perhaps the spirit of trust to understand each other better was missing," he later added. "After today's meetings, we can continue the spirit of trust."