West Nile Virus Michigan: State Confirms First Case of 2018 After Woman Becomes Infected
A woman in Michigan is the first person in the state to be infected with the West Nile virus this year, according to Michigan health officials.
The health department in Berrien County confirmed that a woman who began to show symptoms in July is the state's first case of West Nile virus in 2018, according to a release sent to Newsweek. Outbreaks of the virus have been occurring every summer in Michigan since 2002, said heath officials, who told residents their best defense is to prevent mosquito bites.
"As mosquitoes remain active in Southwest Michigan into the fall months, Berrien County Health Department officials urge residents to stay vigilant and protect themselves against mosquito bites to reduce their risk for West Nile virus," the department wrote in a statement.
In total, there are 231 recorded cases of the virus, including eight deaths, in the United States as of Tuesday, according to a report Tuesday from the U.S. Centers for Disease Control and Prevention.
The West Nile virus is typically transmitted through the bite of a mosquito that has been fed on an infected bird, according to the CDC. Most people who become infected do not feel any symptoms at first, but one in five may develop symptoms such as headache, joint pains, body aches, rash, vomiting or diarrhea.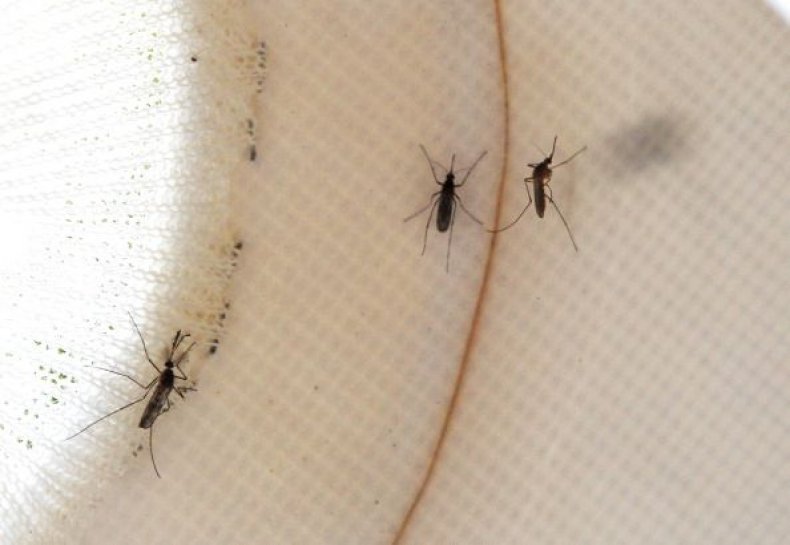 About one in 150 people who become severely sick can experience stronger symptoms, such as high fever, neck stiffness, disorientation, tremors, stupor, convulsions, muscle weakness, vision loss, numbness, coma and paralysis, according to the CDC. Individuals ages 60 and older are more likely to experience severe symptoms from the West Nile virus.
South Dakota, Louisiana and Mississippi have the highest number of people in the U.S. who have become sick with the West Nile virus this year, according to the CDC's report Tuesday. South Dakota has 40 confirmed cases, Louisiana has 25 and Mississippi has 23.
Louisiana and Mississippi have the highest number of people in the U.S. with severe symptoms, the CDC reported, with 18 and 15 cases, respectively.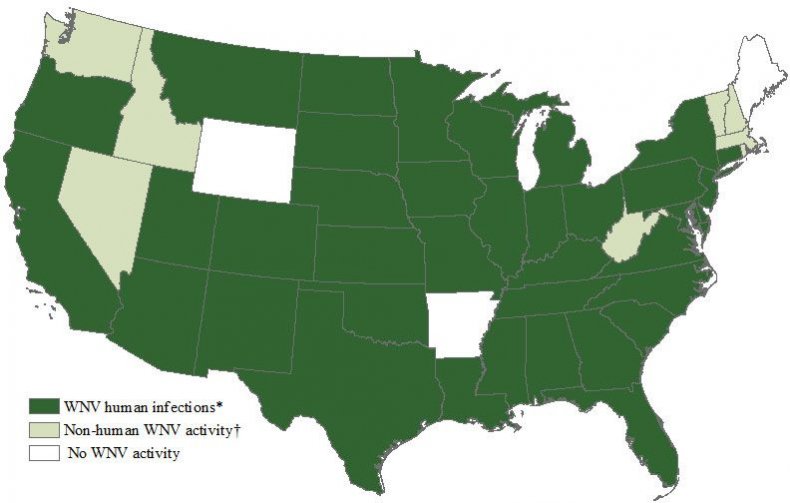 Of the eight people who have died in 2018, two cases were in South Dakota. Louisiana, Ohio, Iowa, Georgia, North Carolina and Tennessee have each had one fatal case.
The CDC said the best way to avoid infection with the West Nile virus is to prevent mosquito bites. It advises using mosquito repellent that has active ingredients, like DEET, picaridin (known as KBR 3023 and icaridin outside the U.S.), IR3535, oil of lemon eucalyptus, para-menthane-diol or 2-undecanone. It also recommends wearing shirts with long sleeves and pants.
Mosquitoes can be prevented from entering the home by placing screens on windows and doors, as well as using air conditioning, according to the CDC. Removing standing, old water from places such as buckets, pools, planters, trash bins and bird baths will help prevent mosquitoes from breeding.