West Point Academy to Investigate Allegations of Racism After Alumni Letter
The U.S. Military Academy at West Point, New York is expected to launch an investigation at the school after receiving a June letter from alumni alleging racist practices at the institution.
Signed by nine West Point graduates, the proposal lists instances of discriminatory behavior and suggestions for improving the racial atmosphere at the school.
According to the proposal from the alumni, there is "systemic racism" at West Point but the "conditions for an anti-racist space" do not exist. West Point also allegedly does not include anti-racism as part of its curriculum.
"By failing in these areas, West Point ultimately fails to produce leaders of character equipped to lead diverse organizations," the letter read. "In other words, West Point is failing to accomplish its mission."
In an incident described in the letter, one Black cadet said she found images of herself online characterizing her as Satan.
"White Cadets, instructors, and Tatcical Officers consistently make comments that are anti-Black and discriminatory," wrote another Cadet. "These incidents were written off by the Chain of Command as merely bad conduct or poor judgement. We are consistently silenced and shunned by our Chain of Command and peers when we speak out against racist behavior."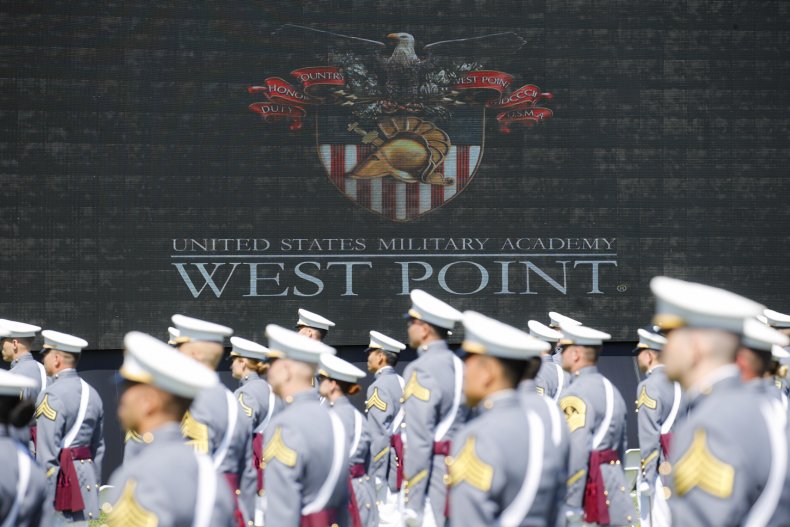 Among the suggestions made for improvement in the letter were removing all vestiges of honoring Confederate soldiers from the Academy, the institution of anti-racism training events and the establishment of a Diversity and Inclusion Chair.
In a statement sent to Newsweek on Tuesday, Director of Public Affairs and Communications for West Point Lieutenant Colonel Christopher Ophardt acknowledged receipt of the letter.
"We recently received a letter from nine of our recent graduates concerning racism at the United States Military Academy and we appreciate their feedback," Orphardt wrote."The Academy expects all Cadets to be treated with dignity and respect. We take seriously all forms of racial inequality that marginalize or devalue members of our team. West Point does not accept, condone, or promote racism."
"The West Point Inspector General has begun a comprehensive review of all matters involving race at the Academy," Orphardt added. "We will carefully consider the results of this review and deliberately address any findings."
Orphardt also indicated that the Army had already begun a program called Project Inclusion, designed to uncover "unconscious bias in the ranks."
According to a June statement from the U.S. Army, Operation Inclusion is an initiative to "improve diversity, equity and inclusion across the force and build cohesive teams."
In December 2019, some Army Cadets and midshipmen from the United States Naval Academy were thought to have flashed racist hand gestures during the annual Army-Navy football game. They were caught on camera making a circle with their thumb and forefingers, a gesture that has become associated with white supremacy groups.
After an investigation, officials determined the cadets and midshipmen were playing a version of the "circle game." The object of the game is to get trick another individual into seeing the gesture.
"Racist statements, gestures and symbols have no place in our Army," said Army Chief of Staff General James C. McConville in a December statement. "The investigation determined there was no racist intent by cadets."