West Point's newest class has increased minority representation and the percentage of female new cadets remained consistent with previous years.
On Monday, the United States Military Academy welcomed more than 1,190 candidates for Reception Day. The newest class of cadets enters the academy on the heels of the school graduating a record number of black women in a single class, which occurred in May.
Vice President Mike Pence called the class of 2019 the most diverse in West Point's history during the commencement address. The incoming class of 2023 also includes cadets from an array of backgrounds.
About 37 percent of the class of 2023 were minorities, equivalent to 443 people, according to the military academy. Of the incoming class, 180 were African American, 145 were Hispanic Americans, 99 were Asian Americans and 19 were Native Americans.
In total, this signified about a four percent increase in minority enrollment, equal to about 43 people, compared to the previous year. The class of 2022 included 400 minority cadets, among them 186 African Americans, 104 Hispanic Americans, 99 Asian Americans and 11 Native Americans, according to West Point.
"These young men and women are coming here to devote themselves to becoming guardians of Duty, Honor, Country – the West Point motto – and our United States Constitution. They represent our nation's promise for the future," Deborah McDonald, director of admissions, said in a statement.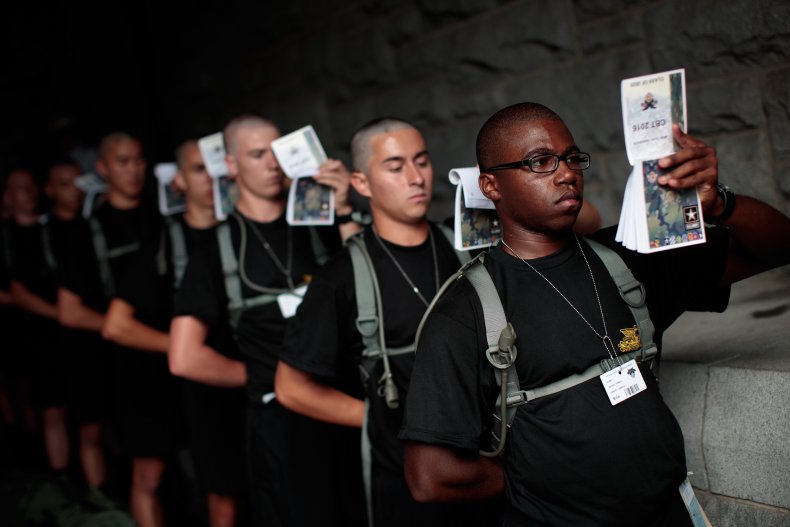 Compared to the 294 women welcomed on Reception Day in 2018, West Point reported 285 female cadets were on campus as part of the newest class. However, the percentage of female cadets has remained largely unchanged for the past four years, averaging between 22 and 24 percent of the class.
West Point first admitted women in 1976, with 62 women graduating in the class of 1980. Since the class of 2012, the percentage of women entering West Point increased by about 10 percent, according to data on class characteristics.
"West Point is happy with its highly qualified and diverse classes of 2023," a West Point spokesperson told Newsweek. "We have averaged 290 female cadets, or 23.3 percent of the class, over the last four years and continue to strive to increase the diversity through programs like Leadership Ethics and Diversity in STEM workshops and others."
Along with domestic cadets, the newest class includes cadets from more than a dozen countries, including Columbia, Egypt, Rwanda and Thailand. When international cadets graduate, they become officers in their respective country's armed forces.
Reception Day marks the first step in a 47-month journey toward becoming an officer in the United States Army. New cadets are outfitted with their initial issue of military clothing, receive haircuts and get their first lessons in marching, military courtesy and discipline. They're also given 60 seconds to say goodbye to their families, who they may or may not contact during Cadet Basic Training.
Over the course of the next six weeks, new cadets will be complete physical training, as well as small-unit tactical training and rifle marksmanship. Upon completion of Cadet Basic Training, scheduled for August 17, they'll be accepted into the Corps of Cadets.