West Point Graduates Warn Against 'Blind Obedience' as Joint Chiefs Chair Distances Himself From Trump
Members of the Long Gray Line, graduates of the United States Military Academy at West Point in New York, warned this year's graduate class not to practice "blind obedience" to leadership. Meanwhile, Joint Chiefs of Staff Chairman General Mark Milley issued an apology for appearing in a photograph with President Donald Trump outside St. John's Church in Washington, D.C.
In a letter published on Medium, the Long Gray Line made veiled references to West Point graduates who "acquiesce to bullying." The letter also said graduates who fail to uphold their oaths of office "threaten the credibility of an apolitical military."
"When leaders betray public faith through deceitful rhetoric, quibbling, or the appearance of unethical behavior, it erodes public trust," the letter said. "When fellow graduates acquiesce to bullying, and fail to defend honorable subordinates, it harms the nation and the Long Gray Line."
The former West Point grads also cautioned this year's class not to make a "Faustian bargain" with "weak or self-serving leaders" in order to advance their own careers.
Newsweek attempted to reach West Point for comment but a spokesperson was not available.
Although General Milley graduated from Princeton instead of West Point, members of Trump's administration such as Secretary of Defense Mark Esper and Secretary of State Mike Pompeo did graduate from the academy.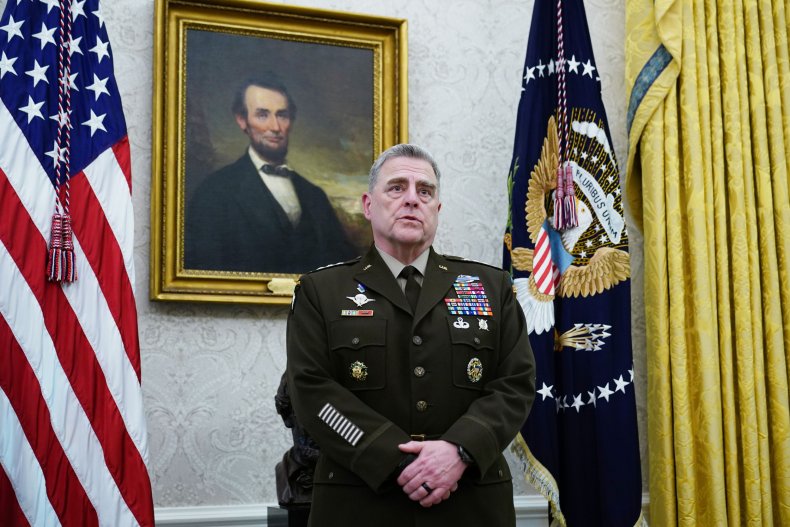 Milley received criticism for appearing with Trump at the St. John's Church photo op. Before the photograph of Trump holding a bible on the church steps was taken, protesters were forced out of the area by law enforcement agents.
President Trump is scheduled to deliver the commencement address at West Point on Saturday. No guests will be permitted at the event due to coronavirus mitigation protocols.
The actions against protesters in Lafayette Park created a stir, particularly from Trump's first defense secretary James Mattis. In The Atlantic magazine, Mattis said utilizing a military response to peaceful protests "sets up a conflict—a false conflict—between the military and civilian society."
"We must reject and hold accountable those in office who would make a mocker of our Constitution," Mattis added.
Milley considered resigning from his position afterward, according to Thursday reports from NBC News, asking advice from several "mentors."
In a prerecorded video message played during the graduation ceremony of the National Defense University, Milley apologized for his involvement in the photograph.
"As many of you saw, the result of the photograph of me at Lafayette Square last week, that sparked a national debate about the role of the military in civil society," Milley said. "I should not have been there. My presence in that moment and in that environment created a perception of the military involved in domestic politics."