West Point Graduation: How to Watch, Live Stream Mike Pence's Speech at Military Academy
Vice President Mike Pence will speak at the United States Military Academy before graduates and their friends and family on Saturday. For those unable to be there in person, the school arranged for the ceremony to be streamed live.
The military academy, commonly referred to as West Point, is regarded as one of the best higher education institutions in America. Graduates are commissioned as second lieutenants in the Army and the fully-funded college education comes with the commitment to serve five years of active duty and three years in reserve upon graduation.
West Point announced Pence would speak at the 2019 graduation on Twitter, noting it would be his first time as the graduation speaker, but his second visit to the military academy.
In 2017, Pence spoke at the annual Lieutenant Henry O. Flipper Dinner, which honors the academy's first African American graduate. He told cadets they were needed "now more than ever" and said outside of America was a "world riven by conflict" both from old enemies and new ones.
"But let me say what the President would say if he was here, that looking out at your shining faces, seeing your dedication to America, we're more confident than ever that the best days for America are yet to come," Pence said.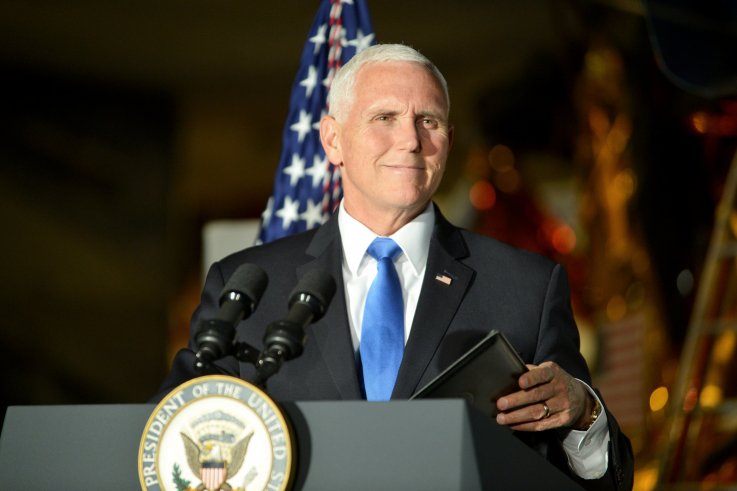 Gates to West Point's stadium will open on Saturday at 6:30 a.m. EST and a ticket will be required to enter. Graduates were given ten tickets for their friends and families, although, additional tickets were available through the Army Ticket Office.
The arrival of the graduating class is scheduled to begin at 9:35 a.m. EST and the graduation ceremony is slated to kick off at 10:00 a.m. EST. For those not attending, it can be live streamed from the Department of Defense's website. The video feed will begin with the march-in of the graduating class and conclude after the hat toss.
Along with graduates, children who are between four and 10 years of age and are between 42 inches and 54 inches tall are allowed to participate in the hat toss. During the start of diploma distribution, eligible children and their parent or guardian can move to a screening point at Gate 7 and, if screening criteria are met, be permitted onto the field.
This year, 32 black women will graduate as part of the Class of 2019, marking a historic moment for the academy. In 1980, Major Pat Locke attended West Point in the first class to graduate women, becoming one of two of the first women to graduate from the military academy. The 32 black women graduating on Saturday set the record for the most black women to graduate from West Point in a single class.
West Point Graduation: How to Watch, Live Stream Mike Pence's Speech at Military Academy | U.S.