West Virginia 'Can't Afford' to Fire Healthcare Workers, Seeks COVID Exemption for Some
The governors of West Virginia and Virginia are requesting a temporary waiver for workers at rural hospitals in the states to receive exemptions from President Joe Biden's vaccine mandate for health care workers.
West Virginia Governor Jim Justice said his state "can't afford" to lose any workers due to the mandate.
"We can't afford to lose anybody. We can't absolutely afford to be firing people," Justice said, according to the Associated Press. "We should be respectful of their values. But we should encourage them in every way to be vaccinated. Nevertheless, we can't shut the hospital down. That's all there is to it. We've got people that are a long ways from anywhere and the hospital is absolutely essential to them. And so we need that waiver granted. That's for sure."
West Virginia currently has more than 1,000 hospitalizations due to COVID, according to their state's COVID website, nearly 70 percent of which are unvaccinated in a state that is just over 52 percent fully vaccinated, well below the national rate of 63 percent reported by the CDC.
Justice said the mandate from President Joe Biden upheld recently by the Supreme Court that requires COVID vaccines for over 10 million health care workers nationwide would put extra pressure on West Virginia facilities in rural areas that have particularly low vaccination rates, according to the AP.
Justice and Virginia Governor Glenn Youngkin sent a letter to Centers for Medicare and Medicaid Services administrator Chiquita Brooks-LaSure citing the difficulties that would be faced by both states if the mandate went into full effect and offered alternatives.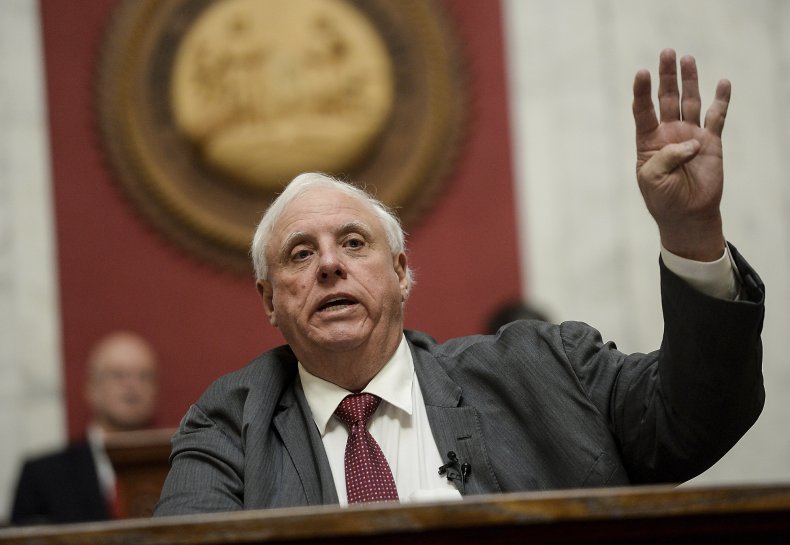 "Respectfully, we request CMS provide a limited waiver to the interim rule for rural and state run facilities that are in a state of crisis," the letter states. This relief could take multiple forms, including broader conscience exemptions, flexibility on enforcement, or simply a six month delay of the rule."
The mandate will go into effect in February for West Virginia and several other states that filed lawsuits challenging it, WCHS-TV reported.
On one particular day earlier this month, over 1,000 hospital workers were forced to miss work because of a positive test or exposure to someone who tested positive, WBOY-TV reported.
"It is only putting additional pressures. It is not saving lives," Justice said in his virtual COVID briefing Monday.
Justice also deployed National Guard members earlier this month to assist understaffed hospitals and other health care facilities, WBOY reported.
"The impact in Southwest Virginia and throughout West Virginia will be particularly acute. In these rural areas, access to lifesaving care could be threatened and we may displace a generation of healthcare professionals in a region already battling health disparities," the letter said.