Church Goes Up in Flames But Firefighters Say All Bibles Were Saved: 'Odds Were Against Us, God Was Not'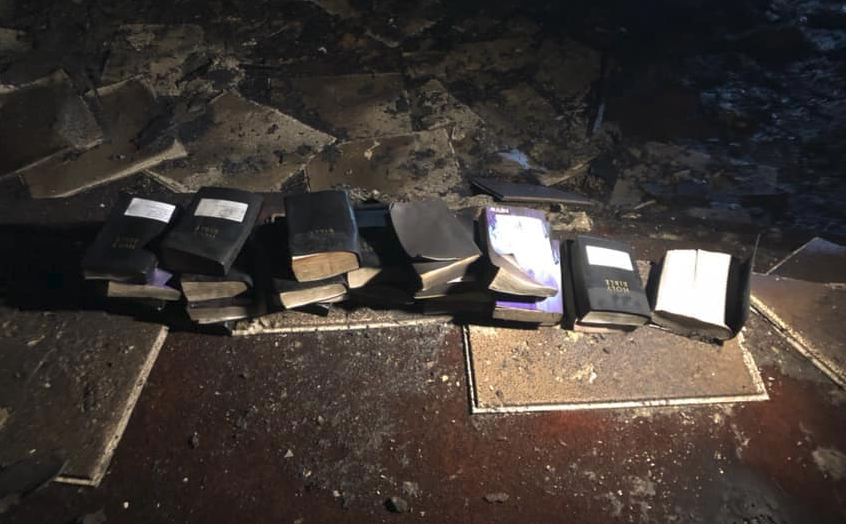 Christian bibles and religious crosses were left unscathed after a West Virginia church went up in flames last weekend, a local fire department has claimed.
Fire officials in Coal City, Raleigh County, said they attended to the blaze at just before 1 a.m. Sunday. Images from the scene were later posted online to their Facebook account.
"Our department was dispatched to assist Beaver VFD [Volunteer Fire Department] with a structure fire at the Freedom Ministries Church," the March 3 post read.
"Though odds were against us, God was not. Picture this, a building so hot that at one point in time, firefighters had to back out. In your mind, everything should be burned, ashes. Not a single bible was burned and not a single cross was harmed!! Not a single firefighter was hurt! Prayers for the pastor and the congregation today," the department said of the scene.
Despite the post, some bibles did appear to be marked and dirty. A large cross on the wall was left totally scorched. Coal City Fire Department told ABC13 an investigation remains ongoing into the cause of the fire, which appeared to have devastated the insides of the building.
Freedom Ministries told the congregation about the fire in its own Facebook post (via WKMG-TV) Sunday, saying work would now have to start on rebuilding the structure of the church.
It said: "We have a heavy heart this morning, our church had a fire last night. We will have to rebuild but we will be OK. We will fight the enemy and not let him hold us down."
It was not immediately clear who the church considered to be the enemy.
The post continued: Please join us in prayer. We want to rally together and pray for Pastor Phil and Candice. Also our church family! One thing I can always say Freedom is full of love and the [pastors] have always gave us nothing but love and support. Now it's our turn to return it back to them! If you have any questions about meeting and praying please [contact us].
Alongside a picture of smoke, church leaders added: "In the midst of the smoke you can see Jesus. He was there with us! FREEDOM MINISTRIES IS UNDONE WE ARE NOT FINISH!!!"
It is not the first time someone has claimed to have witnessed God's work thanks to the alleged survival of a bible from a fire. Last December, Fox News reported a Texas man called Charles House claimed his holy book survived a huge blaze at his home. He called it a "blessing."
Debate has seemingly raged for years about the flammability of bibles. Websites like Reddit and Quora contain posts on the subject from believers and skeptics alike.
One 2015 Quora upload asked: "In a fire does a bible burn slower or not at all as compared to other books or objects?" The top response listed remains from user Adam Helps, who claimed to be a member of the Church of Jesus Christ of Latter-day Saints.
He wrote: "Because bibles are so thick, and because the covers are often made of premium materials, they tend to take a little bit longer to burn. Only the outside part is exposed to the air and can burn, so I would expect the bible to burn longer than typical books.
"We make bibles; they are not hand-delivered by God," the response continued. "It would be problematic to ascribe divine attributes to them, since that would be idolization of the bible."