West Virginia Angler Catches Record-Breaking Muskie, Throws It Back in Lake
An angler in West Virginia has caught a record-breaking muskie at Burnsville Lake, with a catch weighing in at 51 pounds and just over 55 inches. This smashed the previous state record, which was set just last year, by 11 pounds.
After reeling in the giant fish and getting it weighed and measured by an official from the West Virginia Division of Natural Resources, Luke King released the muskellunge (Esox masquinongy) back into the wild.
"I've been musky fishing for around 18 years and I normally get out one to two days a week," King told Newsweek. "She fought very hard but I had the gear to tame her and the fight only lasted a couple of minutes."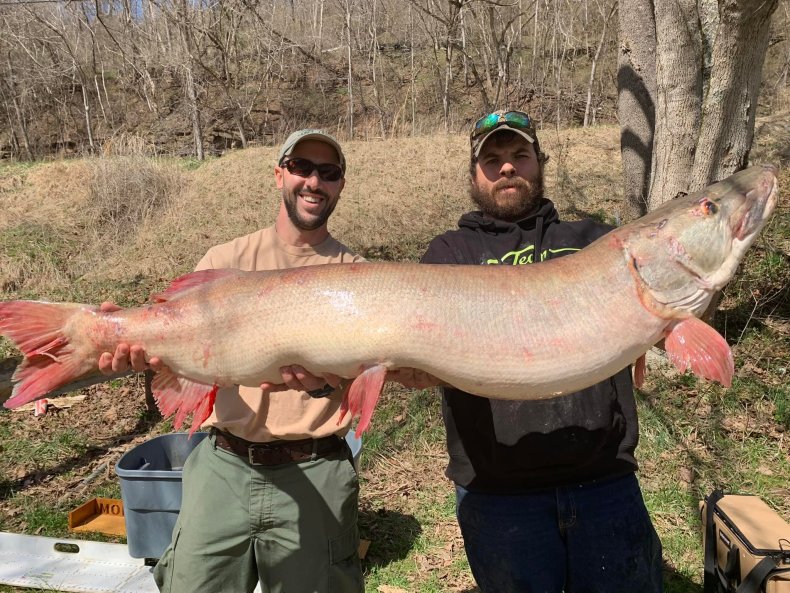 King shared images of himself and an acquaintance holding the giant fish. A second image showed the muskie being weighed. In a Facebook post he said the muskie had broken the state record for both length and weight. "This morning my dream came true," he said in the post.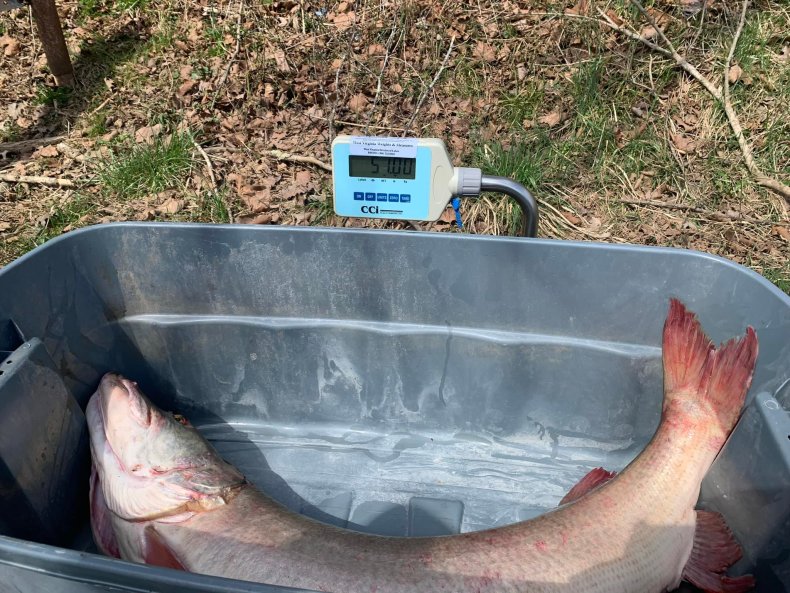 Hunting magazine Field & Stream said Shaw's catch represented the third time the West Virginia state record for muskies had been broken in just five years. In 2021, Chase Gibson caught a 54-inch, 39.6lb muskie at Burnsville Lake. The previous record-holder was Joe Wilfong, the magazine said. He caught a 53.5-inch, 34.6lb muskie on the Little Kanawha River in 2017.
Muskellunge are the largest members of the pike family, normally growing to around 50 inches. They have big mouths with strong teeth in their lower jaws and mouth roof. They are found in North America around the Great Lakes and serve as one of the top, ambush predators, feeding on other fish species.
Muskies are sought by anglers and are often referred to as "the fish of 10,000 casts" because they are difficult to catch. According to the International Game Fish Association, the largest ever recorded catch weighed 67lb 8oz. This muskie was caught by Cal Johnson in Wisconsin in 1949.
"I have caught many muskies in the 50-53" range but never one as big as this," King told Newsweek. "I'm very passionate about releasing musky, they take years to achieve their size—15-20 [years] most generally—and they're a very fragile fish. They're the top predator when in the water but out of the water without proper care and limiting her time out of the water she wouldn't have made it.
"I always return my musky to the water because who am I to take the life of something so beautiful!"