West Virginia Man Donates Two Stimulus Checks to Food Bank, Says 'I Don't Need It'
With millions of Americans struggling to put food on the table due to the economic crisis caused by the coronavirus pandemic, one man in West Virginia knew exactly what to do when he received his stimulus checks—give them to a food bank.
In March, Congress passed the CARES Act that authorized checks of up to $1,200 per person as part of its COVID stimulus packages. The second relief bill haggled over for months and finally agreed at the end of last month saw $600 checks make their way to eligible adults.
But Shannon Harshbarger felt he had no need for the money and decided that instead of returning the checks, he would give the money to the Facing Hunger Foodbank in Huntington.
"Have you ever tried to send a check back to the federal government? Don't. Keep it? I don't need it. I don't want the money," he told WOWK 13 News.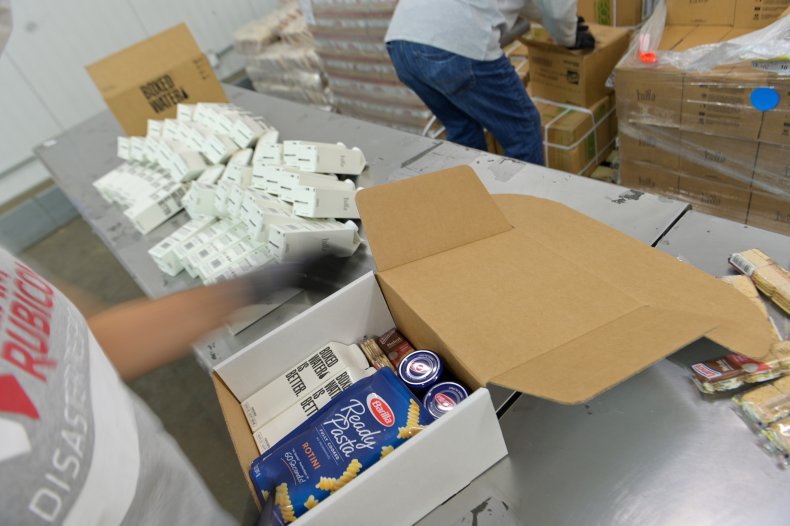 "I volunteer at my church food pantry, Helping Hands Trinity Church of God, we give back to the community. The folks here provide us government commodities and food, and it's just the right thing to do," Harshbarger said.
"I've been blessed in my life....and it's just a way to give back to the community," he added.
His generosity has been praised by the food bank's director of development and communications, Belinda Chapman, who told the news outlet that his ongoing donations had created 25,700 meals.
"His desire and compassion to help others is unlike any other thing I've seen from a human being—not to do it once, but to do it twice," Chapman said.
The impact of the coronavirus pandemic is impacting the food security of millions of Americans, experts have said. The organization Feeding America warned in October that as many as 50 million people may struggle to get enough food, which is 15 million more than in pre-pandemic times. It estimated that would include up to 17 million children.
Meanwhile, the House of Representatives has passed a bill to boost the second stimulus check to $2,000, although it is uncertain when the Senate will vote on it. However, the senator from Chapman's state, Democrat lawmaker Joe Manchin, has said that he would reject a third stimulus check.
The Georgia run-off victories for the Democrats have put the upper house at a 50-50 split, but without Manchin's backing, the party will still need at least one GOP senator to deliver the bill via the budget reconciliation procedure.