West Virginia Sets Record for COVID Cases That's 50 Percent Higher Than Previous One
West Virginia again reported a seven-day record of new COVID-19 infections in the week beginning on Jan. 3 and ending on Sunday, according to health figures released Monday.
The state's 16,903 confirmed cases across those seven days were 50 percent higher than the former record of nearly 11,300 set in the previous week, with both marking the first two weeks throughout the pandemic to document more than 10,000.
Governor Jim Justice has been urging residents of the state to get vaccinated amid the Omicron-fueled surge. Last week, he asked the Centers for Disease Control and Prevention (CDC) for permission to distribute a fourth COVID-19 vaccine dose to essential workers and people over 50 to protect those most vulnerable to the virus.
He noted at a news conference that Israel has already approved the fourth shot for the most vulnerable members of its population.
"We've got to do something," Justice said. "Either we sit back and just let our people die and we sit back and let our hospitals be overrun, or we try. If the CDC comes back and says no we can't do this now, and then there's enough governors that go together, we'll sure go with them. And then we may get across the finish line that way."
Protecting people who face an increased risk from the virus may be especially important in West Virginia, which is home to the third-oldest population in the country. Almost 20 percent of its 1.79 million people are older than 65.
In regard to the percentage of residents affected by other risk factors like diabetes, heart disease and obesity, the state is also near the top of the list.
Dr. Clay Marsh, West Virginia's coronavirus expert, said that it was a "critical time" for the state and voiced hope for a quick decision from the CDC on fourth doses.
"We have not seen the brunt of what omicron will do," Marsh said. "The potency of those vaccines are wearing off. We can't afford to have our most vulnerable get sick from COVID-19."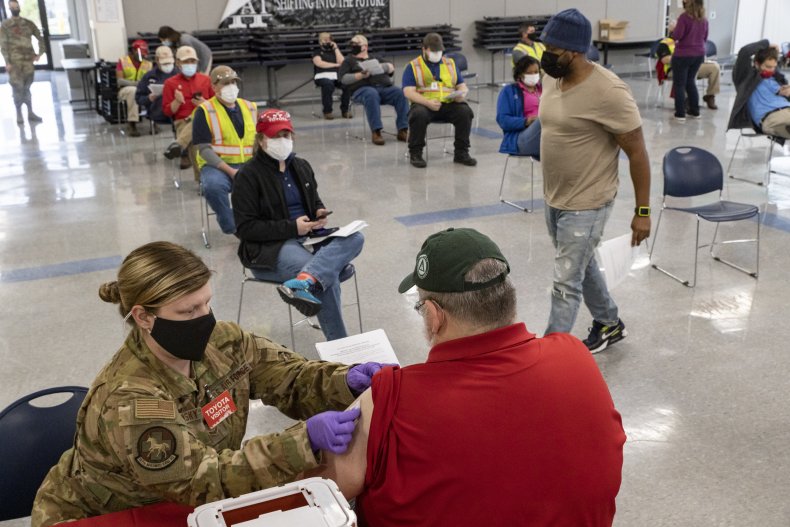 The figures on the Department of Health and Human Resources website don't include at-home testing.
The number of virus patients in hospitals has jumped 23 percent this month to 815, the highest total since mid-October. The 224 COVID-19 patients in intensive care units and the 133 patients on ventilators also were three-month highs.
About half of West Virginia's population is fully vaccinated.
There have been at least 5,445 virus-related deaths in the state since the start of the pandemic.
The Associated Press contributed to this report.