West Virginia Teacher Strike Enters Eighth Day: What You Need To Know
West Virginia public school teachers are set to strike for an eighth day on Monday after the state legislature did not meet their demands for higher pay and better benefits.
The West Virginia legislature debated for hours on Saturday, but could not come to an agreement on how much of a raise teachers should receive.
As a result, schools are expected to be closed across all 55 of the state's counties.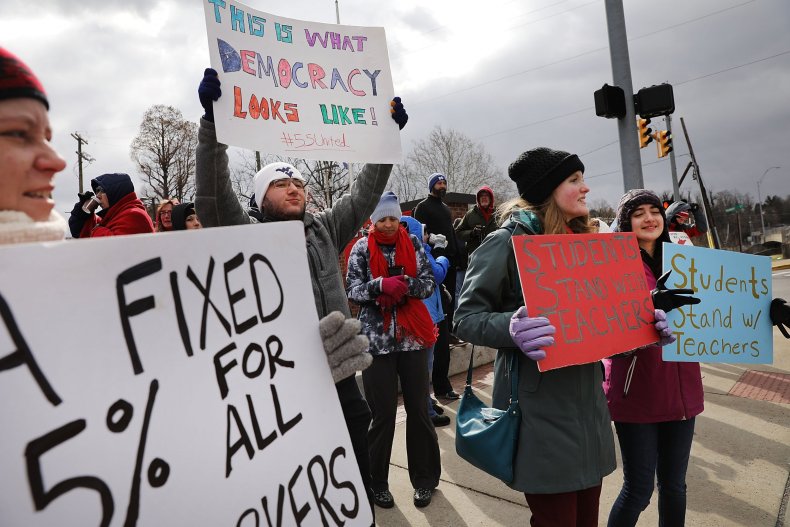 What do West Virginia teachers want?
As many as 20,000 teachers took part in a walk out on February 22, bringing classes for nearly 277,000 students to an abrupt halt.
The teachers, who earn an average annual salary of about $45,000, are some of the lowest paid educators in the U.S.
Union leaders have said teachers will not return to work until they get a 5 percent raise. They are also demanding better benefits.
The teachers' strike came following an announcement from West Virginia Governor Jim Justice, saying he had signed a bill that would give teachers a 2 percent raise as of July 1 and a 1 percent raise each of the following two years.
Teachers argued that those raises would be swallowed up by premium hikes and benefits cuts from the Public Employee Insurance Agency. While PEIA board members had frozen benefit cuts for a year, teachers said a temporary freeze would not help in the long-term.
Stuck in legislative limbo
West Virginia Governor Jim Justice had agreed earlier in the week to meet the demands of teachers and service personnel and give them a 5 percent raise.
However, because West Virginia is not a collective bargaining state, the raise must be first be passed as a law in order for it to be brought into effect.
The state Senate approved a bill on Saturday to reduce a proposed pay rise from 5 percent to 4 percent, which upset teachers. The House, which had previously approved a 5 percent pay rise, rejected the Senate's bill.
The Senate has been torn between those who believe teachers deserve a raise and those who believe the state cannot afford it.
"We're being penny wise and pound foolish," state Senator Ron Stollings said on the Senate floor, according to CNN. "We need to invest in education," he added.
However, Senate President Mitch Carmichael and other Republican legislators have maintained that the state cannot afford to meet teachers' demands.
The West Virginia Education Association (WVEA), the union representing striking teachers, said senators had argued that West Virginia could not give the state's teachers a raise without giving other state employees one too.
"In order to achieve that, their solution was to reduce our amount by 1 percent and take the money to increase state employees to 4 percent also," WVEA president Dale Lee said in a video statement posted to Facebook.
"We would love to see state employees receive the same percentage increase as our school employees and we are fully supportive of them also receiving a 5 percent increase. However, you do not equalize pay for different groups by simply taking away from one and passing to another," he said.
Lee said many teachers were visibly upset with "some of them in tears," when they realized a deal would not be struck over the weekend.
"People were visibly upset, some even in tears, because they hoped that we would be back in our schools on Monday," Lee said. "Unfortunately, Senator Carmichael and the Senate Republican leadership have needlessly chosen to extend this."
"They are the ones responsible for our students not being in school," he added. "They had the opportunity to do the right thing."
Senate Snafu
Teachers nearly saw their demands met after a brief mix-up over the weekend saw the Senate accidentally send the original 5 percent pay rise proposal to the House.
"The Senate screwed up," the WVEA said in a Facebook post. "This might be one of the craziest legislative screw-ups in WV legislative history. You can't make this stuff up," the union added.
What happens next?
A conference committee has been appointed to help the state Senate and House come to an agreement.
It's unclear when the committee will meet, however, which means the strike could be extended for several more days.
WVEA has said teachers will not be returning to their classrooms until the demand for a 5 percent pay increase is met.
"They continue to disrespect our educators and keep our children out of school," Lee said.
"They believed that we were bluffing when we said that we would stay here, hold their feet to the fire until they honored the agreement made to educators and public employees by the Governor," he added.